Don King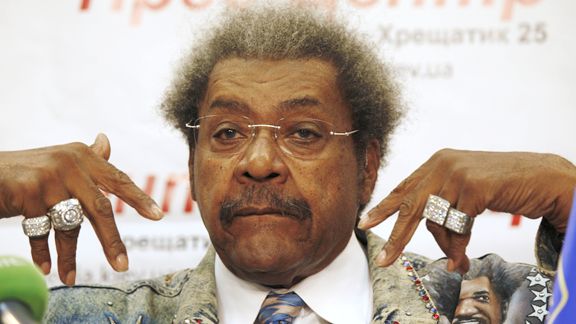 Don King is an American boxing promoter who has become as famous for his extravagant personality and hairstyle as he has his boxing clients. King is known for nurturing the careers of Muhammed Ali, Mike Tyson, George Foreman and Evander Holyfield, among other noted boxing stars. He promoted "The Rumble in the Jungle" and the "Thrilla in Manilla," two of the most famous boxing -- and sporting -- events in recent history.
King has promoted more than 500 world championship fights. Nearly 100 boxers have earned at least $1 million in fights produced by King's company. King was inducted into the International Boxing Hall of Fame in 1997 and was selected as one of The New York Times' 100 Most Influential African-Americans of the 20th century.
Don King was born Aug. 20, 1931, in Cleveland. He grew up with his mother, Hattie, who he credits with allowing him to rise from the ghetto in which he was raised, and six siblings. His father, Clarence, was killed in a steel mill explosion in 1941 when King was 10.
King was accepted at Kent State University, but he never even attended the school. He became a numbers runner in 1950, and he stayed in Cleveland in that business, attending Case Western Reserve University for one year. After dropping out of school, King ran his own illegal, yet successful, bookmarking operation for 13 years. In that time period, he saw his fair share of controversy.
Murder charges
In 1954, King shot and killed a man named Hillary Brown, who was attempting to rob one of King's gambling houses. When the case went to trial, King successfully claimed "justifiable homicide."
King was arrested several times in the insuing years on charges mostly involving drugs or weapons. His next major controversy came in 1966, when he was again charged with murder.
King saw a former employee, Sam Garrett, in a bar. Garrett allegedly owed King $600 on a bet and when he would not pay up, King began beating Garrett outside on the street. The man's injuries eventually killed him. King claimed self-defense, but most witnesses claimed the beating was brutal and inhumane and included stomping, kicking and pistol-whipping.
King was eventually convicted of second-degree murder for that incident, though an ex parte -- and highly controversial -- meeting with the judge reduced the charges to negligent manslaughter. In 1967, he entered Marion Correctional Institute in Ohio, where he spent the next four years.
He was released on parole on Sept. 30, 1971. He has said he considers himself a wiser and stronger man after his prison sentence, during which he read well and even managed to make several business decisions from inside. He left prison far more wealthy than he entered it.
King was eventually granted a full pardon by Ohio Governor James Rhodes in 1983.
Don King staged his first boxing promotion on Aug. 28, 1972. A minority hospital in his hometown of Cleveland was preparing to shut down because of a lack of funds. King approached fellow Cleveland native Muhammed Ali about participating in a fight to raise money for the hospital, and he agreed. The two hit it off, and King's career as one of the most significant promoters in the world kicked off. That first fight earned $80,000 for the hospital and became the second-highest earning boxing exhibition in history.
King convinced Ali -- and his Nation of Islam managers -- that they were morally obligated to do business with a black promoter. The pair had become friends anyway, and Ali agreed, despite King's limited experience. About the same time, King developed his signature hair style after his natural curly hair uncurled itself as "a sign from God." He later claimed his hair could not be controlled and would spark if a barber brought scissors near it.
Two years later, King's reputation was solidified with "The Rumble in the Jungle." Held in Zaire, presently the Democratic Republic of the Congo, in 1974, the fight between Ali and George Foreman has become one of the most famous fights in history. King promised each fighter $5 million, two times the amount any fighter had earned in previous fights. Several delays ensued and many of King's backers balked at the figures, but King was eventually able to secure the funds, thanks in large part to money from Mobutu, the president of Zaire. The fight was a huge success as the first television boxing event to be viewed by a billion people worldwide.
King followed up the success of "The Rumble in the Jungle" with an event considered by many to be the greatest title fight in boxing history. The fight put Ali up against former heavyweight champion Joe Frazier. It took place on Oct. 1, 1975, and was watched by more than a billion people worldwide.
As his prized fighter, Ali, entered his declining years, King had plenty of other big names to promote, most significantly the young heavyweight fighter Mike Tyson. Tyson was King's other "big thing," and his fights shattered records for viewership. The first time Tyson competed against Evander Holyfield, the fight was seen in more than 100 countries by more than two billion people.
Don King was watched closely by the FBI and the IRS throughout his career, but the FBI mostly decided that the complex structure of boxing meant that King could not be held criminally liable for his sometimes shady deals. The IRS investigated him for tax evasions several times, and once, in 1995, he was tried for insurance fraud. The trial ended in a hung jury. Instead, the jury convicted King's secretary, and the promoter responded by buying first-class plane tickets and ringside seats for the jurors.
King was questioned several times in connections with organized crimes, which he usually denied publicly. When questioned during a 1992 Senate investigation on his connection to John Gotti, King pled the fifth.
In 1977, a heavyweight tournament that King promoted was disgraced when it was discovered that the fighters' records had been falsified.
In 1978, an aging Muhammad Ali was upset by Leon Spinks. Spinks was a great fan of Ali, and he promised Ali a rematch six months after the fight. King saw an opportunity and called the World Boxing Council to report Spinks. By offering to rematch Ali, Spinks was comitting an illegal action by bypassing the No. 1 contender to his title, Ken Norton. The WBC stripped Spinks without due process or a fair hearing and created a second version of the heavyweight title.
Lawsuits
King has seen his fair share of lawsuits, several of which came from boxers accusing him of fraud. Heavyweight champion Tim Witherspoon is one of the few fighters to win a suit against King. Most suits were settled out of court or dropped.
Ali sued King after a fight in 1980, eventually settling out of court. Tyson filed a $100 million lawsuit against King, part of a tremendous dismantling of the pair's relationship. That suit, too, was settled out of court, for $14 million.
In recent years, King has been sued by Lennox Lewis (2005), Terry Norris (2005), Chris Byrd (2006) and Ricardo Mayorga (2009).
Don King married a woman named Luvenia Mitchell when he was 20 years old. The pair later divorced.
While in prison, King bought a farm and its land from a local city councilman. The woman who lived on the farm was a recent widow named Henrietta Renwick. They married after King left prison. The pair has three children -- Carl, Eric and Debbie -- and five grandchildren.
King and his wife split time between houses in Ohio and South Florida.
VIDEO RESULTS FOR DON KING
QUICK FACTS
| | |
| --- | --- |
| Birth Date | August 20, 1931 (age 79) |
| Hometown | Cleveland, Ohio |
| Company | Don King Productions |
THE THRILLA IN MANILA
For the 35th anniversary of The Thrilla in Manila, ESPN.com topics has you covered on the fight and the key people involved.
NOTABLE CHAMPIONS PROMOTED BY DON KING
| | Career Record |
| --- | --- |
| Muhammad Ali | 56-5-0 |
| Joe Frazier | 32-4-1 |
| George Foreman | 76-5-0 |
| Larry Holmes | 69-6-0 |
| Mike Tyson | 50-6-0 |
| Sugar Ray Leonard | 36-3-1 |
| Roberto Duran | 103-16-0 |
| Julio Cesar Chavez | 107-6-2 |
| Evander Holyfield | 43-10-2 |
| Roy Jones Jr. | 54-6-0 |
| Bernard Hopkins | 51-5-1 |