Floyd Mayweather Jr.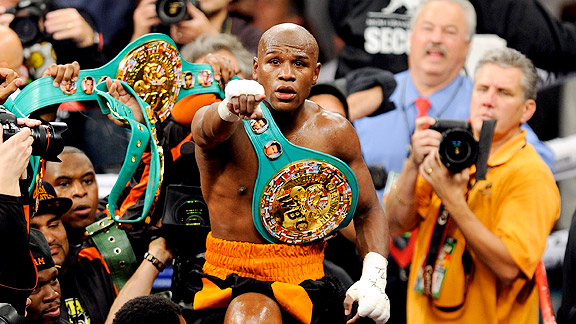 Floyd Mayweather Jr. is a professional boxer. At 43-0, he's considered to be one of the best pound-for-pound boxers in the sport. In his career, Mayweather has won six world boxing championships in five different weight classes. In Mayweather's most recent fight, he defeated Miguel Cotto in a 12-round decision on May 5, 2012.
As an amateur, Floyd Mayweather Jr. went 84-6. He was a three-time National Golden Gloves champion in three different weight classes (light flyweight, flyweight and featherweight). It was during his days coming up as a boxer that he earned the nickname "Pretty Boy" for managing to avoid any cuts or damage to his face.
Mayweather qualified for the 1996 Summer Olympics in Atlanta as a featherweight, going 5-1 in qualifying matches. At the Olympics, Mayweather won a bronze medal for the United States, eventually losing to Serafim Todorov of Bulgaria in the semifinals.
Two months after his fight at the Olympics, Floyd Mayweather Jr. made his professional debut on Oct. 11, 1996, as a super featherweight. In his first match, Mayweather knocked out Roberto Apodaca in the second round. In Mayweather's first 15 fights, he won 13 by knockout or TKO.
It took two years before Mayweather won his first championship belt, winning the WBC super featherweight title after Genaro Hernandez's corner stopped the match in the eighth round. It was the first loss for Hernandez at that weight class. Mayweather ended 1998 by successfully defending his WBC super featherweight title against Angel Manfredy. The Ring magazine named Mayweather its fighter of the year for 1998.
In March 2000, before Mayweather's fight against Gregorio Vargas, the boxer fired his father, Floyd Sr., as manager and replaced him with James Prince. Leading up to the fight, Floyd Sr. remained in the Mayweather camp as trainer. It wasn't long after Mayweather defeated Vargas that Floyd Jr. fired his father as trainer. Roger Mayweather, Floyd's uncle and the brother of Floyd Sr., replaced Floyd Sr. in Mayweather Jr.'s next fight, against Emanuel Burton.
In a span of three years, Mayweather defended his super featherweight title eight times including victories over Diego Corrales, Carlos Hernandez and Jesus Chavez.
Lightweight
Making weight for his last title defense as a super featherweight against Jesus Chavez was a challenge, so Mayweather moved up a weight class to the lightweight (135 pound) division. In his first match at lightweight, Mayweather defeated Jose Luis Castillo to capture the WBC lightweight title in a 12-round contest. In a rematch less than eight months later, Mayweather defeated Castillo again in a 12-round fight, successfully defending his new title. Mayweather had only two more title defenses as a lightweight, defeating Victoriano Sosa and Phillip N'dou.
Junior welterweight
Mayweather moved up in weight again to the junior welterweight (140 pound) division. He made his presence known in his first fight against DeMarcus "Chop Chop" Corley. Mayweather knocked down Corley in the eighth and 10th rounds on his way to a unanimous decision in a WBC light welterweight title eliminator bout. In January 2005, Mayweather defeated Henry Bruseles in another WBC light welterweight title eliminator fight after the ringside physician stopped the bout in the eighth round.
In a mandatory title defense for Arturo Gatti, Mayweather captured the WBC super lightweight championship in dominating fashion, with the referees stopping the fight after six rounds.
Welterweight
After just three fights at junior welterweight, Mayweather moved up again, this time to the welterweight (147 pound) division. In September 2005, Mayweather took on Sharmba Mitchell, knocking down the former world champion twice and winning a TKO victory in the sixth round.
His next opponent was former friend Zab Judah, who was coming off a loss against Carlos Manuel Baldomir. While Mayweather won by unanimous decision to win the IBF welterweight championship, the fight was best known for the melee in the ring between the Mayweather and Judah camps. In the closing seconds of the 10th round, Judah struck Mayweather with a low blow and a punch behind his head. While referee Richard Steele called time, Roger Mayweather got in the ring and approached Judah. Yoel Judah threw a punch at Roger and both camps entered the ring and a melee broke out. After police cleared the ring, Roger Mayweather was ejected from ringside.
For their roles in the melee, Roger Mayweather was fined $200,000 and had his boxing license revoked for a year, Yoel Judah was fined $100,000 and had his boxing license revoked for a year, Judah was fined $250,000 and had his boxing license revoked for a year and Leonard Ellerbe was fined $50,000 and had his boxing license revoked for four months.
The IBF ordered a rematch between Mayweather and Judah but the fight never occurred because of Judah's suspension. He would eventually vacate his IBF welterweight championship.
Mayweather had a chance to pick his next opponent and decided to fight Carlos Baldomir for his WBC and The Ring welterweight championship. Mayweather easily defeated Baldomir, winning all 12 rounds on two of the judges' cards.
After his victory against Baldomir, Mayweather called out WBC light middleweight champion Oscar De La Hoya. In order to promote the fight, HBO created the series "24/7," providing fans with a four-part inside look at the training from both camps. Floyd Mayweather Sr. was the trainer for De La Hoya but after both sides were unable to agree on a fee, Freddie Roach stepped in as the new cornerman. In a split-decision victory, Mayweather moved past De La Hoya as arguably the best pound-for-pound boxer in the world and captured the WBC light middleweight championship. The fight set a record for pay-per-view buys for a boxing match with 2.4 million households.
Mayweather decided to return to the welterweight division, giving up his WBC junior middleweight championship in the process, and take on the undefeated Ricky Hatton. The two fighters squared off on Dec. 8, 2007, with Mayweather knocking Hatton out to retain his WBC welterweight championship. It would be the last fight for Mayweather before the boxer decided to take a nearly two-year hiatus from the ring.
Return from retirement
Mayweather confirmed his return to the ring on May 2, 2009, for a July 18 battle against Juan Manuel Marquez at the catchweight of 144 pounds. Mayweather suffered a rib injury during training, postponing the fight until Sept. 19. Unable to make the catchweight of 144 pounds, Mayweather was fined $600,000 for weighing 146 pounds at the weigh-in. Thanks to landing nearly 60 percent of his punches, Mayweather won by unanimous decision over Marquez.
Mayweather's second post-retirement fight came against Shane Mosley, the WBA welterweight champion. Mayweather refused to pay the WBA sanctioning fees, so Mosley's belt was not on the line. The two fighters were subject to Olympic-style drug testing leading up to the fight. On May 1, 2010, they met in the ring, with Mayweather dominating the fight. He won a unanimous decision, with the judges scoring the fight 119-109, 119-109 and 118-110.
On June 7, 2011, Mayweather announced that he would again return to the ring to face WBC welterweight champion Victor Ortiz. The fight took place on Sept. 17, 2011, and Mayweather knocked out Ortiz in a bizarre finish that saw the former champ land two uncontested punches while Ortiz seemed to be apologizing for a headbutt. After the fight, Mayweather said it was Ortiz's responsibility to protect himself at all times, and got into a verbal altercation with HBO analyst Larry Merchant.
Manny Pacquiao
After defeating Marquez, Mayweather turned his attention to Manny Pacquiao, who would go on to defeat Miguel Cotto in only the second non-heavyweight fight to earn more than 1 million pay-per-view buys. Mayweather insisted on Olympic-style drug testing, including blood tests leading right up to the fight. The Pacquiao camp would only agree to blood testing if there was a cut-off date of at least a week before the fight. The negotiations broke down and Mayweather moved on to fight Mosley, while Pacquiao fought Joshua Clottey.
The Mayweather and Pacquiao camps tried again to set up a fight, with Mayweather's side insisting on the Olympic-style drug testing. Pacquiao publicly agreed to the testing and an even split of the prize money. Promoter Bob Arum and Pacquiao's camp set a July 16 deadline for Mayweather to agree to the fight, but Mayweather let the deadline pass with no comment. Later, one of Mayweather's advisers said no negotiations had ever taken place.
The two fighters once again attempted to set up a fight following Mayweather's win over Ortiz and Pacquiao's win over Marquez, with Mayweather calling out Pacquiao on Twitter. Mayweather wanted to set up the fight for his previously scheduled May 5th date, but Pacquiao's camp said he wouldn't be ready by then, and wanted to push the fight into June. However, with Mayweather set to begin a jail sentence on June 1st, a date could not be established, and Mayweather proceeded with the May 5th date against Miguel Cotto. Mayweather defeated Cotto in a unanimous decision.
Floyd Mayweather Jr. was in attendance at World Wrestling Entertainment's "No Way Out" pay-per-view on Feb. 17, 2008, in Las Vegas. As part of a scripted storyline, Mayweather jumped the security barrier and got into a physical altercation with WWE wrestler The Big Show in an attempt to save Rey Mysterio. Mayweather delivered a series of punches including one that broke the nose of The Big Show, which wasn't part of the storyline.
The incident was leading up to a fight between Mayweather and The Big Show at "Wrestlemania XXIV." The Big Show challenged Mayweather to a no disqualification match the following evening on "Raw." At "Wrestlemania XXIV," Mayweather defeated The Big Show thanks to the aid of a pair of brass knuckles.
Mayweather also served as guest host of WWE's "Raw" on Aug. 24, 2009, in Las Vegas. He once again got involved in an altercation with The Big Show, interfering in a tag team match by giving Montel Vontavious Porter a pair of brass knuckles.
Floyd Mayweather Jr. was born on Feb. 24, 1977, in Grand Rapids, Mich. His father, Floyd Mayweather Sr. was a welterweight boxer with a record of 29-6-1. He served as Floyd's trainer and manager before a falling out in 2000. His uncle, Roger, is a former boxer and is currently Mayweather's trainer.
IRS troubles
Mayweather Jr. owed the Internal Revenue Service $6.1 million in unpaid taxes for 2007 and an additional $193,000 in state taxes in New Jersey. He used a portion of his $10 million purse from the Juan Manuel Marquez fight to settle his debt with the IRS.
2010 Arrest
On September 10, 2010, Mayweather Jr. was arrested on a felony theft charge, stemming from a domestic violence complaint filed by his ex-girlfriend Josie Harris. Mayweather was released after posting bail of $3,000. On Sept. 16, 2010, Mayweather was charged with eight crimes stemming from the incident, including two felony counts of coercion for threatening to beat his son, along with grand larceny and robbery. The other charges were three counts of harassment and one count of domestic battery.
In late 2011, Mayweather reached a plea deal with prosecutors. He was sentenced to six months in jail and fined $2,500. Three months of his six-month jail sentence was suspended and he was given credit for three days time served, forcing him to serve three months. He was also ordered to complete 100 hours of community service and a 12-month domestic violence program. Mayweather was allowed to push back his reporting date until June 1, 2012 so he could fight on May 5. Mayweather served two months of his three-month sentence, and was released on August 3, 2012.
Floyd Mayweather Jr. Career Fight Record (43-0-0, 26 KO)
| Date | Weight | Opponent | Res. | Type |
| --- | --- | --- | --- | --- |
| 5/5/2012 | 151 | Miguel Cotto | Win | UD, 12 |
| 9/17/2011 | 146½ | Victor Ortiz | Win | KO, 4 |
| 5/1/2010 | 146 | Shane Mosley | Win | UD, 12 |
| 9/19/2009 | 146 | Juan Manuel Marquez | Win | UD, 12 |
| 12/8/2007 | 147 | Ricky Hatton | Win | TKO, 10 |
| 5/5/2007 | 150 | Oscar De La Hoya | Win | SD, 12 |
| 11/4/2006 | 146 | Carlos Baldomir | Win | UD, 12 |
| 4/8/2006 | 146 | Zab Judah | Win | UD, 12 |
| 11/19/2005 | 147 | Sharmba Mitchell | Win | TKO, 6 |
| 6/25/2005 | 139 | Arturo Gatti | Win | TKO, 6 |
| 1/22/2005 | 139 | Henry Bruseles | Win | TKO, 8 |
| 5/22/2004 | 140 | DeMarcus Corley | Win | UD, 12 |
| 11/1/2003 | 135 | Phillip N'dou | Win | TKO, 7 |
| 4/19/2003 | 134 | Victoriano Sosa | Win | UD, 12 |
| 12/7/2002 | 134 | Jose Luis Castillo | Win | UD, 12 |
| 4/20/2002 | 134 | Jose Luis Castillo | Win | UD, 12 |
| 11/10/2001 | 129½ | Jesus Chavez | Win | TKO, 9 |
| 5/26/2001 | 130 | Carlos Hernandez | Win | UD, 12 |
| 1/20/2001 | 130 | Diego Corrales | Win | TKO, 10 |
| 10/21/2000 | 134 | Emanuel Augustus | Win | TKO, 9 |
| 3/18/2000 | 130 | Gregorio Vargas | Win | UD, 12 |
| 9/11/1999 | 130 | Carlos Gerena | Win | TKO, 7 |
| 5/22/1999 | 130 | Justin Juuko | Win | KO, 9 |
| 2/17/1999 | 130 | Carlos Rios | Win | UD, 12 |
| 12/19/1998 | 130 | Angel Manfredy | Win | TKO, 2 |
| 10/3/1998 | 130 | Genaro Hernandez | Win | TKO, 8 |
| 6/14/1998 | 130 | Tony Pep | Win | UD, 10 |
| 4/18/1998 | 130¼ | Gustavo Cuello | Win | UD, 10 |
| 3/23/1998 | 133 | Miguel Melo | Win | TKO, 3 |
| 2/28/1998 | 130 | Sam Girard | Win | KO, 2 |
| 1/9/1998 | 132 | Hector Arroyo | Win | TKO, 5 |
| 11/20/1997 | 130 | Angelo Nunez | Win | TKO, 3 |
| 10/14/1997 | 133½ | Felipe Garcia | Win | KO, 6 |
| 9/6/1997 | 131 | Louie Leija | Win | TKO, 2 |
| 7/12/1997 | 130½ | Jesus Chavez | Win | TKO, 5 |
| 6/14/1997 | 132 | Larry O'Shields | Win | UD, 6 |
| 5/9/1997 | 129½ | Tony Duran | Win | TKO, 1 |
| 4/12/1997 | 132 | Bobby Giepert | Win | KO, 1 |
| 3/12/1997 | 132 | Kino Rodriguez | Win | TKO, 1 |
| 2/1/1997 | 133 | Edgar Ayala | Win | TKO, 2 |
| 1/18/1997 | 130 | Jerry Cooper | Win | TKO, 1 |
| 11/30/1996 | 131 | Reggie Sanders | Win | UD, 4 |
| 10/11/1996 | 131 | Roberto Apodaca | Win | TKO, 2 |
TOP STORY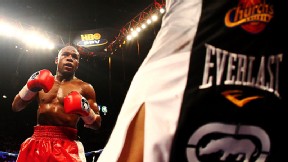 Money Makes His Move
Floyd Mayweather Jr. made an anticipated announcement -- but also dropped a bombshell: He'll fight Robert Guerrero on May 4 as part of a huge Showtime deal. Story »
FLOYD MAYWEATHER JR. QUICK FACTS
Birth date: Feb. 24, 1977
Birthplace: Grand Rapids, Michigan
Turned pro: 1996
Weight class: Welterweight
Height: 5-foot-8
Pro fights: 43
Record: 43-0-0
Wins by KO: 26