Carl Froch vs. Andre Ward - Super Six Final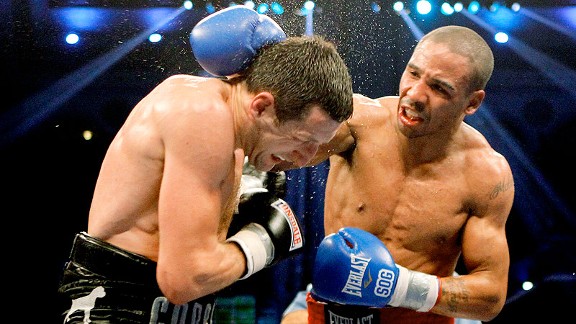 Andre Ward defeated Carl Froch in the final of the Super Six World Boxing Classic for the super middleweight title on Dec. 17, 2011 at Boardwalk Hall in Atlantic City. By winning the fight, the culmination of a tournament that lasted more that two years, Ward became the WBC, WBA and Ring Magazine super middleweight champion.
The Super Six World Boxing Classic was established to determine a true super middleweight champion through a series of fights between the top contenders in the division. The multi-stage event was organized by Showtime and promoter Wilfried Sauerland. The original lineup of fighters included Carl Froch, Andre Ward, Jermain Taylor, Mikkel Kessler, Arthur Abraham and Andre Dirrell.
The event was set up so that each fighter would fight three others in the group stage. Fighters would earn two points for a win and a bonus point for a knockout, and the top four fighters after th group stage would advance to the semifinals.
The first set of Group Stage fights was held in late 2009. On Oct. 17, 2009, Abraham defeated Taylor in a 12th-round knockout and Froch defeated Dirrell in a split decision. With the win, Froch retained the WBC super middleweight belt. On Nov. 21, 2009, Ward defeated Kessler with an 11th-round technical decision, taking the WBA super middleweight bout.
After the first set of fights, Taylor withdrew from the tournament, citing a need to take a rest. He was originally scheduled to fight Ward in April 2010, but his spot in the field was taken by Allan Green, and the Ward-Green fight was pushed back to June. The second set of fights kicked off on March 27, 2010, when Dirrell earned a DQ victory over Abraham, leaving both fighters with a 1-1 record in the event. On April 24, 2010, Kessler defeated Froch, taking the WBC super middleweight belt and leaving both fighters at 1-1. Ward defeated Green on June 19, 2010, improving to 2-0 and clinching a spot in the semifinals.
The third group stage was beset by delays. Dirrell, who was scheduled to face Ward, was forced to withdraw, leaving Ward without an opponent. Since Ward had already clinched a semifinal spot, he was awarded two points for a forfeit victory (though no victory was reflected on his official record) and allowed to take a non-tournament fight against Sakio Bika. Ward put his championship belt on the line against Bika, jeopardizing the Super Six tournament's ability to unify the belts. However, Ward went on to win the fight, keeping his belt in play for the tournament.
Kessler also withdrew from the tournament following the second group stage, citing an eye injury, taking the WBC belt temporarily out of play. The WBC decided to vacate the title while Kessler was sidelined, agreeing to make him the number one contender when he returned to action. In the interim, they mandated that the winner of the Froch-Abraham group stage match. That fight was delayed due to a back injury to Froch, and had to be rescheduled from Oct. 2, 2010 to Nov. 27, 2010.
Glen Johnson was chosen to replace Kessler in the tournament, and set to fight Allan Green, with the winner advancing to the semifinals. On Nov. 6, 2010, Johnson knocked out Green in the 8th round, giving him 3 points and a spot in the semifinals. Three weeks later, Froch defeated Abraham via unanimous decision, regaining the WBC belt, though both fighters advanced to the semifinals.
Having lost his last two group stage bouts, Abraham took a non-tournament warm-up fight prior to his semifinal match with Ward, easily taking care of Stjepan Bozic with a second-round TKO. On May 14, 2011, Abraham met Ward in the ring in Carson, California, where Ward emerged victorious with a unanimous decision victory, preserving his undefeated record and advancing to the final. Froch and Johnson met three weeks later, with Froch earning a majority decision win.
Froch and Ward were originally scheduled to meet in the final on Oct. 29, 2011, but Ward suffered a cut above his eye during a sparring session in training, delaying the fight to Dec. 17, 2011. Once the two fighters met in the ring, Ward controlled the action from start to finish, earning a unanimous decision victory to take both belts and the Ring Magazine super middleweight title.
Super Six World Boxing Classic Results
Stage
Date
Winner
Loser
Result
Site
Group
Oct. 17, 2009
Arthur Abraham
Jermain Taylor
KO, 12
Berlin
Group
Oct. 17, 2009
Carl Froch
Andre Dirrell
SD, 12
Nottingham,
England
Group
Nov. 21, 2009
Andre Ward
Mikkel Kessler
TD, 11
Oakland,
Calif.
Group
March 27, 2010
Andre Dirrell
Arthur Abraham
DQ, 11
Detroit
Group
April 24, 2010
Mikkel Kessler
Carl Froch
UD, 12
Herning,
Denmark
Group
June 19, 2010
Andre Ward
Allan Green
UD, 12
Oakland,
Calif.
Group
Nov. 6, 2010
Glen Johnson
Allan Green
KO, 8
Las Vegas
Group
Nov. 27, 2010
Carl Froch
Arthur Abraham
UD, 12
Helsinki
Semifinal
May 14, 2011
Andre Ward
Arthur Abraham
UD, 12
Carson, Calif.
Semifinal
June 4, 2011
Carl Froch
Glen Johnson
MD, 12
Atlantic City,
N.J.
Final
Dec. 17, 2011
Andre Ward
Carl Froch
UD, 12
Atlantic City,
N.J.
Main Event
Super Middleweight Championship: Andre Ward def. Carl Froch
Unanimous decision
Undercard
Kell Brook def. Luis Galarza
TKO, 5th round
Bowie Tupou def. Donnell Holmes
Unanimous decision
Edison Miranda def. Kariz Kariuki
TKO, 5th round
Cornelius White def. Yordanis Despaigne
Unanimous decision
John Lennox def. Jeramiah Witherspoon
TKO, 3rd round
Boyd Melson vs. Danny Lugo
TOP STORY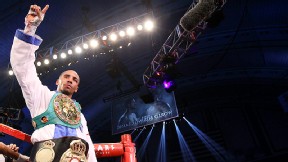 Ward takes decision, Super Six title
Andre Ward controlled the action from start to finish, earning a unanimous decision over Carl Froch and winning the final of the Super Six tournament. Recap » Undercard » Blog »
TALE OF THE TAPE
Froch vs. Ward - Dec. 17, 2011
| Carl Froch | | Andre Ward |
| --- | --- | --- |
| England | From | Oakland, CA |
| 28-1-0 (20 KO) | Record | 24-0-0 (13 KO) |
| 34 | Age | 27 |
| 167.5 | Weight | 168 |
| 6-1 | Height | 6-0 |
| 75 inches | Reach | 71 inches |