Joe Frazier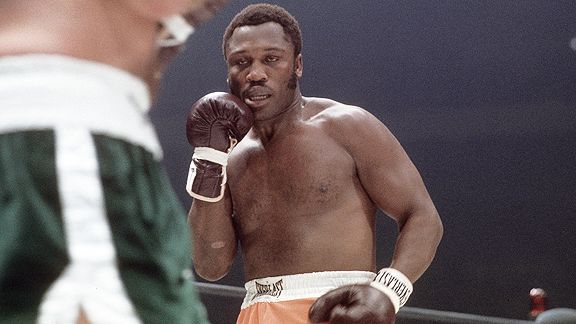 Joe Frazier was a heavyweight boxing champion and Olympic gold medalist. Frazier was best known for his trio of fights with the legendary Muhammad Ali, including "The Thrilla in Manila" in 1975. Frazier held the undisputed heavyweight championship for nearly three years before a crushing loss at the hands of George Foreman in 1973.
Toward the end of his career, Frazier suffered from cataracts, which severely affected his vision in the ring. He retired from the sport of boxing in 1981. Frazier was inducted into the International Boxing Hall of Fame and the World Boxing Hall of Fame.
Following his retirement, Frazier opened and operated a boxing gym in Philadelphia, training two of his children, Jackie and Marvis, as well. Frazier died on Nov. 7, 2011, following a battle with liver cancer.
Joseph William Frazier was born on Jan. 12, 1944, in Beaufort, S.C., to Rubin and Dolly Frazier. Frazier was the 11th of 12 children and the son of a sharecropper. By the age of 15, Frazier had left home and moved in with his older brother Tommy in New York. Finding work was difficult for Frazier, so he started stealing cars and selling them to a junkyard for $50 apiece.
Frazier landed in boxing by accident. After struggling to make it in New York, Frazier moved to Philadelphia. While working at a slaughterhouse, Frazier would often punch the sides of beef in a refrigerated room. Frazier eventually started working out at the gym and officially took up boxing in December 1961.
Trainer Yank Durham met Joe Frazier at the gym and worked to improve his boxing skills. Durham developed Frazier's left hook, which would eventually become his signature punch. As an amateur, Frazier was a three-time Middle Atlantic Golden Gloves champion. Frazier competed in the 1964 U.S. Olympic Trials but lost in the finals to Buster Mathis. It appeared his hopes of competing for the United States at the Olympics in Tokyo were out the door for Frazier, but Mathis injured his hand during an exhibition bout between the two fighters.
Frazier made the most of the second opportunity, winning the gold medal in the heavyweight division at the Tokyo Olympics by defeating Hans Huber of Germany.
Before turning professional, Frazier learned that he had cataracts in his left eye. Despite the setback, Frazier was able to continue his boxing career.
Trainer Yank Durham put together a group of local Philadelphia businessmen to form Cloverlay, which invested in Joe Frazier's professional career. The group was able to raise $20,000, which allowed Frazier to train full time. Along with getting Frazier's professional career off the ground, Durham nicknamed him "Smokin' Joe."
Frazier made his professional debut on Aug. 16, 1965, against Woody Goss in Philadelphia. Frazier knocked Goss down in the first round and referee Zach Clayton stopped the fight after excessive holding. Over the span of a year, Frazier would go 11-0 with 11 knockouts. During this span of victories, Frazier added a new trainer to his team. Eddie Futch out of Los Angeles joined Frazier's camp as an assistant trainer and strategist.
Frazier got his first legitimate challenge against Oscar Bonavena in 1966, needing all 10 rounds to win by majority decision. During the fight, Bonavena knocked Frazier down twice in the second round. When heavyweight champion Muhammad Ali was stripped of the heavyweight championship in 1967, the World Boxing Association held an elimination tournament to determine a new champion. Futch suggested Frazier, who was the top contender for Ali's title, not participate in the eight-man tournament. Instead, Frazier continued to improve on his perfect record by fighting lesser-known opponents. Since the state of New York stripped Ali of the title, they held a match between Frazier and Buster Mathis, with the winner to be recognized as the "World Champion." Frazier won the NYSAC World heavyweight title, defeating Mathis by knockout in the 11th round. Along with New York, the fight was recognized as a heavyweight title fight in Illinois, Pennsylvania, Massachusetts and Maine.
In Frazier's first title defense of the NYSAC title, he knocked out Manuel Ramos in the second round. On June 23, 1969, Frazier defeated Jerry Quarry in what was the Ring Magazine 1969 Fight of the Year. Frazier became the undisputed heavyweight champion of the world on Feb. 16, 1970, defeating Jimmy Ellis at Madison Square Garden. Ellis had won the heavyweight title after defeating Quarry in the finals of the WBA elimination tournament.
Frazier traveled to Detroit for his first title defense, knocking out Bob Foster in the second round.
With Ali back in the ring after his three-year hiatus, it set the stage for a heavyweight showdown against Frazier. The two boxers signed to fight on Dec. 30, 1970. Prior to the fight, both Ali and Frazier traded several verbal jabs at each other.
Dubbed "The Fight of the Century," Ali and Frazier were undefeated headed into their March 8, 1971, fight at Madison Square Garden. Ali started off strong, holding the advantage over Frazier during the first three rounds of the match. Frazier was able to keep things close before taking the advantage in the 11th round. Ali managed to escape from serious trouble until Round 15 when Frazier knocked him down for just the third time in his career. A shaken Ali got up and finished the final round, but the damage had been done. Frazier retained his heavyweight championship after winning by unanimous decision, handing Ali his first professional loss.
In the month following the fight, Frazier spent time in the hospital dealing with a kidney infection and hypertension.
Frazier defended the heavyweight championship twice in 1972, easily defeating Terry Daniels and Ron Stander. Unfortunately for Frazier, his reign as heavyweight champion would come to a crashing end at the hands of George Foreman. The 6-foot-3 Foreman used his height and size advantage to knock down Frazier six times during their Jan. 22, 1973, match in Jamaica. The first Frazier knockdown produced the now infamous, "Down goes Frazier!" call from ABC announcer Howard Cosell.
After defeating Joe Bugner, Frazier stepped into the ring against Ali for the second time on Jan. 28, 1974, at Madison Square Garden. Out of their three eventual fights, Ali-Frazier II was considered the most anticlimactic. Both men had a loss on their boxing résumé and Frazier was coming off a beating at the hands of Foreman.
The winner of the fight would be in line to challenge Foreman for the heavyweight title. Prior to the fight, Ali and Frazier got into a fight on the set of ABC's "Wide World of Sports" in New York. The two fighters were reviewing their first fight when Ali called Frazier ignorant.
In the actual fight, Ali won a unanimous 12-round decision over Frazier. Several sports writers who were ringside at Madison Square Garden thought Frazier had won the fight.
Frazier rebounded after a close loss to Ali by defeating Jerry Quarry and Jimmy Ellis. With his cataract in his left eye getting worse, Frazier agreed to fight Ali for a third time.
The Thrilla in Manila
Muhammad Ali and Joe Frazier met for the third and final time on Oct. 1, 1975, in the Philippines. Less than a year after promoter Don King scheduled a fight in Zaire, Ali and Frazier traveled to Quezon City in Metro Manila. The rivalry between the two fighters reached a boiling point after Frazier felt Ali betrayed him after being such a vocal supporter for him during his three-plus years away from the ring. Leading up to the fight, Frazier was taunted by and even called a "gorilla" by Ali.
When the bell finally rang, the two men slugged it out in what would go down as one of the greatest fights in the 20th century. With Frazier's eye swelling shut, Ali took advantage in Round 14. Frazier practically couldn't see out of one eye and that forced trainer Eddie Futch to step in and throw in the towel before the start of the 15th and final round. Frazier had 20/50 vision in his right eye and 20/400 in his left because of his cataracts.
End of career
Three years after George Foreman knocked him out, Joe Frazier fought in a rematch in 1976. Like their first meeting, Frazier had no answer for the bigger Foreman, losing in the fifth round after he was knocked out. Following the loss, Frazier retired from boxing. He returned five years later in 1981, drawing in a 10-round fight against Floyd "Jumbo" Cummings. Frazier ended his professional career with a 32-4-1 record.
Despite retiring for good in 1981, Joe Frazier fought in a 2006 exhibition charity match against William Herenton, the mayor of Memphis. Frazier was inducted into the International Boxing Hall of Fame in 1990. After hanging up the gloves, Frazier turned to training his own kids in the sport. The Ali-Frazier legacy would continue as Joe's daughter, Jackie, challenged Laila Ali, Muhammad's daughter, to a fight. Laila defeated Jackie as part of the first pay-per-view card to be headlined by women boxers in 2001. Joe's son, Marvis, would fight as a heavyweight during the 1980s. Mike Tyson recorded his quickest knockout when he defeated Marvis Frazier in just 20 seconds. Jackie would eventually become a judge and Marvis is an ordained minister.
In 1996, Frazier released his autobiography, titled "Smokin' Joe: The Autobiography of a Heavyweight Champion of the World."
In 2007, Frazier sued his daughter Jackie in an attempt to get records for when she served as his attorney and business advisor between 1998 and 2004. Frazier later dropped the lawsuit.
Frazier purchased 140 acres of farmland in Pennsylvania in 1973 for $840,000. The property was subdivided and turned into a residential community with a value of $100 million. The land was sold in 1978 and Frazier sued his former business partners, citing forgery. The case was dismissed in 2003.
Frazier ran a boxing gym in Philadelphia until it was closed in 2008 and put up for sale.
Joe Frazier divorced his wife of more than 20 years, Florence Frazier, in 1985. Frazier reportedly had 11 children. Frazier sufferd from diabetes and high blood pressure.
Frazier appeared in two episodes of "The Simpsons" and was featured in the Electronic Arts "Fight Night" boxing series.
Frazier died on Nov. 7, 2011, following a battle with liver cancer.
NEWS RESULTS FOR JOE FRAZIER
AUDIO RESULTS FOR JOE FRAZIER
VIDEO RESULTS FOR JOE FRAZIER
TOP STORY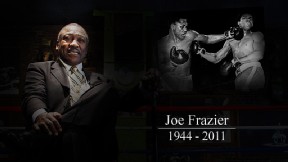 Boxing legend Joe Frazier dies
Hall of Fame boxer Joe Frazier died Monday of cancer at 67. His trio of fights with Muhammad Ali are part of fighting lore. Story »
JOE FRAZIER QUICK FACTS
Born: Jan. 12, 1944
Died: Nov. 7, 2011
Birthplace: Beaufort, South Carolina
Weight class: Heavyweight
Height: 5-foot-11½
Pro fights: 37
Record: 32-4-1
Wins by KO: 27
Inducted into Boxing Hall of Fame in 1990
THE FIGHT OF THE CENTURY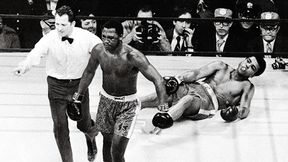 For the 40th anniversary of the Fight of the Century, ESPN.com topics has you covered on the fight and the key people involved.
THE THRILLA IN MANILA
For the 35th anniversary of The Thrilla in Manila, ESPN.com topics has you covered on the fight and the key people involved.
JOE FRAZIER BOXING RECORD
32-4-1, 27 knockouts
| Date | Opponent | Res. | Type |
| --- | --- | --- | --- |
| 12/3/1981 | Floyd Cummings | Draw | Draw, 10 |
| 6/15/1976 | George Foreman | Loss | TKO, 5 |
| 10/1/1975 | Muhammad Ali | Loss | TKO, 14 |
| 3/2/1975 | Jimmy Ellis | Win | TKO, 9 |
| 6/17/1974 | Jerry Quarry | Win | TKO, 5 |
| 1/28/1974 | Muhammad Ali | Loss | UD, 12 |
| 7/2/1973 | Joe Bugner | Win | UD, 12 |
| 1/22/1973 | George Foreman | Loss | TKO, 2 |
| 5/25/1972 | Ron Stander | Win | TKO, 5 |
| 1/15/1972 | Terry Daniels | Win | TKO, 4 |
| 3/8/1971 | Muhammad Ali | Win | UD, 15 |
| 11/18/1970 | Bob Foster | Win | KO, 2 |
| 2/16/1970 | Jimmy Ellis | Win | TKO, 5 |
| 6/23/1969 | Jerry Quarry | Win | TKO, 7 |
| 4/22/1969 | Dave Zyglewicz | Win | KO, 1 |
| 12/10/1968 | Oscar Bonavena | Win | UD, 15 |
| 6/24/1968 | Manuel Ramos | Win | TKO, 2 |
| 3/4/1968 | Buster Mathis | Win | TKO, 11 |
| 12/18/1967 | Marion Connor | Win | TKO, 3 |
| 10/17/1967 | Tony Doyle | Win | TKO, 2 |
| 7/19/1967 | George Chuvalo | Win | TKO, 4 |
| 5/4/1967 | George Johnson | Win | UD, 10 |
| 4/11/1967 | Jefferson Davis | Win | KO, 5 |
| 2/21/1967 | Doug Jones | Win | KO, 6 |
| 11/21/1966 | Eddie Machen | Win | TKO, 10 |
| 9/21/1966 | Oscar Bonavena | Win | SD, 10 |
| 7/25/1966 | Billy Daniels | Win | TKO, 6 |
| 5/26/1966 | Al Jones | Win | KO, 1 |
| 5/19/1966 | Chuck Leslie | Win | KO, 3 |
| 4/28/1966 | Don Smith | Win | KO, 3 |
| 4/4/1966 | Charley Polite | Win | TKO, 2 |
| 3/4/1966 | Dick Wipperman | Win | TKO, 5 |
| 1/17/1966 | Mel Turnbow | Win | KO, 1 |
| 11/11/1965 | Abe Davis | Win | KO, 1 |
| 9/28/1965 | Ray Staples | Win | KO, 2 |
| 9/20/1965 | Mike Bruce | Win | TKO, 3 |
| 8/16/1965 | Woody Goss | Win | TKO, 1 |