Manny Pacquiao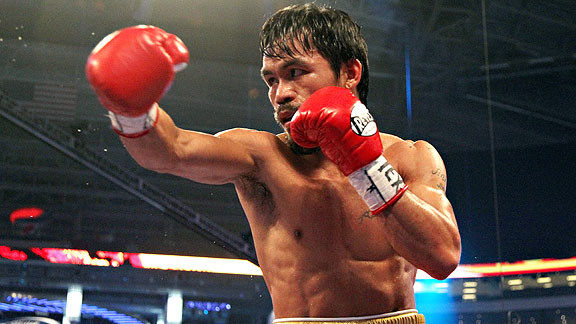 Emmanuel Dapidran "Manny" Pacquiao is a professional boxer from the Philippines. Named "Fighter of the Decade" (for the 2000s) by the Boxing Writers Association of America, Pacquiao became the only fighter to win titles in eight different weight divisions during his career after defeating Antonio Margarito to claim the vacant World Boxing Council (WBC) super welterweight title in November 2010. Outside the ring, Pacquiao has an acting career and was recently elected to the House of Representatives in the Philippines' Congress.
Emmanuel Dapidran "Manny" Pacquiao was born in Kibawe, Bukidnon, in the Philippines on Dec. 17, 1978, to parents Rosalio and Dionesia Dapidran Pacquiao. The fourth of six children in the poor family, Manny began boxing as a young teenager. Despite his small stature, he compiled a successful amateur record after joining the Asian nation's amateur boxing team.
Manny Pacquiao turned professional at 16 years old, winning his first bout by decsion over Edmund Ignacio in January 1995. Standing just short of 5 feet tall and weighing just over 100 pounds, Pacquiao began as a light flyweight and compiled a succesful record in that class before gaining some weight and moving up to the flyweight division. After capturing the Oriental/Pacific flyweight title, Pacquaio won the World Boxing Council (WBC) belt by knocking out Chatchai Sasakul (in the eighth round) in December 1998.
Pacquiao lost in his second defense of that title, knocked out by Medgoen Singsurat in the third round of their September 1999 fight. He soon moved up to the junior featherweight (or super bantamweight) division and won the WBC international title in that class, defeating Reynante Jamili. In June 2001, Pacquaio won his second world title by stopping Lehlohonolo Ledwaba by technical knockout to earn the International Boxing Federation (IBF) junior featherweight belt.
After successfully defending that title four times, Pacquiao moved up in class again. By virtue of a technical knockout (in the 11th round) of Marco Antonio Barrera in November 2003, Pacquiao was named as the "lineal" champion in the featherweight division, thus becoming the first Asian fighter to claim world titles in three different divisions. Six months later, Pacquiao knocked down IBF champion Juan Manuel Marquez three times in the first round of a 12-round bout, but the battle went the distance and was ruled a draw by the judges' counts.
The small but powerful Filipino moved up to the super featherweight (or junior lightweight) class in 2005 to fight another three-division champion, Erik Morales of Mexico, for vacant WBC and IBF super featherweight titles in June of that year. Pacquiao lost the fight by decision, but then knocked out Hector Velazquez (in the sixth round) in September 2005 to earn the WBC international super featherweight title. A rematch with Morales followed in January 2006, with Pacquiao taking the bout by technical knockout to retain his WBC belt. A third fight with Morales was among Pacquiao's additional titles defenses, with Pacquiao knocking out the Mexican in three rounds in November 2006.
Following wins over Jorge Solis and Barrera, Pacquiao won a rematch with Marquez in March 2008. The split-decision victory gave Pacquiao the WBC super featherweight world title, The Ring's junior lightweight world title and the "lineal" junior lightweight title -- making him a world champion in a fourth weight class.
Rather than give Marquez a third fight, Pacquiao then moved up a division in search of another crown. His next fight (June 2008) was a ninth-round knockout of David Diaz, the reigning WBC lightweight world champion, to secure a world title in a fifth weight class.
Pacquiao then set his sights on the welterweight division, with a non-title fight against the legendary Oscar de la Hoya his first one at the 147-pound class. In the December 2008 fight that was among the most profitable (in gate and pay-per-view revenues) in history, Pacquiao dominated his opponent and won by technical knockout after eight rounds, with de la Hoya announcing his retirement not long after the bout.
Now recognized as one of the world's best pound-for-pound boxers, Pacquiao and his handlers pursued a fight with Ricky Hatton in early 2009. Once disputes between the two fighters' camps were resolved, the "Battle of East and West" was set for May 2, 2009. The bout was not much of a battle, as Pacquiao twice knocked Hatton to the canvas in the first round. A left hook by the Filipino put Hatton down for good near the end of the second round, giving Pacquiao the International Boxing Organization (IBO) junior welterweight title and tying de la Hoya as the only boxer in history to claim titles in six different weight divisions.
In November 2009, Pacquiao battered Miguel Cotto over 12 rounds in a bout sanctioned as a world title fight in the welterweight division.The technical knockout victory gave Pacquiao the WBO welterweight title, making him the first boxer to win world titles in seven different weight divisions.
The millions of dollars taken in for the fight approached record levels, but the totals were sure to be surpassed if a rumored Pacquiao-Floyd Mayweather, Jr. fight became reality. Mayweather, a champion in five different weight classes, agreed to a March 2010 fight with Pacquiao but wanted Olympic-style drug testing to apply to the two participants. With Pacquiao refusing to submit to any blood testing within the 30 days prior to the proposed fight, the two fighters' camps underwent mediation before a judge to work toward a compromise on the matter. With more disagreement following that process, Pacquiao's promoter Bob Arum announced in January 2010 that the fight was officially off. Mayweather and his handlers declared that Pacquaio's refusal to submit to the testing indicated that the Asian boxer was using banned substances (despite any prior evidence). Pacquiao in turn filed a lawsuit for defamation against Mayweather and others, seeking some $75,000 in damages.
With the much-anticipated Mayweather bout failing to materialize, Pacquiao agreed to fight former IBF welterweight champion Joshua Clottey on that March 2010 date. Pacquiao won the fight by unanimous decision to retain his WBO welterweight title. Three months later, he was honored by the Boxing Writers Association of America as the "Fighter of the Year" for 2009 (winning the award in 2006 and 2008, too) and was named by the group as the "Fighter of the Decade" (for the years 2000-2009).
Looking to fight one more time in 2010, Pacquiao and his promoters again brought up the prospect of facing Mayweather. Negotiations between representatives of the two boxers resumed after Pacquiao's win over Clottey, but in July 2010 it was announced that Mayweather was not seeking to fight in the near future. Instead, Pacquiao lined up a November fight against Antonio Margarito for the vacant WBC super welterweight title, held in Dallas. Despite being much smaller in size, Pacquiao used his speed and punching power to dominate Margarito and win by unanimous decision to claim a record eighth title in different divisions.
Following the Margarito fight, Pacquiao once again tried to put together a fight with Floyd Mayweather Jr. However, when that fell through, he scheduled a bout with Shane Mosley on May 7, 2011 in Las Vegas, and easily won by unanimous decision to retain his WBO welterweight title. Pacquiao followed that up by completing an epic trilogy with Juan Manuel Marquez. On Nov. 12, 2011, he met the three-time champion Marquez at a catchweight of 144 pounds, earning a controversial majority decision in another 12-round classic. Fans at the fight booed the decision, thinking Marquez had won the fight, and Marquez's side agreed. After the fight, Pacquiao's promoter Bob Arum suggested he'd set up another date with Marquez, rather than try to set up a fight with Mayweather, who'd already announced that his next fight would be May 5 at the MGM Grand, but failed to announce an opponent.
Mayweather moved forward with a fight with Miguel Cotto, leaving Pacquiao to set up a fight against undefeated welterweight Timothy Bradley Jr. The fight was held on June 9, 2012 at the MGM Grand in Las Vegas. Pacquiao appeared to dominate the fight, and landed more punches than his opponent, but lost a controversial split decision to Bradley, just the fourth loss of his career.
A huge celebrity in the Philippines, Manny Pacquiao has appeared in a number of films and television shows in his native country. He played a lead role in the 2005 film "Licensed Fist," starred in "Son of Commander" in 2008 and "Wapakman" in 2009.
Pacquiao signed with the GMA television network in 2007 to act in a number of shows that included a situation comedy titled "Show Me Da Manny."
The boxing champion has also entered the political arena, helping to organzie the "People's Champ Movement" as a political party. After losing out on a bid for a congressional seat in the Philippines general election of 2007, Pacquiao was elected to serve as a representative from the Sarangani district in the Phillipines' congress in May 2010.
Pacquiao is a big basketball fan and incorporates playing the game as part of his training regimen. He also owns, and sometimes plays for, the MP-Gensan Warriors, a basketball team in the semi-pro league (Liga Pilipinas conference) in the Philippines.
Manny Pacquiao is married to Maria "Jinkee" Jamora and has four children.
Pacquiao has appeared in commercials and advertisements for a number of products, ranging from food and beverages to detergent. He was featured alongside other sports stars in Nike's "Fast Forward" campaign and appeared with Jet Li in a commercial for San Miguel beer.
Pacquiao was the flag bearer for the Philippines team at the opening ceremonies of the 2008 Olympic games in Beijing, China.
In 2009, Pacquiao was included in Time Magazine's "100 Most Influential People" (in its Heroes and Icons category).
TOP STORY
Fourth Time Is A Charm
Juan Manuel Marquez backed up his pre-fight talk with a devastating punch in the sixth round knocking out Manny Pacquiao and setting up talk of a fifth installment in the series. Story »
MANNY PACQUIAO QUICK FACTS

Birth date: Dec. 17, 1978
Birthplace: Kibawe, Bukidnon, Philippines
Weight class: Welterweight
Height: 5-foot-6½
Turned pro: 1995
Pro fights: 61
Record: 54-5-2
Wins by KO: 38
MANNY PACQUIAO BOXING RECORD
54-5-2, 38 knockouts
| Date | Opponent | Res. | Type |
| --- | --- | --- | --- |
| 12/8/2012 | Juan Manuel Marquez | Loss | KO, 6 |
| 6/9/2012 | Timothy Bradley Jr. | Loss | SD, 12 |
| 11/12/2011 | Juan Manuel Marquez | Win | MD, 12 |
| 5/7/2011 | Shane Mosley | Win | UD, 12 |
| 11/13/2010 | Antonio Margarito | Win | UD, 12 |
| 3/15/2010 | Joshua Clottey | Win | UD, 12 |
| 11/14/2009 | Miguel Cotto | Win | TKO, 12 |
| 5/2/2009 | Ricky Hatton | Win | KO, 2 |
| 12/6/2008 | Oscar de la Hoya | Win | TKO, 8 |
| 6/28/2008 | David Diaz | Win | KO, 9 |
| 3/15/2008 | Juan Manuel Marquez | Win | SD, 12 |
| 10/6/2007 | Marco Antonio Barrera | Win | UD, 12 |
| 4/14/2007 | Jorge Solis | Win | KO, 8 |
| 11/18/2006 | Erik Morales | Win | KO, 3 |
| 7/2/2006 | Oscar Larios | Win | UD, 12 |
| 1/21/2006 | Erik Morales | Win | TKO, 10 |
| 9/10/2005 | Hector Velasquez | Win | TKO, 6 |
| 3/19/2005 | Erik Morales | Loss | UD, 12 |
| 12/11/2004 | Fahsan Por Thawachai | Win | KO, 4 |
| 5/8/2004 | Juan Manuel Marquez | Draw | Draw, 12 |
| 11/15/2003 | Marco Antonio Barrera | Win | TKO, 11 |
| 7/26/2003 | Emmanuel Lucero | Win | TKO, 3 |
| 3/15/2003 | Serikzhan Yeshmangbetov | Win | TKO, 5 |
| 10/26/2002 | Fahprakorb Rakkiatgym | Win | KO, 1 |
| 6/8/2002 | Jorge Elicier Julio | Win | TKO, 2 |
| 11/10/2001 | Agapito Sanchez | Draw | Draw, 6 |
| 6/23/2001 | Lehlohonolo Ledwaba | Win | TKO, 6 |
| 4/28/2001 | Wethya Sakmuangklang | Win | TKO, 6 |
| 2/24/2001 | Tetsutora Senrima | Win | TKO, 5 |
| 10/14/2000 | Nadel Hussein | Win | TKO, 10 |
| 6/28/2000 | Seung-Kon Chae | Win | TKO, 1 |
| 3/4/2000 | Arnel Barotillo | Win | KO, 4 |
| 12/18/1999 | Reynante Jamili | Win | TKO, 2 |
| 9/17/1999 | Medgoen Singsurat | Loss | KO, 3 |
| 4/24/1999 | Gabriel Mira | Win | KO, 4 |
| 2/20/1999 | Todd Makelin | Win | TKO, 3 |
| 12/4/1998 | Chartchai Sasakul | Win | TKO, 8 |
| 5/18/1998 | Shin Terao | Win | TKO, 1 |
| 12/6/1997 | Panomdej Or Yuthanakorn | Win | KO, 1 |
| 9/13/1997 | Melvin Magramo | Win | PTS, 10 |
| 6/26/1997 | Chokchai Chockvivat | Win | KO, 6 |
| 5/30/1997 | Ariel Austria | Win | TKO, 5 |
| 4/24/1997 | Wook-Ki Lee | Win | KO, 1 |
| 3/8/1997 | Michael Luna | Win | KO, 1 |
| 12/28/1996 | Sung-Yul Lee | Win | TKO, 2 |
| 7/277/1996 | Ippo Gala | Win | TKO, 2 |
| 6/15/1996 | Bert Batiller | Win | TKO, 4 |
| 5/20/1996 | Jun Medina | Win | TKO, 4 |
| 4/27/1996 | Marlon Carillo | Win | PTS, 10 |
| 2/9/1996 | Rustico Torrecampo | Loss | KO, 3 |
| 1/13/1996 | Lito Torrejos | Win | PTS, 5 |
| 12/6/1995 | Rolando Tuyugon | Win | PTS, 10 |
| 11/11/1995 | Rodulfo Fernandez | Win | TKO, 3 |
| 10/21/1995 | Renato Mendones | Win | TKO, 2 |
| 10/7/1995 | Lolito Laroa | Win | PTS, 8 |
| 9/16/1995 | Arman Rocil | Win | KO, 3 |
| 8/3/1995 | Flash Simbajon | Win | PTS, 6 |
| 7/1/1995 | Dele Decierto | Win | TKO, 2 |
| 5/1/1995 | Rocky Palma | Win | PTS, 6 |
| 3/18/1995 | Pinoy Montejo | Win | PTS, 4 |
| 1/22/1995 | Edmung Enting Ignacio | Win | PTS, 4 |