Floyd Mayweather vs. Victor Ortiz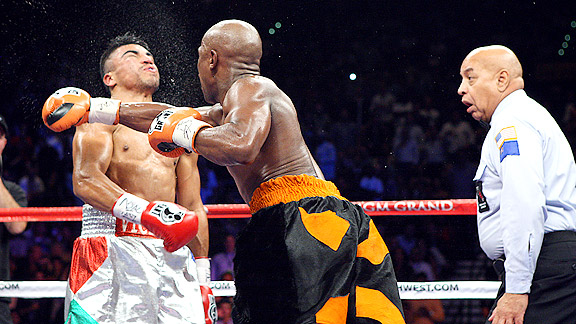 Floyd Mayweather versus Victor Ortiz was a WBC welterweight title fight held on Sept. 17 at the MGM Grand in Las Vegas. Mayweather knocked out Ortiz in the fourth round, landing a pair of punches while Ortiz appeared to be apologizing for a headbutt that had happened earlier in the round.
Mayweather, fighting for the first time since May 1, 2010, took the WBC welterweight belt from Ortiz.
Main Card
Floyd Mayweather Jr. def. Victor Ortiz
KO, 2:59 of fourth round
Floyd Mayweather Jr. remained undefeated and won the WBC welterweight title, knocking out Victor Ortiz in the fourth round. After a flurry of punches, Ortiz head-butted Mayweather, resulting in referee Joe Cortez deducting a point. As the two fighters came back together, Ortiz appeared to be apologizing to Mayweather, and had his guard down. Mayweather proceeded to hit him with a left, followed by a right, sending Ortiz to the canvas. Ortiz was down for the count, ending the fight in the fourth round. After the fight, Mayweather indicated that the two fighters had touched gloves, and the rule is "protect yourself at all times." Mayweather improved to 42-0 with 26 knockouts, earning his first knockout victory since stopping Ricky Hatton in the 10th round in 2007. The fourth-round stoppage was the earliest Mayweather had ended a fight since knocking out Angel Manfredy in the second round in 1998. Ortiz falls to 29-3-2, with two of his three losses coming via knockout. It's his first loss since 2009.
Saul "Canelo" Alvarez def. Alfonso GomezKO, 2:36 of the sixth round
After an even first five rounds, the fight turned in the sixth when Alvarez landed a flurry of punches, forcing a stoppage by referee Wayne Hedgpeth. Alvarez stunned Gomez with a right uppercut and followed it with a strong cross, sending Gomez into a shell, unable to defend himself. Alvarez landed 68 power punches to Gomez's 36, many coming in the fifth and sixth rounds. Alvarez knocked down Gomez with a short left hook in the first round, but Gomez recovered well, appearing to win the next few rounds. Alvarez retains his WBC super welterweight belt, improving to 38-0-1 overall with 28 knockouts. Gomez falls to 23-5-2, suffering his first loss since facing Miguel Cotto in 2008.
Erik Morales def. Pablo Cesar Cano
TKO, end of 10th round
In a close bout, Morales opened a bad cut over Cano's left eye, and battered it badly in the 10th round, forcing a stoppage. Morales improves to 52-7 overall, and earns the vacant WBC light welterweight title. It's his 36th career win via knockout, and fourth win in five fights since returning to the ring in 2010. Cano, who stepped in to the fight with just three weeks notice, got off to a strong start, but struggled after getting cut, suffering his first career loss. The 21-year-old was in a scheduled 12-round bout for the first time, and fought into the 10th round for just the second time in his career.
Jessie Vargas def. Josesito Lopez
Split decision, 94-95, 96-93, 95-94 (10 rounds)
Vargas was the more active fighter over the course of 10 rounds, throwing 851 punches to Lopez's 509, and landing 167 to Lopez's 122, to earn a controversial split decision. Vargas had a point deducted in the eighth round for a low blow, but it didn't cost him the final decision. Vargas improves to 17-0, with three of his last five wins coming via decision. Lopez falls to 29-4, with his first loss since 2008.
Preliminary Card
Carson Jones def. Said Ouali
TKO, end of seventh round
Jones dropped Ouali in the fourth round, then fought through a difficult fifth round to dominate the remainder of the fight, forcing a stoppage after the seventh round. A cut opened above Ouali's right eye, and the ringside doctor called a stop to the fight, determining that he could not go on. Jones (32-8-2) has lost just once in his last 17 bouts, and his last seven wins have come by knockout. Ouali suffers just since second defeat since 2004, falling to 28-4 overall.
Marco Antonio Periban def. Dhafir Smith
Unanimous decision, eight rounds
Periban improves to 15-0 in his career with his second consecutive unanimous decision. However, Smith is the third consecutive opponent he's faced with at least seven losses. Smith, who's lost his last three bouts, alll to up and coming fighters, falls to 24-22-7 in his professional career.
Anthony Crolla def. Juan Montiel
Split decision, eight rounds
Fighting in the United States for the first time, the British lightweight Crolla improves to 22-2-0 with a split decision victory. It's his ninth consecutive win, but the first time in his last four bouts he's been forced to go the distance. Montiel falls to 5-5-3, and is winless in his last three fights.
Adonis Stevenson def. Dion Savage
TKO, 1:57 in round 1 (of 8)
Stevenson came out throwing heavy shots, knocking down Savage less than halfway through the first round on a strong left uppercut. Savage got up, but was unable to fight back through Stevenson's flurry of punches, and referee Tony Weeks stopped the fight. Stevenson improved to 15-1-0 with 12 wins by knockout. Savage lost for just the second time in 13 career fights, but both losses have come in 2011 via first-round knockout.
Kyrone Butler def. Cassius Clay
Unanimous decision, four rounds
In the pro debut for both fighters, Butler defeated Clay by unanimous decision. Butler won all four rounds on all three judges cards.
TOP STORY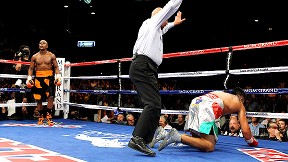 MAYWEATHER VS. ORTIZ PROFILES
Mayweather vs. Ortiz
Floyd "Money" Mayweather knocked out "Vicious" Victor Ortiz to regain the WBC welterweight title on Sept. 17 at the MGM Grand. Full Profile »
Floyd Mayweather
Floyd Mayweather is a former Ring Magazine world welterweight champion who is unbeaten in 42 professional fights, but he has not fought since 2010. Full Profile »
Victor Ortiz
Victor Ortiz was the WBC welterweight champion, before falling to Floyd Mayweather Jr. in a fourth-round knockout. Full Profile »
TALE OF THE TAPE
Mayweather vs. Ortiz - Sept. 17, 2011
| Floyd Mayweather | | Victor Ortiz |
| --- | --- | --- |
| Las Vegas, NV | From | Oxnard, CA |
| 41-0-0 (25 KO) | Record | 29-2-2 (22 KO) |
| 34 | Age | 24 |
| 146 1/2 | Weight | 147 |
| 5-8 | Height | 5-9 |
| 72 inches | Reach | 70 inches |
| Orthodox | Stance | Southpaw |