Muhammad Ali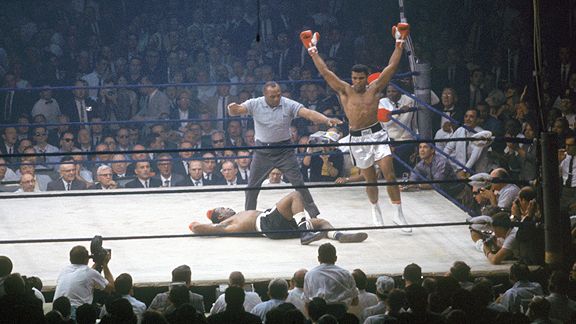 Muhammad Ali is a former heavyweight champion boxer. A three-time heavyweight champion, Ali is widely considered one of the greatest boxers of all time. Before turning professional, Ali won a gold medal as a light heavyweight at the 1960 Summer Olympics in Rome.
Born Cassius Clay, Ali changed his name after joining the Nation of Islam in 1964. Because of religious beliefs, Ali refused to serve for the U.S. military and was arrested and put on trial. Along with his legal woes, Ali was stripped of his heavyweight championship and had his boxing license suspended. The Supreme Court would eventually rule in Ali's favor in Clay v. United States in 1971.
During his prime, Ali was involved in two of the greatest fights in boxing history, taking part in "The Thrilla in Manila" against Joe Frazier and "The Rumble in the Jungle" against George Foreman.
After his retirement from boxing, Ali was diagnosed in 1984 with Parkinson's disease, which has severely affected his speech and mobility.
Cassius Marcellus Clay Jr. was born on Jan. 17, 1942, in Louisville, Ky. to Cassius Marcellus Clay, Sr. and Odessa Grady Clay. He was the younger of two children, as Clay had an older brother, Rahman, who was born as Rudolph Valentino Clay.
Clay started boxing at the age of 12 after his bike was stolen. Clay told Joe Martin, a police officer, that he wanted to beat up the thief. Along with being a police officer, Martin also trained boxers and persuaded Clay to work out at the local gym. His boxing career was born, and Clay had his first amateur fight in 1954, winning by split decision.
In 1956, Clay won the Golden Gloves Championship in the light heavyweight division. Three years later Clay won the Golden Gloves Tournament of Champions and the Amateur Athletic Union light heavyweight national title.
After graduating high school, Clay competed for the United States Olympic boxing team in the 1960 Summer Olympics in Rome. Clay took home the gold medal in the light heavyweight division after defeating Zbigniew Pietryzkowski from Poland. Clay finished with an amateur record of 100-5 before turning professional after the Olympics.
Cassius Clay made his professional debut on Oct. 29, 1960, in a six-round decision over Tunney Hunsaker at the Freedom Hall State Fairground in Louisville, Ky. Clay steamrolled through the competition during the first three years of his professional career. He was so dominant that he was able to correctly predict in what round he would knock out his opponents. In June 1963, Clay traveled to London to take on British heavyweight champion Henry Cooper. In front of a pro-Cooper crowd at Wembley Stadium, Clay won by technical knockout in the fifth round.
Despite his victory over Cooper, Clay was the underdog before stepping in the ring against Sonny Liston in 1964. Of 46 writers, 43 picked Liston to defeat Clay. The two squared off on Feb. 25, 1964, in Miami Beach, Fla. Clay was a 7-to-1 underdog but scored the upset victory over Liston after he didn't come out for the seventh round thanks to a shoulder injury. Clay won the heavyweight championship for the first time in his young career. After the fight, Clay celebrated with a dance in the ring and yelled, "I'm the greatest" and "I shook up the world!" It would go down as one of the most historic moments in Clay's career.
The day after the fight, Clay changed his name from Cassius Clay to Cassius X after joining the Nation of Islam. Nation of Islam leader Elijah Muhammad eventually settled on the name of Muhammad Ali for Clay. "Muhammad" means worthy of praise, and "Ali" was the name of a cousin of the prophets.
Ali and Liston would step in the ring a year later in a rematch. The fight didn't make it past the first round after a so-called "phantom punch" from Ali knocked out Liston before only 2,434 fans in Maine.
Ali also had little trouble with Floyd Patterson in 1965, going 12 rounds with the former champion before the fight was stopped.
On Mar. 22, 1967, Ali defeated Zora Folley at Madison Square Garden, in what turned out to be his last fight for quite some time.
Vietnam War
Ali's victory over Folley would be his last fight for more than three years. Since the country was in the middle of the Vietnam War, the United States Armed Forces drafted Ali to serve for his country. In 1964, Ali failed the qualifying test because of his subpar writing and spelling skills. However, Ali was later reclassified in 1966 as 1A, making him eligible for induction into the U.S. Army.
Ali was outspoken about serving in the war and publicly said he wouldn't go to Vietnam if he was drafted. He said that the war went against the teachings in the Quran and famously said, "I ain't got no quarrel with them Viet Cong ... they never called me n-----."
Ali appeared at his scheduled induction into the U.S. Army on Apr. 28, 1967, in Houston. An officer called Ali's name three times, and he refused to step forward. After an officer warned him of the consequences, Ali was arrested for committing a felony that was punishable by five years in prison and a fine of $10,000.
As a result of his arrest and induction refusal, Ali was stripped of the heavyweight title and had his boxing license suspended by the New York State Athletic Commission. Other boxing commissions followed suit and did the same.
Ali's case went to trail on June 20, 1967. After just 21 minutes of deliberation, the jury found Ali guilty, and the judge imposed he maximum sentence. A court of appeals upheld Ali's conviction, and the case went to the U.S. Supreme Court. While Ali was waiting for the Supreme Court to hear his case, he was gaining more public support for his views on the war.
Ali returned to the ring while waiting for the Supreme Court ruling, fighting in Georgia, which didn't have a boxing commission. On Oct. 26, 1970, Ali needed just three rounds to defeat Jerry Quarry.
On June 28, 1971, the Supreme Court ruled in Ali's favor and reversed his conviction by unanimous decision in Clay v. United States.
Return to the ring
With his legal issues resolved, Muhammad Ali moved forward full-time with his boxing career. While waiting for the Supreme Court to rule, the New York State Supreme Court had denied Ali a boxing license unjustly. After he was granted a license to fight in New York, Ali defeated Oscar Bonavena at Madison Square Garden on Dec. 7, 1970. Ali's victory over Bonavena paved the way for a showdown between the undefeated Joe Frazier.
The bout was dubbed "The Fight of the Century," and Ali and Frazier were undefeated headed into their March 8, 1971, fight at Madison Square Garden. Ali started off strong, holding the advantage over Frazier during the first three rounds. Frazier was able to keep things close before taking the advantage in the 11th round. Ali managed to escape from serious trouble until Round 15, when Frazier knocked him down for just the third time in his career. A shaken Ali got up and finished the final round, but the damage had been done. Ali had suffered his first professional loss as Frazier won by unanimous decision, retaining his heavyweight championship.
Ali rebounded with six victories in 1972, notching wins over Floyd Patterson and Jerry Quarry. He then defended the NABF heavyweight title against Ken Norton on March 31, 1973. Norton managed to break Ali's jaw in the fight and won by split decision. Ali was able to seek redemption against Norton by winning back his NABF championship in a split-decision rematch that didn't live up to the hype.
Ali got his rematch with Frazier in 1974 at Madison Square Garden. The winner of the fight would be in line to challenge George Foreman for the heavyweight title. Before the fight, Ali and Frazier got into a fight on the set of ABC's "Wide World of Sports" in New York. The fighters were reviewing their first fight when Ali called Frazier ignorant.
In the actual fight, Ali won a unanimous 12-round decision over Frazier.
"The Rumble in the Jungle"
With the win over Frazier, Ali finally had the opportunity to regain the heavyweight title he was stripped of in 1967. Rising star Foreman held the heavyweight championship after knocking down Frazier six times in a span of two rounds.
New boxing promoter Don King talked Ali and Foreman into signing separate contracts with the impression that he would be able to get $5 million for both fighters. Since King didn't have the money, he accepted an offer from Zaire president Mobutu Sese Seko to host the fight at Mai 20 Stadium in Kinshasa.
The fight was dubbed "The Rumble in the Jungle," and Ali and Foreman spent the summer of 1974 training in Zaire. Originally scheduled for September, the fight was pushed back until Oct. 30 after Foreman was injured during training. The young Foreman was a 7-to-1 favorite over Ali heading into the bout, which was fought in the early morning in Zaire.
Ali had a secret plan for Foreman, and the boxing world got its first glance at the "rope-a-dope" in the second round. Ali leaned on the ropes while covering up his body as Foreman threw punches that were deflected and didn't land squarely.
After several rounds of this strategy, Foreman started to tire in the ring while Ali's trademark taunting was in full effect. In the eighth round, Ali knocked Foreman down after a series of combinations. Foreman just made it up before the standing 10 count, but referee Zack Clayton stopped the fight. Ali handed Foreman his first loss and became the second heavyweight to regain his championship.
Ali successfully defended his heavyweight championship against Chuck Wepner on March 24, 1975, despite getting knocked down in the ninth round.
A documentary titled "When We Were Kings" was released in 1996 that focused on the buildup to the fight. The documentary won the Academy Award for best documentary feature.
The Thrilla in Manila
Ali and Frazier met for the third and final time on Oct. 1, 1975 in the Philippines. Less than a year after King scheduled a fight in Zaire, Ali and Frazier traveled to Quezon City in Metro Manila. The rivalry between the two fighters reached a boiling point after Frazier felt Ali betrayed him after being such a vocal supporter for him during his three-plus years away from the ring. Ali stuck to what he knew best, trash-talking. He taunted Frazier by referring to him as a gorilla.
The two men slugged it out in what would go down as one of the greatest fights in the 20th century. With Frazier's eye swelling shut, Ali took advantage in Round 14. Frazier practically couldn't see out of one eye, and that forced trainer Eddie Futch to step in and throw in the towel before the start of the 15th and final round. After the win, Ali said that this was the closest to dying he had ever come, as both fighters battled 100-degree temperatures.
Back in the states, Ali easily defeated Jean-Pierre Coopman, Jimmy Young and Richard Dunn. Ali scheduled an exhibition match with Japanese wrestler Antonio Inoki in Tokyo. Inoki also studied mixed martial arts, and there were several stipulations and rules added in the match. Because of Inoki's strategy, Ali was able to land only six punches while suffering repeated kicks to his legs. The fight ended in a draw as Ali suffered an infection and two blood clots in his legs.
After Ali recovered from his injury, he successfully defended his heavyweight championship against Ken Norton at Yankee Stadium on Sept. 28, 1976, in a unanimous decision.
Ali lost his heavyweight title to 1976 Olympic gold medalist Leon Spinks on Feb. 15, 1978 in a split decision. After underestimating Spinks, Ali got revenge in a rematch seven months later.
Following the victory, Ali retired on June 27, 1979. He returned to the ring on Oct. 2, 1980, against Larry Holmes in an attempt to win the heavyweight championship for the fourth time. Holmes was too much for the 38-year-old Ali, and trainer Angelo Dundee refused to let him finish the fight. Ali was trailing on all three scorecards when the fight was stopped before the 11th round.
Ali's last fight was a unanimous decision loss to Trevor Berbick in 1981. Retiring for good, Ali finished his career with a 56-5 professional record.
The day after his loss to Trevor Berbick, Muhammad Ali announced his retirement from boxing in 1981. In 1984, Ali was diagnosed with Parkinson's disease, which was a result of the severe head trauma suffered during his time in the ring. The neurological syndrome affects his movement and speech to this day.
In 1996, Ali was given the honor of lighting the Olympic cauldron in Atlanta for the 1996 Summer Olympics. A noticeably shaky Ali was the first boxer to light the cauldron. Later during the Olympics, Ali received a replacement medal for his 1960 gold medal, which he said he had thrown into the Ohio River after being refused service at a whites-only restaurant.
In 1997, Ali was awarded the Arthur Ashe Courage Award as part of the ESPY Awards. The BBC voted Ali as its sports personality of the century in 1999.
In 2001, a biographical film on Ali's career was made. Entitled "Ali," the film starred Will Smith as Muhammad Ali and was directed by Michael Mann. Smith and Jon Voight earned Academy Award nominations.
President George W. Bush awarded Ali the Presidential Medal of Freedom in 2005.
The Muhammad Ali Center opened on Nov. 19, 2005 in his hometown of Louisville, Ky. The $80 million, six-story museum and cultural center was built as a tribute to Ali.
There have been a series of books released on Ali, but his autobiography, "The Greatest: My Own Story," was published in 1975 and written with Richard Durham. His autobiography was eventually adapted into a film, "The Greatest," released in 1977 and starring Ali as himself.
Nicknamed "The Greatest," Muhammad Ali is regarded as the greatest heavyweight boxer of all time. During his 21-year professional career, Ali defeated every top heavyweight during the era. Ali was named Fighter of the Year by Ring Magazine five times and was involved in its Fight of the Year five times as well. In 1998, Ali was named the greatest heavyweight in all eras by Ring Magazine. According to an ESPN.com poll, Ali was voted as the second greatest fighter of all time behind Sugar Ray Robinson.
Ali has appeared on the cover of "Sports Illustrated" 37 times, second among all athletes behind Michael Jordan.
Along with his skills in the ring, Ali was also known for his showmanship. Never shy, Ali often boasted as being the prettiest fighter along with being the best. Ali had so many memorable quotes that a book written by George Lois, "Ali Rap: Muhammad Ali, the first Heavyweight Champion of Rap," featured a collection of Ali's best lines during his career.
Muhammad Ali is currently married to Yolanda Ali. The two married in 1986 and have one adopted son, Asaad. Before his marriage to Yolanda, Ali was married three times. In 1964, Ali married Sonji Roi, and they were married for two years. In 1967, a 25-year-old Ali married 17-year-old Belinda Boyd. The couple had four children together (Maryum, Jamillah, Liban, Muhammad Ali Jr.). Ali and Boyd ended their marriage after he began an affair with Veronica Porsche. Ali and Porsche married in 1977 and had two daughters, Hana and Laila. The two divorced in 1986.
Laila followed in her father's footsteps and pursued a career as a professional boxer. She went 24-0 before retiring.
Ali resides in Scottsdale, Ariz.
MUHAMMAD ALI QUICK FACTS
Birth date: Jan. 17, 1942
Birthplace: Lousiville, Kentucky
Birth name: Cassius Marcellus Clay, Jr.
Weight class: Heavyweight
Height: 6-foot-3
Pro fights: 61
Record: 56-5-0
Wins by KO: 37
Inducted into Boxing Hall of Fame in 1990
THE FIGHT OF THE CENTURY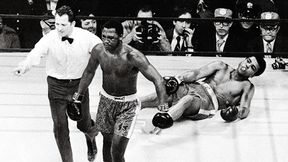 For the 40th anniversary of the Fight of the Century, ESPN.com topics has you covered on the fight and the key people involved.
THE THRILLA IN MANILA
For the 35th anniversary of The Thrilla in Manila, ESPN.com topics has you covered on the fight and the key people involved.
MUHAMMAD ALI BOXING RECORD
56-5-0, 37 knockouts
| Date | Opponent | Res. | Type |
| --- | --- | --- | --- |
| 12/11/1981 | Trevor Berbick | Loss | UD, 10 |
| 10/2/1980 | Larry Holmes | Loss | TKO, 10 |
| 9/15/1978 | Leon Spinks | Win | UD, 15 |
| 2/15/1978 | Leon Spinks | Loss | SD, 15 |
| 9/29/1977 | Earnie Shavers | Win | UD, 15 |
| 5/16/1977 | Alfredo Evangelista | Win | UD, 15 |
| 9/28/1976 | Ken Norton | Win | UD, 15 |
| 5/24/1976 | Richard Dunn | Win | TKO, 5 |
| 4/30/1976 | Jimmy Young | Win | UD, 15 |
| 2/20/1976 | Jean-Pierre Coopman | Win | KO, 5 |
| 10/1/1975 | Joe Frazier | Win | TKO, 14 |
| 6/30/1975 | Joe Bugner | Win | UD, 15 |
| 5/16/1975 | Ron Lyle | Win | TKO, 11 |
| 3/24/1975 | Chuck Wepner | Win | TKO, 15 |
| 10/30/1974 | George Foreman | Win | KO, 8 |
| 1/28/1974 | Joe Frazier | Win | UD, 12 |
| 10/20/1973 | Rudi Lubbers | Win | UD, 12 |
| 9/10/1973 | Ken Norton | Win | SD, 12 |
| 3/31/1973 | Ken Norton | Loss | SD, 12 |
| 2/14/1973 | Joe Bugner | Win | UD, 12 |
| 11/21/1972 | Bob Foster | Win | KO, 7 |
| 9/20/1972 | Floyd Patterson | Win | TKO, 7 |
| 7/19/1972 | Alvin Lewis | Win | TKO, 11 |
| 6/27/1972 | Jerry Quarry | Win | TKO, 7 |
| 5/1/1972 | George Chuvalo | Win | UD, 12 |
| 4/1/1972 | Mac Foster | Win | UD, 15 |
| 12/26/1971 | Jürgen Blin | Win | KO, 7 |
| 11/17/1971 | Buster Mathis | Win | UD, 12 |
| 7/26/1971 | Jimmy Ellis | Win | TKO, 12 |
| 3/8/1971 | Joe Frazier | Loss | UD, 15 |
| 12/7/1970 | Oscar Bonavena | Win | TKO, 15 |
| 10/26/1970 | Jerry Quarry | Win | TKO, 3 |
| 3/22/1967 | Zora Folley | Win | KO, 7 |
| 2/6/1967 | Ernie Terrell | Win | UD, 15 |
| 11/14/1966 | Cleveland Williams | Win | TKO, 3 |
| 9/10/1966 | Karl Mildenberger | Win | TKO, 12 |
| 8/6/1966 | Brian London | Win | KO, 3 |
| 5/21/1966 | Henry Cooper | Win | TKO, 6 |
| 3/29/1966 | George Chuvalo | Win | UD, 15 |
| 11/22/1965 | Floyd Patterson | Win | TKO, 12 |
| 5/25/1965 | Sonny Liston | Win | KO, 1 |
| 2/25/1964 | Sonny Liston | Win | TKO, 7 |
| 6/18/1963 | Henry Cooper | Win | TKO, 5 |
| 3/13/1963 | Doug Jones | Win | UD, 10 |
| 1/24/1963 | Charley Powell | Win | KO, 3 |
| 11/15/1962 | Archie Moore | Win | TKO, 4 |
| 7/20/1962 | Alejandro Lavorante | Win | KO, 5 |
| 5/19/1962 | Billy Daniels | Win | TKO, 7 |
| 4/23/1962 | George Logan | Win | TKO, 4 |
| 3/28/1962 | Don Warner | Win | TKO, 4 |
| 2/10/1962 | Sonny Banks | Win | TKO, 4 |
| 11/29/1961 | Willi Besmanoff | Win | TKO, 7 |
| 10/7/1961 | Alex Miteff | Win | TKO, 6 |
| 7/22/1961 | Alonzo Johnson | Win | UD, 10 |
| 6/26/1961 | Duke Sabedong | Win | UD, 10 |
| 4/19/1961 | LaMar Clark | Win | KO, 2 |
| 2/21/1961 | Donnie Fleeman | Win | TKO, 7 |
| 2/7/1961 | Jimmy Robinson | Win | KO, 1 |
| 1/17/1961 | Tony Esperti | Win | TKO, 3 |
| 12/27/1960 | Herb Siler | Win | KO, 4 |
| 10/29/1960 | Tunney Hunsaker | Win | UD, 6 |