Manny Pacquiao vs Shane Mosley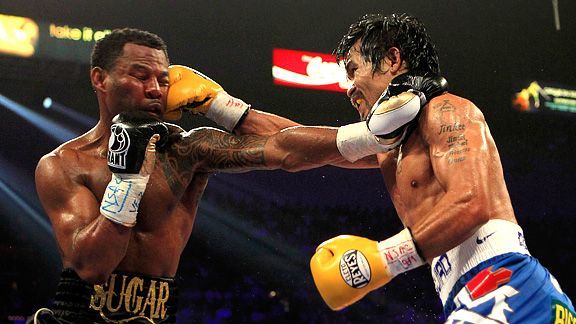 Manny Pacquiao versus "Sugar" Shane Mosley was a welterweight championship fight held on May 7, 2011 at the MGM Grand in Las Vegas. Pacquiao successfully defended his WBO welterweight belt with a comfortable, unanimous-decision victory over Mosley by controlling the action throughout and knocking Mosley down in the third round. The result left Mosley with a 2-3-1 record in his last five fights, while Pacquiao stretched his winning streak to 14 straight bouts since a loss in 2005.
Main Card
Manny Pacquiao def. Shane Mosley
(for WBO welterweight championship)
Pacquiao cruises to a unanimous-decision victory over Mosley to retain his title in a successful return to the welterweight division (after defeating Antonio Margarito at super welterweight). The aging Mosley -- outclassed throughout the 12 rounds -- was knocked down in the third round and did not trouble his opponent much at all, although he got credit for a knockdown when Pacquiao slipped in the 10th. Pacquiao has now won his past 14 fights since losing to Erik Morales in 2005. Mosley, fighting at welterweight for the 13th time, had split his past two fights in the division (he lost to Floyd Mayweather Jr. in 2010 and defeated Margarito in 2009).
Jorge Arce def. Wilfredo Vazquez Jr.
(for WBO super bantamweight title)
Arce takes Vazquez's super bantmeweight belt after the bout is stopped in the 12th round, with Vazquez on the ropes following a round of pummeling from Arce. The bout was a back-and-forth affair, with Vazquez able to drop Arce with a left hook near the end of the fourth round, but the Mexican's strength and toughness proved to be the difference late in the fight.
Kelly Pavlik def. Alfonso Lopez (super middleweight bout)
Pavlik takes a majority decision victory on his return to the ring following a 13-month layoff after his loss to Sergio Martinez. Pavlik was scheduled to fight on the undercard of Pacquiao's previous bout, but suffered a rib injury two weeks before the fight and had to pull out. He then checked into the Betty Ford Center to undergo treatment for alcohol abuse. Lopez suffers his first loss after entering the fight 21-0 with 16 knockouts.
Mike Alvarado def. Ray Narh (junior welterweight bout)
Alvarado raises his record to 30-0 after Narh fails to come out after the third round, making it four consecutive fights for Alvarez ending before the fifth round. Narh (25-1) had won 15 consecutive fights since suffering a first-round knockout against Almazbek Raiymkulov in 2004.
Preliminary Card
Rodel Mayol def. Javier Gallo (flyweight bout)
Jose Benavidez def. James Hope (junior welterweight bout)
Pier Olivier Cote def. Aris Ambriz (junior welterweight bout
Karl Dargan def. Randy Arrellin (lightweight bout)
AUDIO RESULTS FOR MANNY PACQUIAO VS SHANE MOSLEY
TOP STORY
Pac-Man Wins Again
Manny Pacquiao successfully defended his welterweight title with a unanimous decision win over an outclassed Shane Mosley. Story »
FIGHTER PROFILES

Manny Pacquiao
Manny Pacquiao is the reigning World Boxing Organization (WBO) welterweight world champion and considered one of the best pound-for-pound fighters in the world. Full Profile »
Shane Mosley
"Sugar" Shane Mosley is a professional boxer who has captured world championships in three divisions -- lightweight, welterweight, and junior middleweight. Full Profile »
TALE OF THE TAPE
Pacquiao vs. Mosley - May 7, 2011
| Manny Pacquiao | | Shane Mosley |
| --- | --- | --- |
| Philippines | From | California |
| 52-3-2 (38 KO) | Record | 46-6-1 (39 KO) |
| 32 | Age | 39 |
| 145 | Weight | 147 |
| 5-6½ | Height | 5-9 |
| 67 inches | Reach | 74 inches |