Rocky Marciano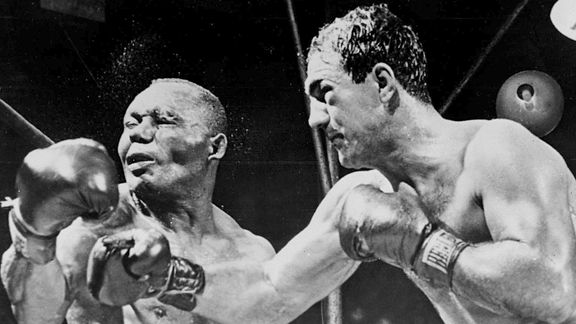 Rocky Marciano was a heavyweight boxing champion. He retired as the only heavyweight champion in boxing history never to lose a professional fight. His thunderous right - which he nicknamed Suzie Q - was often credited with knocking out 43 of the 49 opponents he faced. Boxing historian Bert Sugar called Marciano the "hardest puncher in the history of the sport.
Rocco Francis Marchegiano was born Sept. 1, 1923, in Brockton, Mass. Rocky was one of six children born to Italian immigrants Pierino Marchegiano and Pasqualina Picciuto. He grew up with a dream of making a career in either football or baseball. At Brockton High School he played on the football and baseball teams, but he was cut from the baseball team when he joined a church baseball league -- violating a school policy against players joining other teams. He dropped out of school after the 10th grade so he could work to help his poor family through the Great Depression. Among the odd jobs he had were working as a ditch digger, a gardener and leather tanner in the same shoe factory where his father worked.
In March 1943, Marciano was drafted into the army and it was here that he got his first taste of boxing. Marciano opted to fight as a way to get out of doing kitchen duty and other unpleasant tasks and quickly found that he had a natural ability for it. While awaiting discharge in 1946, he won the amateur armed forces boxing tournament. On March 17, 1947, Marciano fought his first professional fight, knocking out Lee Epperson in the third round. Still, Marciano dreamed of playing professional baseball. Later that month he and a few friends traveled to Fayetteville, N.C., to try out for a Chicago Cubs farm team. He tried out as a catcher but was cut after three weeks after learning that he did not have a strong enough right arm to throw to second base with any accuracy due to an arm injury he received in the army. He returned to Brockton and began seriously training as a boxer.
A year later, he returned to amateur status to compete in the Golden Gloves All-East Championship Tournament and was beaten by Coley Wallace. He continued to fight as an amateur throughout that spring. His record as an amateur was an unimpressive 8-4.
Marciano turned professional again on July 12, 1948, and as a professional won his first 16 bouts by knockouts -- all before the fifth round and nine before the first round even ended.
Marciano -- who changed his name early in his career at the suggestion of his handler, Al Weill, because the ring announcer in Providence, R.I., could not pronounce Marchegiano -- began to see better opponents by mid-1949. Don Mogard was the first boxer to go the distance with Marciano, on May 23, 1949, though Marciano won by unanimous decision. He continued to beat all the rest, most by knockout, to earn the nickname "The Rock from Brockton."
Marciano's power was on display the night of Dec. 30, 1949, in Madison Square Garden when Marciano faced Carmine Vingo. Vingo came into the fight unbeaten in his last 12 bouts but Marciano knocked him down early for two nine counts -- once in the first round and again in the second round. The brutal contest finally came to an end in the sixth round when a crushing right from Marciano knocked Vingo unconscious. Vingo was rushed to a hospital, where he underwent surgery for a brain hemorrhage. Marciano was so devastated by what had happened that he vowed never to fight again if Vingo did not survive. Vingo pulled through but was left partially paralyzed. Marciano later offered to pay some of Vingo's hospital bills and the two became friends.
On March 24, 1950, Marciano faced arguably his toughest opponent, Roland La Starza. Like Marciano, La Starza was undefeated when he climbed into the ring and fought a bout that nearly derailed Marciano's climb to the top. The fight went the distance -- 10 rounds. The split decision went Marciano's way but many in the crowd believed La Starza had won.
The two met again in September 1953, one year after Marciano became heavyweight champion. The fight was close through the first six rounds, but then La Starza began to tire. By the time the fight was stopped by referee Ruby Goldstein in the 11th, La Starza had been mercilessly beaten and knocked through the ropes. He was hospitalized with a broken arm, several blood clots and in need of surgery.
In one of his most celebrated fights, Marciano was matched against his boyhood idol, Joe Louis, the former heavyweight champ who was past his prime. Louis had come out of retirement to pay his bills and was still a formidable opponent who was determined to recapture the heavyweight crown.
They went eight rounds on Oct. 26, 1951, before Marciano knocked him out, much to the chagrin of many boxing fans. Marciano too felt terrible and went to Louis' dressing room after the fight and cried. Louis never fought again, and the nationally televised fight ensured Marciano a shot at the title.
Heavyweight champion
On Sept. 23, 1952, at Municipal Stadium in Philadelphia, Marciano squared off against champion Jersey Joe Walcott for his first shot at the title. It proved to be a grueling fight for Marciano, who, for the first time in his professional career, was decked in the first round by one of Walcott's left hooks. But instead of staying down, Marciano bounced back up madder than ever and shouted at a surprised Walcott.
But Marciano was never in control, struggling throughout one round after the next. Walcott had cut him between the eyes and on his forehead. After the 12th round, Walcott was in total control and ahead on points. Marciano said later that he had been blinded for several of those rounds.
As the 13th round began, Marciano could only claim victory with a knockout. Thirty seconds later, he unleashed his right, a short overhand jab that slammed into Walcott's chin with such force that he dropped to one knee, hooked his left arm around the middle rope and dropped his head to the canvas. Walcott was out and Marciano was the new heavyweight champion.
Marciano took on Walcott in a rematch on May 15, 1953, at Chicago Stadium and knocked him out at 2:25 in the first round.
Marciano successfully defended his title another five times over the next few years. His last title bout came against Archie Moore on Sept. 21, 1955. Although he was knocked to the canvas in the second round, Marciano got up and knocked down Moore in the sixth and eighth rounds before knocking him out in the ninth."After a fight with Marciano, you felt like someone had been beating you all over the body with a blackjack, or hitting you with rocks," said Moore.
Stature
Marciano was an unlikely boxer, given his stature. He was only 5-foot-10 and change, and his weight hovered in the mid-180s. His reach of only 68 inches was well short for a typical heavyweight champion. However, Marciano transformed his stature into an advantage. Under the tutelage of his trainer, Charley Goldman, Marciano learned to box from a crouched position, thus making himself even shorter and more difficult to hit. His jabs came straight up and with tremendous force. Marciano was once quoted as saying that his style benefited him because most of his opponents "wound up punching down at me," defusing much of the punch's power. An upward punch, on the other hand, carries increased power. That may be one reason that the only two fighters who knocked Marciano to the canvas, Walcott and Moore, were both Marciano's size. That fact, Marciano once said, negated the advantage he usually had in the ring.
Conditioning
Marciano kept in such superb physical condition that he was able to fight every few weeks or even days. In fact, after knocking out Harold "Kid" Mitchell in the second round on March 20, 1951, he climbed back into the ring six days later to knock out Art Henri in the ninth round. And he needed only seven days' rest between his knockout of Johnny Pretzie in the fifth round on March 21, 1949, and his knockout in the first round of Artie Donato on March 28. Thirteen days later, he knocked out James Walls in the third round.
Marciano announced his retirement on April 27, 1956. He was 31 and the only man ever to retire as the undefeated heavyweight champion of the world. He told the New York Times: "I thought it was a mistake when Joe Louis tried a comeback. No man can say what he will do in the future, but barring poverty, the ring has seen the last of me. I am comfortably fixed, and I am not afraid of the future."
The ring tempted him once more, however, just three years later. But after only a month of training, he hung up his gloves for good. He told reporters he wanted to spend more time his with family.
In retirement, he made money from personal appearances. Although he never climbed into the ring again, he participated in a computerized matchup against Muhammad Ali. In preparation for the event -- in which both boxers stepped into a ring and threw punches at each other -- Marciano lost 50 pounds and bought a toupee. A computer weighed all the variables from each fighter and determined that had the two really met in the ring, Marciano would have won with a 13th-round knockout.
But Marciano never had a chance to see it. On August 31, 1969, three weeks after the completion of the computer fight, he took a private plane to Des Moines, Iowa, to make a personal appearance for a friend's son. But because of an inexperienced pilot and poor weather the plane crashed into a cornfield in Newton, Iowa, killing all three aboard. He was a day shy of his 46th birthday.
Marciano was survived by his wife of 19 years, Barbara, and two children, Rocco Kevin and Mary Anne.
NEWS RESULTS FOR ROCKY MARCIANO
ROCKY MARCIANO QUICK FACTS
Birth date: Sept. 1, 1923
Birthplace: Brockton, Mass.
Death: Aug. 31, 1969
Weight class: Heavyweight
Height: 5-foot-10½
Pro fights: 49
Record: 49-0-0
Wins by KO: 43
Inducted into Boxing Hall of Fame in 1990
ROCKY MARCIANO BOXING RECORD
49-0-0, 43 knockouts
| Date | Opponent | Res. | Type |
| --- | --- | --- | --- |
| 9/21/1955 | Archie Moore | Win | KO, 9 |
| 5/16/1955 | Don Cockell | Win | KO, 9 |
| 9/17/1954 | Ezzard Charles | Win | KO, 8 |
| 6/17/1954 | Ezzard Charles | Win | UD, 15 |
| 9/24/1953 | Roland La Starza | Win | TKO, 11 |
| 5/15/1953 | Jersey Joe Walcott | Win | KO, 1 |
| 9/23/1952 | Jersey Joe Walcott | Win | KO, 13 |
| 7/28/1952 | Harry Matthews | Win | KO, 2 |
| 5/12/1952 | Bernie Reynolds | Win | KO, 3 |
| 4/21/1952 | Gino Buonvino | Win | KO, 2 |
| 2/13/1952 | Lee Savold | Win | KO, 6 |
| 10/26/1951 | Joe Louis | Win | KO, 8 |
| 8/27/1951 | Freddie Beshore | Win | KO, 4 |
| 7/12/1951 | Rex Layne | Win | KO, 6 |
| 4/30/1951 | Red Applegate | Win | UD, 10 |
| 3/26/1951 | Art Henri | Win | TKO, 9 |
| 3/20/1951 | Harold Mitchell | Win | KO, 2 |
| 1/29/1951 | Keene Simmons | Win | KO, 8 |
| 12/18/1950 | Bill Wilson | Win | KO, 1 |
| 11/13/1950 | Ted Lowry | Win | UD, 10 |
| 9/18/1950 | Johnny Shkor | Win | KO, 6 |
| 7/10/1950 | Gino Buonvino | Win | KO, 10 |
| 6/5/1950 | Eldridge Eatman | Win | KO, 3 |
| 3/24/1950 | Roland La Starza | Win | SD, 10 |
| 12/30/1949 | Carmine Vingo | Win | KO, 6 |
| 12/19/1949 | Phil Muscato | Win | KO, 5 |
| 12/2/1949 | Pat Richards | Win | KO, 2 |
| 11/7/1949 | Joe Dominic | Win | KO, 2 |
| 10/10/1949 | Ted Lowry | Win | UD, 10 |
| 9/26/1949 | Tommy DiGiorgio | Win | KO, 4 |
| 8/16/1949 | Pete Louthis | Win | KO, 3 |
| 7/18/1949 | Harry Haft | Win | KO, 3 |
| 5/23/1949 | Don Mogard | Win | MD, 10 |
| 5/2/1949 | Jimmy Evans | Win | KO, 3 |
| 4/14/1949 | Jimmy Walls | Win | KO, 3 |
| 3/28/1949 | Artie Donato | Win | KO, 1 |
| 3/21/1949 | Johnny Pretzie | Win | KO, 5 |
| 12/14/1948 | Gilley Ferron | Win | KO, 2 |
| 11/29/1948 | James Connolly | Win | KO, 1 |
| 10/4/1948 | Bob Jefferson | Win | KO, 2 |
| 9/30/1948 | Gilbert Cardone | Win | KO, 1 |
| 9/20/1948 | Bill Hardeman | Win | KO, 1 |
| 9/13/1948 | Jerry Jackson | Win | KO, 1 |
| 8/30/1948 | Jimmy Weeks | Win | KO, 1 |
| 8/23/1948 | Eddie Ross | Win | KO, 1 |
| 8/9/1948 | Bobby Quinn | Win | KO, 3 |
| 7/19/1948 | John Edwards | Win | KO, 1 |
| 7/12/1948 | Harry Bilzerian | Win | KO, 1 |
| 3/17/1947 | Lee Epperson | Win | KO, 3 |