Shane Mosley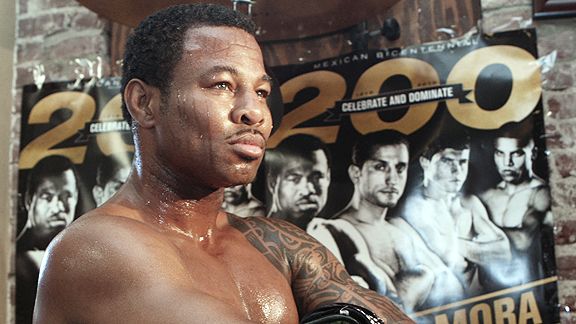 "Sugar" Shane Mosley is a professional boxer who captured world championships in three divisions -- lightweight, welterweight and junior middleweight -- and was considered among the sport's best pound-for-pound fighters. He was also a three-time amateur champion and won a bronze medal at the 1990 Goodwill Games. Mosley was named the Fighter of the Year by the Boxing Writers Association in 1998, when he successfully defended his IBF lightweight title five times that year.
Born on September 7, 1971, Shane Mosley began boxing as an 8-year-old (with his father, Jack, as coach). He was fighting in amateur events by the mid-1980s and emerged on the national scene with fellow Californian Oscar De La Hoya, with the two youngsters moving up the rankings in their weight classes.
Mosley became the U.S. Amateur champion at lightweight (132 pounds) in 1989 and earned the silver medalist at that weight division at that year's world junior championships in Puerto Rico. In 1990, he won another U.S. Amateur title at lightweight and represented his country at the Goodwill Games, where he earned the bronze medal for the 132-pound weight class.
Seen as a strong professional prospect as his amateur career continued to develop, Mosley had moved up in weight by 1992, when he became the U.S. Amateur champion at the light welterweight level. He lost out to Vernon Forrest at the U.S. Olympic trials for the 1992 Games before deciding to turn professional.
Shane Mosley's first professional fight came in February 1993, when the 21-year-old defeated Greg Puente in five rounds. He would record 22 knockouts in his first 23 bouts leading up to his first title chance in August 2007. Facing undefeated champion Philip Holiday, Mosley dominated to take a unanimous-decision victory after 12 rounds and claim the IBF lightweight championship.
The 5-foot-9 Mosley then successfully fought off a number of challengers in the next two years. The title defenses included five victories in 1998 -- all via TKO or knockout -- as "Sugar Shane" began to emerge as one of the sport's dominant stars. For his performances, he was selected as the Fighter of the Year by the Boxing Writers Association.
With a 32-0 professional record after nine title defenses, Mosley decided to move up in weight to the welterweight division. In his first bout at the new weight, he knocked out Wilfredo Rivera in September 1999. Two fights later, in June 2000, Mosley won by split decision over fellow Californian Oscar De La Hoya in Los Angeles to capture the WBC and IBF welterweight titles.
Mosley's combination of speed and power continued to overwhelm opponents, as Antonio Diaz and Shannan Taylor were stopped by TKO in championship bouts that saw Mosley retain his belt and maintain his undefeated record. Former junior middleweight Adrian Stone then had a shot at Mosley's welterweight title in July 2001, but he was stopped in three rounds.
With a 38-0 professional record through 2001, the 30-year-old Mosley met nemesis Vernon Forrest -- who had defeated him 10 years earlier at the U.S. Olympic trials -- in January 2002 for the WBC welterweight title. An accidental head butt helped Forrest to a win by decision to take Mosley's belt, and a rematch six months later ended with the same 12-round result to give Mosley the first two losses of his professional career.
After a no-contest with Raul Marquez in January 2003, Mosley defeated De La Hoya eight months later by decision to take his rival's WBC and WBA light middleweight belts. The victory meant that Sugar Shane had become one of the few boxers to win titles in three different weight divisions.
Mosley did not hold on to the belts for long, losing a 12-round decision to Winky Wright in March 2004 championship tilt. And in similar fashion to his two-bout title series with Forrest, Mosley would drop another tough bout by decision to Wright in November 2004, to take his record to 39-4-1.
Taking on a new trainer in John David Jackson in 2005, Mosley decided to transition back to the welterweight division. That year, he recorded victories by decision over David Estrada and previously undefeated Jose Luis Cruz.
Mosley's path to another welterweight title continued in February 2006, when he won a battle with Fernando Vargas by TKO in the 10th round. Vargas secured a rematch in July of that year but could last only six rounds in the second encounter, as Sugar Shane dominated with another TKO victory. Mosley earned an interim welterweight title in February 2007 after a unanimous-decision win over Luis Collazo, but he lost (by decision) to undefeated WBA welterweight champion Miguel Cotto in a title fight in November 2007.
The aging Mosley turned to another new trainer, Nazim Richardson, and got another chance at the welterweight title in February 2009 against Antonio Margarito, who had taken Cotto's WBA super world welterweight belt. The 37-year-old upset Margarito in impressive fashion to gain the title via ninth-round TKO.
Mosley held on to the belt for just more than a year, then lost by decision in a much-hyped encounter with the undefeated Floyd Mayweather Jr. in May 2010. He then fought to a lackluster draw with Sergio Mora four months later but was still able to secure a championship bout with Manny Pacquiao for the WBO welterweight title on May 7, 2011 in Las Vegas. But an ineffective Mosley was outclassed by Pacquiao, who won by unanimous decision to retain his welterweight belt.
Mosley fought once more, losing a unanimous decision to Canelo Alvarez, before announcing his retirement on June 4, 2012. He retired with a record of 46-8-1 (39 KO) with one no-contest. In 2013, Mosley came out of retirement to fight Pablo César Cano in Mexico. The fight is scheduled for May 18.
Shane Mosley is one of many professional athletes linked with performance-enhancing drugs supplied by the Bay Area Laboratory Co-operative. Claims emerged in 2006 of Mosley's use of steroids and erythropoietin before a September 2003 fight against Oscar De La Hoya in Las Vegas.
Mosley had initially said that what he was given by BALCO founder Victor Conte were legal products. With Conte maintaining that Mosley knew exactly what he was taking, Mosley filed a defamation lawsuit against the BALCO founder in April 2008.
Later that year, the New York Daily News revealed -- through transcripts relating to baseball slugger Barry Bonds' legal case -- that Mosley testified to a grand jury in December 2003 that he injected himself with EPO and used steroids ("the cream" and "the clear") before winning a unanimous decision over De La Hoya. Although he acknowledged using the performance-enhancing drugs, Mosley denied knowing the substances were banned or illegal.
Since then, Mosley and opponent Floyd Mayweather Jr. agreed to undergo Olympic-style drug testing around their bout in May 2010, while the $12 million lawsuit against Conte has been dismissed.
Even with all the revelations, the result of Mosley's victory over De La Hoya in 2003 could not be overturned, as Nevada's boxing commission did not have the power to change any decisions (because of use of performance-enhancing drugs) before 2005.
SHANE MOSLEY QUICK FACTS
Birth date: Sept. 7, 1971
Birthplace:Pomona, Calif.
Weight class: Welterweight
Height: 5-foot-9
Turned pro: 1993
Pro fights: 56
Record: 46-8-1 (1 NC)
Wins by KO: 39
SHANE MOSLEY BOXING RECORD
46-8-1 (1 NC), 39 knockouts
| Date | Opponent | Res. | Type |
| --- | --- | --- | --- |
| 5/5/2012 | Canelo Alvarez | Loss | UD, 12 |
| 5/7/2011 | Manny Pacquiao | Loss | UD, 12 |
| 9/18/2010 | Sergio Mora | Draw | SD , 12 |
| 5/1/2010 | Floyd Mayweather Jr. | Loss | UD , 12 |
| 1/24/2009 | Antonio Margarito | Win | TKO, 9 |
| 9/27/2008 | Ricardo Mayorga | Win | KO, 12 |
| 11/10/2007 | Miguel Cotto | Loss | UD, 12 |
| 7/15/2006 | Luis Collazo | Win | UD, 12 |
| 7/15/2006 | Fernando Vargas | Win | TKO, 6 |
| 2/25/2006 | Fernando Vargas | Win | TKO, 10 |
| 9/17/2005 | Jose Luis Cruz | Win | UD, 10 |
| 4/23/2005 | David Estrada | Win | UD, 10 |
| 11/20/2004 | Winky Wright | Loss | MD, 12 |
| 3/13/2004 | Winky Wright | Loss | UD, 12 |
| 9/13/2003 | Oscar De La Hoya | Win | UD, 12 |
| 2/8/2003 | Raúl Márquez | NC | NC, 3 |
| 7/20/2002 | Vernon Forrest | Loss | UD, 12 |
| 1/26/2002 | Vernon Forrest | Loss | UD, 12 |
| 7/21/2001 | Adrian Stone | Win | TKO, 3 |
| 3/10/2001 | Shannan Taylor | Win | TKO, 6 |
| 11/4/2000 | Antonio Diaz | Win | TKO, 6 |
| 6/17/2000 | Oscar De La Hoya | Win | SD, 12 |
| 1/22/2000 | Willy Wise | Win | TKO, 3 |
| 9/25/1999 | Wilfredo Rivera | Win | KO, 10 |
| 4/17/1999 | John Brown | Win | TKO, 8 |
| 1/9/1999 | Golden Johnson | Win | KO, 7 |
| 11/14/1998 | Jesse James Leija | Win | TKO, 9 |
| 9/22/1998 | Eduardo Bartolome Morales | Win | TKO, 5 |
| 6/27/1998 | Wilfredo Ruiz | Win | KO, 5 |
| 5/9/1998 | John John Molina | Win | TKO, 8 |
| 2/6/1998 | Demetrio Ceballos | Win | TKO, 8 |
| 11/25/1997 | Manuel Gomez | Win | KO, 11 |
| 8/2/1997 | Philip Holiday | Win | UD, 12 |
| 4/9/1997 | Michael Smith | Win | KO, 4 |
| 2/6/1997 | Elias Quiroz | Win | KO, 6 |
| 12/21/1996 | Joseph Murray | Win | TKO, 3 |
| 11/1/1996 | Ramon Felix | Win | TKO, 1 |
| 1/23/1996 | Mike Bryan | Win | TKO, 1 |
| 7/20/1995 | Mauricio Aceves | Win | KO, 4 |
| 4/12/1995 | Raul Hernandez | Win | KO, 2 |
| 11/12/1994 | Jose Luis Madrid | Win | KO, 4 |
| 9/9/1994 | Louis Ramirez | Win | TKO, 10 |
| 8/6/1994 | Mauro Gutierrez | Win | TKO, 9 |
| 7/24/1994 | Narciso Valenzuela | Win | TKO, 5 |
| 6/30/1994 | John Bryant | Win | KO, 8 |
| 4/29/1994 | Lorenzo Garcia | Win | TKO, 3 |
| 3/26/1994 | Oscar Lopez | Win | UD, 10 |
| 2/4/1994 | Lorenzo Garcia | Win | KO, 5 |
| 1/20/1994 | Francisco Rodriguez | Win | KO, 2 |
| 12/6/1993 | Paulino Gonzalez | Win | KO, 2 |
| 10/25/1993 | Juan Manuel Aranda | Win | KO, 2 |
| 9/27/1993 | Miguel Pena | Win | KO, 2 |
| 8/25/1993 | Roberto Urias | Win | KO, 5 |
| 7/21/1993 | Pey Castillo | Win | KO, 1 |
| 4/24/1993 | Arnulfo Villa | Win | KO, 1 |
| 2/11/1993 | Greg Puente | Win | KO, 5 |