Victor Ortiz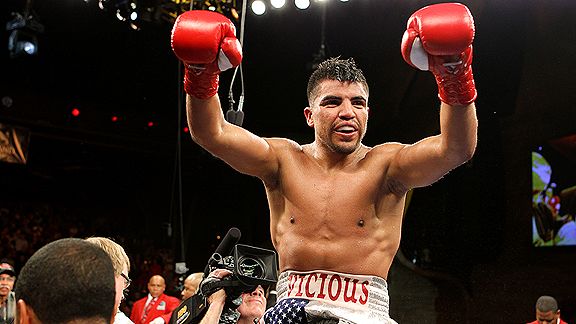 Victor Ortiz is a professional boxer from Garden City, Kansas, and former WBC world welterweight champion. Known as "Vicious Victor," the powerful southpaw won Junior Olympic titles and competed in the 2004 U.S. Olympic Trials as an amateur before turning pro as a junior welterweight. Named as the 2008 ESPN.com boxing prospect of the year, Ortiz claimed his welterweight belt after a victory by unanimous decision over Andre Berto in April 2011, but lost it to Floyd Mayweather Jr. in his next fight.
Born on January 31, 1987, in Garden City, Kansas, Victor Ortiz was introduced to boxing by his father at the age of 7. He was soon competing in local Golden Gloves competitions, at a time when he and his siblings were forced into the foster care system.
Despite the adversity in his family life, Ortiz developed into a successful amateur boxer, compiling an impressive record while competing in national events and winning Junior Olympics titles at the 132-pound weight class in 2002 and 2003.
Ortiz moved to Colorado to live with his older sister, then relocated to California to train under former professional boxer Roberto Garcia. As a 17-year-old, Ortiz competed in the 2004 U.S. Olympic trials, but was defeated in the latter stages of the 132-pound competition.
After missing out at the 2004 U.S. Olympic trials, Victor Ortiz turned professional as a junior welterweight. The 5-foot-9 left-hander won his initial bout with a first-round TKO of Raul Montes in June 2004.
Ortiz won his next six fights, with four coming by TKO, before being disqualified in the first round against Corey Alarcon. Ortiz had seemingly knocked his opponent down for the second time in the opening round, but the blow was ruled an illegal punch during a break; although Alarcon didn't make it up by the end of the count, he was awarded the win because of the ruling.
The unfortunate decision did little to deter the rise of Ortiz, who continued to display power in winning his next nine bouts, with six coming by either KO or TKO no later than the fifth round. He then began 2007 with a draw against undefeated Marvin Cordova Jr. but went on to fight four more times that year, winning each bout via KO or TKO. Those results included a 10th-round TKO of Emmanuel Clottey and a first-round knockout of former world champion Carlos Maussa at New York's Madison Square Garden.
Ortiz compiled four more victories in 2008, including a fifth-round TKO of Roberto David Arrieta for the vacant WBO NABO light welterweight title. "Vicious Victor" defended that belt against Jeffrey Resto in December of that year and was named as the 2008 ESPN.com boxing prospect of the year.
The southpaw gained another victory before meeting Marcos Rene Maidana for the interim WBA world light welterweight title in June 2009 at the Staples Center in Los Angeles. Despite knocking down Maidana three times during the bout, Ortiz also hit the mat twice and lost by TKO in the sixth round. Although some accused Ortiz of quitting in that fight, he rebounded by winning his next four contests against veteran opponents.
Ortiz then settled for another draw, a December 2010 date with Lamont Peterson, even though he had knocked down his opponent twice during the bout. He then moved up to the welterweight class for a WBA title bout against undefeated Andre Berto in April 2011. In one of the more thrilling bouts of the year, when each fighter was knocked down twice, Ortiz outpointed Berto to win the belt. Following that fight, Ortiz agreed to meet the semi-retired Floyd Mayweather Jr. in a September 2011 bout.
Ortiz entered the fight as the defending champion, but lost his belt in bizarre fashion. After landing a flurry of punches in the fourth round, Ortiz head-butted Mayweather. Referee Joe Cortez separated the fighters and deducted a point from Ortiz. As the two fighters came back together, they touched gloves and Ortiz appeared to be apologizing to Mayweather with open arms, but Mayweather responded with a hard left, followed by a devestating right, sending Ortiz to the canvas for a 10-count.
Victor Ortiz Career Fight Record (29-3-2, 22 KO)
| Date | Opponent | Result | Record | Type |
| --- | --- | --- | --- | --- |
| 9/17/2011 | Floyd Mayweather Jr. | Loss | 28-3-2 | KO, 4 |
| 4/16/2011 | Andre Berto | Win | 29-2-2 | UD, 12 |
| 12/11/2010 | Lamont Peterson | Draw | 28-2-2 | MD, 10 |
| 9/18/2010 | Guyana Vivian Harris | Win | 28-2-1 | KO, 3 |
| 5/15/2010 | Nate Campbell | Win | 27-2-1 | UD, 10 |
| 2/25/2010 | Hector Alatorre | Win | 26-2-1 | TKO, 10 |
| 12/12/2009 | Antonio Díaz | Win | 25-2-1 | RTD, 7 |
| 7/27/2009 | Marcos Maidana | Loss | 24-2-1 | TKO, 6 |
| 4/7/2009 | Greece Mike Arnaoutis | Win | 24-1-1 | TKO, 2 |
| 12/6/2008 | Jeffrey Resto | Win | 23-1-1 | TKO, 2 |
| 9/13/2008 | Roberto Arrieta | Win | 22-1-1 | TKO, 5 |
| 5/5/2008 | Dario Esalas | Win | 21-1-1 | KO, 5 |
| 11/10/2007 | Carlos Maussa | Win | 20-1-1 | KO, 1 |
| 8/30/2007 | Emmanuel Clottey | Win | 19-1-1 | TKO, 10 |
| 7/29/2007 | Maximino Cuevas | Win | 18-1-1 | KO, 1 |
| 4/14/2007 | Tomas Barrientes | Win | 17-1-1 | TKO, 5 |
| 1/19/2007 | Marvin Cordova Jr. | Draw | 16-1-1 | TD, 1 |
| 11/3/2006 | Yahir Aguiar | Win | 16-1 | KO, 2 |
| 9/8/2006 | Alfred Kotey | Win | 15-1 | UD, 8 |
| 6/23/2006 | Orlando Cantera | Win | 14-1 | TKO, 4 |
| 04-31-2006 | Freddie Barrera | Win | 13-1 | TKO, 10 |
| 2/10/2006 | Nestor Rosas | Win | 12-1 | KO, 5 |
| 1/6/2006 | Leroy Fountain | Win | 11-1 | KO, 4 |
| 11/4/2005 | Donnell Logan | Win | 10-1 | TKO, 2 |
| 9/9/2005 | Kevin Carmody | Win | 9-1 | UD, 6 |
| 8/26/2005 | Oliver Bolanos | Win | 8-1 | UD, 4 |
| 6/3/2005 | Corey Alarcon | Loss | 7-1 | DQ, 1 |
| 4/5/2005 | Rodney Jones | Win | 7-0 | TKO, 2 |
| 2/11/2005 | Joel Ortega | Win | 6-0 | TKO, 10 |
| 11/26/2004 | Juan Patino | Win | 5-0 | UD, 4 |
| 10/8/2004 | Charles Hawkins | Win | 4-0 | TKO, 4 |
| 9/17/2004 | Lee De Leon | Win | 3-0 | TKO, 4 |
| 7/24/2004 | Alejandro Nungaray | Win | 2-0 | UD, 4 |
| 6/4/2004 | Raul Montes | Win | 1-0 | TKO, 1 |
VICTOR ORTIZ QUICK FACTS
Birth date: Jan. 31, 1987
Birthplace: Garden City, Kansas
Turned pro: 2004
Weight class: Welterweight
Height: 5-foot-9
Pro fights: 34
Record: 29-3-2
Wins by KO: 22