Camp Notes: Morrow's arm troubles concerning
March, 11, 2009
03/11/09
2:30
PM ET
By
Tristan H. Cockcroft, ESPN.com
For the second straight season, a much-ballyhooed reliever-turned-starter is dealing with injury issues. (But this time, it's not Joba Chamberlain.)
According to the Seattle Times, Brandon Morrow, the Mariners' closer for much of 2008, might miss the start of the season due to tightness in his right forearm. He tested his arm with a 22-pitch bullpen session Tuesday but continued to feel pain, and has been shut down indefinitely. Incredibly, Mariners manager Don Wakamatsu believes Morrow has enough time to be ready for the start of the season.
[+] Enlarge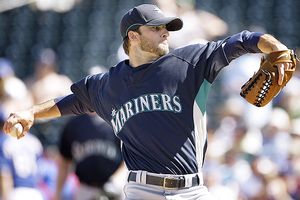 AP Photo/Charlie RiedelMorrow is in danger of missing the first part of the season if he can't get healthy.
"It's going to be tight, but we still think we have some time," Wakamatsu said. "It depends on how fast he comes back from this. We'll just see where he's at. Another week, or a week and a half, and he's no further along, there's going to be some concerns."
Morrow's woes might lead fantasy owners to question the strategy of shifting pitchers from reliever to starter in-season, something that was done with both Morrow and Chamberlain in 2008. Not that there's any clear evidence that the boost in workload is responsible for their health issues -- Chamberlain is supposedly fine this spring -- but it could be a factor.
The No. 56 pick among starters in ESPN Live Drafts thus far, Morrow should see his draft stock slip looking forward, especially considering that forearm issues often lead to elbow problems down the road. It's not yet time to scratch him from your list entirely, but in mixed formats, the 56th starter generally slots as an end-of-your-staff type anyway. At this point he's more of a reserve pick in mixed leagues, and a back-of-your-staff AL-only choice.
• Speaking of Chamberlain, he held the Reds to one run in three innings Tuesday, helping ease concerns about his wildness in his previous outing. He had walked four of five batters he faced in his previous start, leading some to wonder whether maybe he too was dealing with health issues. Chamberlain appeared fine in this turn, though, and remains a breakout candidate with only moderate risk in mixed formats.
• Sticking with the Yankee theme, Mariano Rivera threw his first live batting practice session of the spring Wednesday morning, according to the team's official Web site. He hasn't reported any problems with his surgically repaired right shoulder through four mound sessions, and he will throw another session Saturday before potentially making his Grapefruit League debut Monday. With no clear setbacks for Rivera thus far, he should be a perfectly safe top-5 fantasy closer on draft day.
• A change in the closer guard might be afoot in Colorado, where the Denver Post reports Manny Corpas has an opportunity to grab the job over the next several days due to Huston Street's health issues and sluggish spring. Street has been dealing with a quadriceps injury and served up six runs on two home runs in his 1 1/3 innings of work in the Cactus League. I'm still of the mind that the Rockies know their best chance at showcasing Street for a midseason trade is by having him close initially, but based upon his performance the two should be drafted fairly close together. Certainly, handcuffing the two is recommended.
• Garret Anderson might miss two or three weeks with a strained right calf, reports the Atlanta Journal-Constitution. He initially suffered the injury during pregame warm-ups Friday, though the team expects he should be ready by Opening Day. Anderson is more an NL-only choice than a viable mixed-league bet, and if this lingers any longer, it could help open the door for a Brandon Jones/Matt Diaz left-field platoon.
Sign up today for the most customizable free fantasy baseball game out there. You set the rules, scoring, everything. Sign up today!
• Ubaldo Jimenez has returned to the Rockies, his Dominican Republic team having been ousted from the World Baseball Classic. He's coming off a WBC-record 10-strikeout effort Tuesday. He lasted four innings and 65 pitches, and for the spring has tossed nine shutout innings, allowing six hits with 17 K's. Rockies pitchers do have a limitation in terms of their fantasy upside, since Coors Field makes it tough for them to maximize their ERA/WHIP potential, but Jimenez is shaping up thus far as one of the more appealing late-rounders. He's being picked 76th among starters on average this spring, far too low for a guy with his talent.
• Brad Penny is scheduled for his first spring training game Friday, an intrasquad contest at the team's minor league complex, according to the Red Sox's official Web site. He threw 20 pitches of batting practice Tuesday and reported no issues with his shoulder, and if he gets through Friday's test with similar results, he'll presumably join the team's Grapefruit League rotation sometime next week. Picking Penny in AL-only leagues as anything more than a late-rounder presents high risk, but don't ignore him with the news on him becoming more promising.
• The Rangers' official Web site reports that free agent Ben Sheets, who is recovering from elbow surgery, is doing his rehabilitation work at TMI Sports Medicine in Arlington, Texas, which is owned by the team's doctor, Keith Meister. While the Rangers claim there is no connection, it's interesting from the aspect that the team is precariously thin in starting-pitching depth and was linked to the right-hander in offseason rumors. Of course, Sheets' fantasy value would tumble if he landed in Texas because of its bandbox ballpark, and he's at best a 10-to-15-start pitcher for 2009 besides.
• Though Brandon Webb's results -- three runs on four hits in three innings -- left a bit to be desired, the right-hander told the Diamondbacks' official Web site he was pleased with his work in his return to the spring rotation Tuesday. "As long as you get your work in and stuff, it's not that big of a deal, because the intensity and I think the batters' approaches totally change," he said. Webb threw 49 pitches in his return from forearm stiffness, and it's important to remember he has a history of poor spring statistics. Case in point: He had a 7.90 ERA last spring, yet won his first nine starts of the regular season. Don't fret much about Webb, a certain top-10 fantasy starting pitcher.
• Sleeper alert: Prospect Trevor Cahill tossed three innings and allowed one run for the Athletics on Tuesday, giving him a 2.00 ERA in his nine spring frames thus far. Though he's likely to begin the regular season in the minors, Cahill might yet be a dark-horse candidate for a rotation spot, especially with Justin Duchscherer's status still somewhat uncertain. At worst he's a reserve pick in AL-only formats, and with his ground-ball tendencies, Cahill might be quick to adapt to big league competition once promoted.