Dice-K, Carpenter and Nady to the DL
April, 15, 2009
04/15/09
4:32
PM ET
By
Tristan H. Cockcroft, ESPN.com
The tax man apparently isn't alone in raking in a tidy profit this April 15 … baseball's doctors have been garnering a healthy share of business.
Three of fantasy baseball's better-known names -- or at least ones widely owned -- landed on the disabled list Wednesday, a group that includes Red Sox right-hander Daisuke Matsuzaka, Yankees right fielder Xavier Nady and Cardinals right-hander Chris Carpenter.
Matsuzaka: Arm fatigue
The Red Sox placed Matsuzaka on the DL on Wednesday afternoon, hours after he lasted only one inning in his start against the Angels. The team said afterward that he was lifted early due to "arm fatigue," something certain to have critics pointing to his participation in March's World Baseball Classic. He had surrendered nine runs on 14 hits and five walks in 6 1/3 innings in his first two starts of the regular season, though in his defense, he had a 1.90 ERA and 1.23 WHIP in five spring starts between the Grapefruit League and WBC, with the only warning sign in that month that he walked seven batters in nine innings after returning to the Red Sox in mid-March.
Perhaps a few weeks' rest will help cure what ails Matsuzaka, but for now, Justin Masterson, who tossed four shutout innings in relief of Matsuzaka on Tuesday, will step into his rotation spot. Masterson, available in more than 95 percent of ESPN leagues, warrants at least a short-term pickup even in mixed formats, as a ground-ball-inducing rotation member of one of the more successful teams in baseball.
Masterson was 4-3 with a 3.67 ERA and 1.26 WHIP in nine starts for the Red Sox in 2008, numbers that at least paint the picture of a matchups type for fantasy. His primary weakness is being a little susceptible to walks and extra-base hits to left-handed hitters; he has allowed one walk per 7.3 plate appearances in his career against lefties, compared to 13.4 versus righties, and has a 120-point swing in slugging percentage allowed between the sides. That's something to keep in mind when evaluating his matchups for as long as he remains in the rotation, as even in his first week in the rotation he'll be a two-start pitcher battling the Yankees, a lefty-heavy offense, in his second turn.
Speaking of how long Masterson might be in the rotation, the main reason he got the call over Clay Buchholz, who is currently working in Triple-A Pawtucket, was that Buchholz pulled a hamstring muscle during a workout earlier in the week. Buchholz might miss a turn through Pawtucket's rotation, but might be a candidate to step in should he string together a couple of dominant starts, or if Masterson struggles in his new assignment. If you're a Buchholz owner, keep him on hand, as his value does get a bump up with the news.
Nady: Elbow injury
[+] Enlarge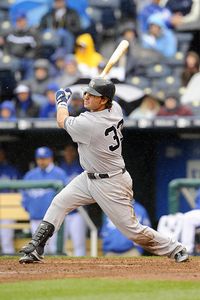 G. Newman Lowrance/Getty ImagesNick Swisher has been a great fantasy option lately, and should continue to be so.
On Wednesday, Nady had an MRI on his right elbow that he injured making a throw in Tuesday's game. The outfielder said the initial report "didn't look great" and manager Joe Girardi said Nady will be placed on the disabled list, although neither provided any further details.
He will be reexamined by a Yankees team doctor on Thursday. However, according to the New York Daily News, Nady told some teammates that he's likely headed for season-ending surgery.
It's poor timing for Nady, a contract-year player who thus far had to deal with the added motivation of a red-hot reserve pressing him for playing time: Nick Swisher.
Not that it's the way he'd have hoped to crack the lineup as an every-day player, but Swisher's value gets a significant boost with the news. He'll step in as the regular right fielder after having to squeeze in time previously between that position, first base, left field and designated hitter in the season's first week and a half. Even in that uncertain role, Swisher was on a massive tear, batting .458 (11-for-24) with four home runs, 11 RBIs and four walks, helping him to an unreal 1.744 OPS through eight games.
The Yankees would surely have found creative ways to get Swisher into their lineup fairly regularly anyway, but fantasy owners in the 38 percent of ESPN leagues in which he is available should scoop him up now while they have the chance. Sure, he endured a miserable 2008, but all the reports on Swisher's adaptation to life in pinstripes thus far have been glowing, and at his best, which is where he seems to be these days, he's capable of 30-plus home runs, a near-.500 slugging percentage and .375 on-base percentage, rates that make him a strong candidate for 100 each in runs and RBIs.
Unfortunately, the news isn't exactly good for anyone but Swisher himself, as without Nady (and Alex Rodriguez for a couple of more weeks) the Yankees' lineup now leans extraordinarily left-handed. This might be a team quite susceptible to individual matchups, and that's a valuable tidbit for fantasy fans, who can pick and choose times when their left-handers are scheduled to face the team.
Carpenter: Rib-cage strain
[+] Enlarge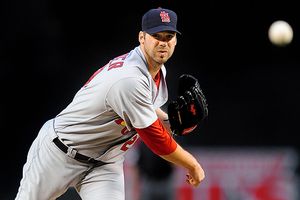 Mark J. Rebilas/US PresswireChris Carpenter's owners, unfortunately, had to know his being injured was a possibility.
In news that would take hardly anyone by surprise, Carpenter landed on the 15-day disabled list Wednesday with a strained left rib cage, one that forced him from his scheduled Tuesday start after only three innings. Cardinals manager Tony La Russa told the St. Louis Post-Dispatch after that game that Carpenter "looks like he's going to be out for a while," which is to be expected, accounting for the right-hander's checkered injury past.
Fortunately for Carpenter, the fact that his injury wasn't an elbow or shoulder problem does give him hope of returning this season, but unfortunately what was shaping up as a potential bounce-back campaign has already been derailed after only two starts. To count on him to make more than 15 in 2009 at this point might be asking too much.
Instead of promoting Carpenter's rotation replacement Wednesday, the team summoned Chris Perez and Mitchell Boggs from Triple-A Memphis to deepen the bullpen for a few days. It's Perez's promotion that warrants fantasy attention; he was in the mix to close for the team and the eventual winner of that spring battle, Jason Motte, has done nothing to prove he deserves to retain it. Though Ryan Franklin seems the Cardinals' current go-to man in the ninth inning, with a hot start Perez might squeeze his way into that mix. If you're in a deeper-mixed or NL-only format or just have a deep enough bench to afford to stash him, Perez is well worth adding based on the prospect of future saves.
The Post-Dispatch also reports that P.J. Walters will assume Carpenter's rotation spot, but he'll pitch Friday instead of Carpenter's turn on Sunday in order to keep the rookie on regular rest as well as avoid having him debut on national television at Wrigley Field on Sunday night. A change-of-pace type, Walters had a 3.48 ERA and 1.24 WHIP in 86 career minor league appearances, though he struck out nearly a batter per inning. Fantasy owners should take a wait-and-see approach to adding Walters, but there's a chance he'll have some NL-only matchups value with time.