Zenyatta Makes History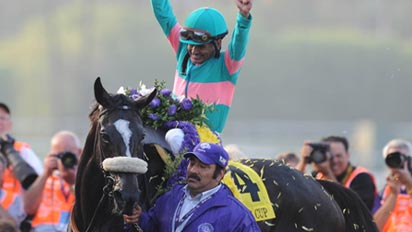 Horsephotos.com
Zenyatta and jockey Mike Smith after winning the Classic.
Undefeated defending Ladies' Classic champ Zenyatta took on males for the first time and became the first female to win the $5 million Breeders' Cup Classic. Let the Horse of the Year talk begin.
Story
More from ESPN.com
Special Sections
Digiturf
Virtual horse racing. Try it for free. Own, train, race, win!
The Breeders' Cup World Championships

The Breeders' Cup World Championships are recognized as one of the ultimate tests of a thoroughbred, showcasing horse racing at the highest level of international competition.
Post positions and odds