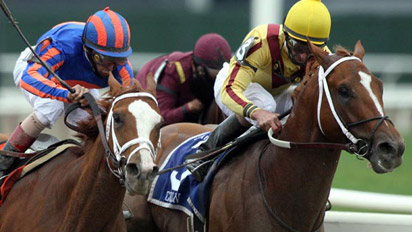 (Horsephotos.com)
Rags to Riches (left) is only the third filly to ever win the Belmont.
Lady Firsts
For the first time in over 100 years, a filly took the $1 million Belmont Stakes. Trainer Todd Pletcher's Rags to Riches and jockey John Velazquez edged past Curlin, giving Pletcher and Velazquez their first victories in a Triple Crown race.
Story
•
Finley: What about an encore?
|
Watch the Belmont Stakes
• Cronley:
Triple Crown Q&A
|
My Belmont Day
|
Mayne
•
Street Sense wins Derby
|
Curlin plays spoiler in Preakness

Rags to Riches eyes Travers
The saga of this 3-year-old class figures to continue to be compelling after a Triple Crown season that featured a Breeders' Cup Juvenile champion winning the Derby and a filly winning the Belmont.



Pletcher, Velazquez end droughts
With their win in the Belmont Stakes, trainer Todd Pletcher ended an 0-for-28 Triple Crown race drought, and jockey John Velazquez ended a 0-for-20 run.



Asmussen: Pletcher deserves 'Riches'
Second-place in the Belmont with Curlin, trainer Steve Asmussen believes rival trainer Todd Pletcher fully deserves his first Triple Crown race win.



Cronley: Third time's still a charm
Even though the best that horse racing can give the sporting world Saturday is a Double Crown winner with Curlin, Jay can still think of a number of reasons why the third leg of the Triple Crown is always good.



Street Sense, Hard Spun sold to Darley
The breeding rights to Kentucky Derby winner Street Sense have been sold to the Darley Stud of Sheikh Mohammed bin Rashid al Maktoum, trainer Carl Nafzger and owner Jim Tafel both confirmed on Saturday.



Curlin's suitors sealed deal quickly
Midnight Cry Stable paid $57,000 for Curlin at Keeneland's 2005 September yearling sale. The day after the colt's first race, it was clear he was worth much more.


139th BELMONT STAKES FULL ORDER OF FINISH
Below is the full order of finish for the 139th Belmont Stakes at Belmont Park.
| | | | |
| --- | --- | --- | --- |
| No. | Horse | Trainer | Jockey |
| 1 | Rags to Riches | Pletcher | Velasquez |
| 2 | Curlin | Asmussen | Albarado |
| 3 | Tiago | Shirreffs | Smith |
| 4 | Hard Spun | Jones | Gomez |
| 5 | C P West | Zito | Prado |
| 6 | Imawildandcrazyguy | Kaplan | Guidry |
| 7 | Slew's Tizzy | Fox | Bejarano |
TRIPLE CROWN SCHEDULE
KENTUCKY DERBY
May 5, 2007
Web
www.kentuckyderby.com
Track
Churchill Downs, Louisville, Ky.
Distance
1 1/4 miles
Record
1:59 2/5
Secretariat, 1973
Purse
$2 Million
Winner
Street Sense





2007 winner Street Sense
PREAKNESS STAKES
May 19, 2007
Web
www.preakness.com
Track
Pimlico Race Course, Baltimore, Md.
Distance
1 3/16 miles
Record
1:53 2/5
Tank's Prospect, 1985
Louis Quatorze, 1996
Curlin, 2007
Purse
$1 Million
Winner
Curlin





2007 winner Curlin
BELMONT STAKES
June 9, 2007
Web
www.nyra.com
Track
Belmont Park, Elmont, N.Y.
Distance
1 1/2 miles
Record
2:24
Secretariat, 1973
Purse
$1 Million
Winner
Rags to Riches





2007 winner Rags to Riches