A Humbling Game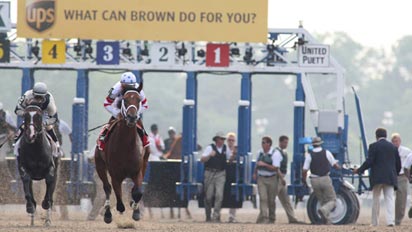 Horsephotos.com
Big Brown walked across the wire, finishing last, in the Belmont Stakes.
Trainer Rick Dutrow said he was "numb" as he watched his failed Triple Crown runner, Big Brown, stagger across the finish line far behind the rest of the field in the Belmont Stakes. Weren't we all.
Ray Paulick
More from ESPN.com
Special Sections
Digiturf
Virtual horse racing. Try it for free. Own, train, race, win!
Belmont Park,11th Race - June 7, 2008
$1,000,000 Belmont S. (G1)
Pgm
Horse
Win
Place
Show
6
Da' Tara
79.00
28.00
14.80
4
Denis of Cork
5.40
4.10
8
DH - Anak Nakal
6.20
9
DH - Ready's Echo
6.20

Finish Time: 2:29.65
Scratched: Casino Drive
Also ran: Macho Again, Tale of Ekati, Guadalcanal, Icabad Crane and Big Brown
Winning Trainer: Zito Nicholas P - Owner: LaPenta Robert V.

$2 Exacta (6-4) Paid $659.00
$2 Trifecta (6-4-8) Paid $3,703.00
$2 Trifecta (6-4-9) Paid $3,954.00
$2 Superfecta (6-4-8-9) Paid $48,637.00
$2 Superfecta (6-4-9-8) Paid $47,309.00
$2 Daily Double (10-6) Paid $1,574.00 Daily Double Pool
$2 Daily Double (BROOKLYN / BELMONT 2-6) Paid $550.00 Daily Double Pool
$2 Pick 3 (5-10-6) 3 Correct Paid $6,475.00 Pick 3 Pool
$2 Pick 4 (1-5-10-6) 4 Correct Paid $34,287.00 Pick 4 Pool
$2 Pick 6 (3/7-4-1-5-10-6) 5 Correct Paid $1,106.00 Pick 6 Pool
$2 Consolation Double (BROOKLYN / BELMONT 2-5) Paid $7.30

© 2008 Equibase Company LLC
Countdown to the Crown

Posted each Friday through the Belmont Stakes, Jeremy Plonk's Countdown to the Crown keeps you apprised of the rising stars in the sophomore class from the maiden ranks to Grade 1 stakes.
June 4, 2009

The Road to the Triple Crown

Belmont Stakes: Summer Bird

Summer Bird, with Kent Desormeaux aboard, rallied past fellow Birdstone progeny Mine That Bird to capture the Belmont Stakes, thwarting jockey Calvin Borel's bid to sweep the Triple Crown. Story


Kentucky Derby: Mine That Bird

Jockey Calvin Borel steered Mine That Bird (50-1) through a narrow opening along the rail to score a monster upset by nearly 7 lengths in the 135th Kentucky Derby at Churchill Downs. Story


Preakness: Rachel Alexandra

With jockey Calvin Borel aboard, the favored filly Rachel Alexandra captured the 134th Preakness, holding off Derby winner Mine That Bird, who was charging late. Story


Lexington Stakes: Advice

Advice rallied from last under Garrett Gomez to post a 15-1 upset Saturday in the final prep on the Kentucky Derby trail, the Grade 2 Coolmore Lexington Stakes at Keeneland. Story


Arkansas Derby: Papa Clem

Papa Clem picked up a major prep win of his own on Saturday when he drove past Old Fashioned to win the $1 million Arkansas Derby at Oaklawn Park. Story


Blue Grass Stakes: General Quarters

General Quarters held off favorite Hold Me Back by 1 1/2 lengths to win the $750,000 Blue Grass Stakes on Saturday at Keeneland. Story


Illinois Derby: Musket Man

Musket Man won for the fifth time in six starts and was thoroughly impressive winning the Illinois Derby by two lengths over Giant Oak. Story


Santa Anita Derby: Pioneerof the Nile

After winning the Grade 1 Santa Anita Derby, Pioneerof the Nile has emerged as the West Coast's top contender for the May 2 Kentucky Derby. Story


Wood Memorial: I Want Revenge

I Want Revenge overcame his brutal beginning to win the $750,000 Wood Memorial by 1 1/2 lengths over West Side Bernie. Story


Florida Derby: Quality Road

Quality Road established himself a leading Kentucky Derby candidate by turning back the previously undefeated Dunkirk. Story


Lane's End Stakes: Hold Me Back

Hold Me Back ran himself right into Derby contention with a sensational rally to win the 38th running of the Lane's End Stakes. Story


Kentucky Derby Challenge: Mafaaz

Mafaaz assured himself a spot in the Kentucky Derby by outlasting Spring of Fame in a desperate finish to the Kentucky Derby Challenge. He could go first in the Blue Grass Stakes. Story


San Felipe: Pioneerof the Nile

With his mind halfway on the job at hand, Pioneerof the Nile extended his stakes-winning streak to three races in Saturday's $200,000 San Felipe Stakes. Story


Rebel Stakes: Win Willy

Win Willy shook up the road the Kentucky Derby, passing heavily favored Old Fashioned to win the Rebel Stakes in a stunning upset. Story


Tampa Bay Derby: Musket Man

Musket Man, under Daniel Centeno, overtook Join in the Dance in the final length to win the Grade 3, $300,000 Tampa Bay Derby. Story


Louisiana Derby: Friesan Fire

Friesan Fire ran away to a 7 1/4-length victory in the Grade 2, $600,000 Louisiana Derby, giving him a sweep of major stakes races at Fair Grounds for 3-year-olds. Story


Gotham Stakes: I Want Revenge

The connections of I Want Revenge had a strong suspicion their horse would be better on dirt than he had been on the synthetic tracks of Southern California. Story


Fountain of Youth: Quality Road

Trainer Jimmy Jerkens had Quality Road fit and ready to go for the one-mile Fountain of Youth and jockey John Velazquez did the rest, allowing the colt to gain command, increasing his advantage through the final furlong. Story


Southwest Stakes: Old Fashioned

Old Fashioned received the most support among the 23 individual interests in Pool 1 of the Kentucky Derby Future Wager. He did little to change that opinion after easily winning the $250,000 Southwest Stakes. Story


Risen Star: Friesan Fire

Friesan Fire did it again, running right back to his smart score in the Lecomte Stakes here at Fair Grounds last month with a decisive victory in the Risen Star Stakes. Story


San Rafael: The Pamplemousse

The Pamplemousse got a gift in the $100,000 San Rafael Stakes and was not about to give it back, winning the first two-turn graded stakes of the year for 3-year-olds. Story


Breeders' Cup Juvenile: Midshipman

Favored Midshipman stamped proper credentials for a 2-year-old champion on Saturday at Santa Anita, scoring a 1 1/4-length victory over Square Eddie in the $2 million Breeders' Cup Juvenile. Story