Shared Belief brings fresh faces to racing
By
Amanda Duckworth
| Special to ESPN.com
Who's Leading The Way?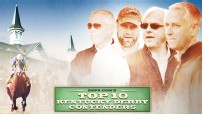 ESPN.com's Top 10 Poll
Each week, our panel of experts ranks contenders for the May 3 Derby. Think you know better? Be sure to tell us all about it in the poll's comments section.
Join Terry Turrell to discuss Saturday's big races. Derby Trail chat: 3-7 p.m. ET
Some 3-year-olds are off to a late start this season. Gary West believes that could help them in the long run. Story »
Horse racing might have the reputation of being a game for old men, but one doesn't have to look any further than Shared Belief -- last year's juvenile champion and one of this year's biggest Kentucky Derby hopefuls -- to see that simply isn't true.
If Shared Belief makes it to the starting gate on the first Saturday in May, he will be a popular choice. He was a perfect three-for-three in 2013, including victories in the Grade 1 CashCall Futurity and the Grade 3 Hollywood Prevue Stakes. What especially caught everyone's eye is the fact he won his three races by a combined 19½ lengths.
His efforts also led to him being named champion juvenile male at last month's Eclipse Awards. When Shared Belief's name was called, co-owner Jim Rome (yes, that Jim Rome) collected the trophy on behalf a group of friends who are enjoying every moment their talented gelding provides, even though they didn't purchase him until after his first start.
Shared Belief originally raced for his breeders, Marty and Pam Wygod. They told trainer Jerry Hollendorfer they were sending the gelding his way after that first start, but that he was for sale. With the help of bloodstock agent Alex Solis II, Hollendorfer decided to purchase Shared Belief. Solis, and his business partner, Jason Litt, retained an interest, and Kevin Nish, George Todaro and Rome also got in on the gelding.
"Just to be involved with him, to have a horse at that level, has been such a privilege," said Solis, who is the son of the well-known jockey. "He reminds you that the good ones do things so much easier. We leave his window open at the back of his stall, and his favorite thing to do is stare out that window at the track. That is what he likes to do. That and sleep. If you want to mess with him, he will play with you. He has a lot of personality. Having the whole group involved with him has been a lot of fun."
Why wait until May to make your Derby wager?
Two years ago, Doug O'Neill won the Kentucky Derby and Preakness Stakes with I'll Have Another. Total purses from those two prestigious races alone were in excess of $1.7 million. But O'Neill will tell you that he got as much if not more pleasure from cashing $20,000 in winnings from a $100 bet he made on his horse in January in a Nevada Casino.
O'Neill drove from Los Angeles with two buddies (who also bet the horse) to a casino on the Nevada border to make that bet at 200-1 the day before I'll Have Another was to win his 2012 debut after a five-month layoff.
"Driving back there to pick up the money after the Triple Crown made me think that I just might be close to getting even for all the future bets I've made through the years," O'Neill said. "I got an even bigger kick sharing the winnings with all the guys and gals who worked so hard in my barn to get the horse ready to do what he did."
There are other legendary Derby Future Book scores, like the group associated with Funny Cide, the New York bred who won the 2003 Kentucky Derby at 75-1 and higher at some race books. Or, the group of good handicappers who hit for more than $250,000 collectively when the Vegas books did not appreciate how good 2000 Derby winner Fusaichi Pegasus was after he won a minor race in northern California early in that winter.
And there's the one that also involved a group of stable hands in 1988. That was the year that D. Wayne Lukas' barn reportedly cleaned up on the filly Winning Colors after she had won only a maiden race at the end of 1987.
The Derby Trail
The Road to the Kentucky Derby is a 34-race series, introduced last year, in which points are awarded to the top four finishers each race.
| Date | Race | Distance |
| --- | --- | --- |
| Feb. 22 | Risen Star | 1 1/16 mls |
| Feb. 22 | Fountain of Youth | 1 1/16 mls |
| Mar. 1 | Gotham Stakes | 1 1/16 mls |
| Mar. 8 | TB Derby | 1 1/16 mls |
For full schedule, please click here
For more on the series, please click here
Derby Points Leaders
The top 20 points-earners qualify for berths in the field for the May 3 Kentucky Derby at Churchill Downs. Earnings in non-restricted stakes races will serve as tiebreakers.
| Horse | Trainer | Pts. |
| --- | --- | --- |
| Tapiture | Steve Asmussen | 22 |
| Havana | Todd Pletcher | 14 |
| Cairo Prince | Kiaran McLaughlin | 14 |
| Honor Code | Shug McGaughey | 14 |
| Tamarando | Jerry Hollendorfer | 12 |
| Midnight Hawk | Bob Baffert | 12 |
| Bond Holder | Doug O'Neill | 11 |
| Rise Up | Tom Amoss | 10 |
| We Miss Artie | Todd Pletcher | 10 |
| Samraat | Rick Violette Jr. | 10 |
For entire leaderboard, please click here
Derby Trail Video Channel
In The Gate Podcast
An A-Bomb for a-Rod?
Owner Armando Rodriguez discusses the chance of General a Rod in Saturday's Fountain of Youth. He's one of 2 Venezuelan-owned horses in the race.