Derby double no easy feat
Who's Leading The Way?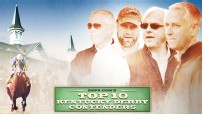 ESPN.com's Top 10 Poll
Each week, our panel of experts ranks contenders for the May 3 Derby. Think you know better? Be sure to tell us all about it in the poll's comments section.
Join Terry Turrell to discuss Saturday's big races. Derby Trail chat: 2-6 p.m. ET
The Fountain of Youth and the Risen Star did nothing to clear up the early Kentucky Derby picture, as Bob Ehalt explains. Story »
When Hall of Fame trainer Shug McGaughey left the Churchill Downs winner's circle last May, he took Kentucky Derby winner Orb to the Preakness in Baltimore as the only horse with a chance to sweep the elusive American Triple Crown.
Didn't happen.
"Sure, I was disappointed," McGaughey said. "But the letdown didn't last long. I still was feeling the excitement of having won the Derby and I knew that was something nobody would ever take away from me, or the horse."
Racing fans, however, were disappointed.
They wanted to see a horse sweep the three spring classics. They wanted to see a horse accomplish something that has not happened since Affirmed won the Kentucky Derby, Preakness and Belmont Stakes in 1978. They wanted to see a 12th horse sweep the American Triple Crown.
But what most fans and even the majority of racing insiders didn't realize then, or now, is that Orb's proud trainer -- and his young but exceedingly talented jockey -- Joel Rosario -- were going to be facing a more historic challenge one year later -- as in this year, as in right now.
You see, far fewer trainers and jockeys have accomplished something even more difficult than winning the Triple Crown. It is a mind-numbing fact that since the Kentucky Derby was first run in 1875, only six trainers and five jockeys have managed to win this historic race back-to-back. Let me repeat that: Only six trainers in racing history and only five jockeys have won consecutive runnings of America's most famous race!
This year, as the vast majority of racing fans know, none of the horses who competed in last year's Triple Crown events -- including Orb -- can be involved in the Kentucky Derby, Preakness or Belmont. All three races are exclusively reserved for 3-year-old Thoroughbreds and they get only one shot at Triple Crown immortality.
When is a 3-year-old not a 3-year-old?
By
Gary West
| Special to ESPN.com
The birthdays of Tapiture and Bayern also happens to be Derby Day, May 3. No need, though, to get out the kazoos and candles for a party; there could be celebration enough if either run for the famed roses.
And should either be successful in the Derby, his victory would be, at the very least, unusual. Among the winners whose actual foal dates are known, none won the Kentucky Derby on his birthday. The day after winning the 1965 Kentucky Derby on May 1, Lucky Debonair actually turned 3. And over the past 70 years, only seven Derby winners were foaled, or born, in May. (The exact foal dates for Proud Clarion, Tomy Lee and Middleground are unknown.)
Trainers insist that horses, like people, develop individually, with some maturing quickly and others, well, requiring extra time to realize their growth and learn what's expected of them. But when preparing a young horse for the Triple Crown, time is precious and extra time fanciful. The Kentucky Derby, Preakness and Belmont are entrenched on the calendar, and getting a horse there prepared and ready depends largely on development and progress. That's why a horse's foal date, or actual birthday, can be significant. It's not necessarily predictive, but it can explain much.
"At the start of the year, we think of all these horses as 3-year-olds," trainer Todd Pletcher explained, "but some of them might not actually be 3 for another two or three months. And 60 or 90 days can be very important in a young horse's development."
Was it coincidence that four of the past five horses to finish ahead of Intense Holiday, an April 20 foal, were all a couple of months older and therefore slightly more mature? Pletcher, who has always expressed confidence in the colt, said Intense Holiday made steady progress even while finishing third and fourth in his races. And Saturday, of course, in winning the Risen Star Stakes, he gave a "breakthrough" performance to join the leaders on the road to Kentucky.
The Derby Trail
The Road to the Kentucky Derby is a 34-race series, introduced last year, in which points are awarded to the top four finishers each race.
| Date | Race | Distance |
| --- | --- | --- |
| Mar. 1 | Gotham Stakes | 1 1/16 mls |
| Mar. 8 | TB Derby | 1 1/16 mls |
| Mar. 8 | San Felipe | 1 1/16 mls |
| Mar. 15 | Rebel Stakes | 1 1/16 mls |
For full schedule, please click here
For more on the series, please click here
Derby Points Leaders
The top 20 points-earners qualify for berths in the field for the May 3 Kentucky Derby at Churchill Downs. Earnings in non-restricted stakes races will serve as tiebreakers.
| Horse | Trainer | Pts. |
| --- | --- | --- |
| Intense Holiday | Todd Pletcher | 53 |
| Wildcat Red | Jose Garoffalo | 50 |
| Albano | Larry Jones | 24 |
| Tapiture | Steve Asmussen | 22 |
| Vicar's In Trouble | Mike Maker | 20 |
| General A Rod | Michael Maker | 20 |
| Havana | Todd Pletcher | 14 |
| Cairo Prince | Kiaran McLaughlin | 14 |
| Honor Code | Shug McGaughey | 14 |
| Tamarando | Jerry Hollendorfer | 12 |
For entire leaderboard, please click here
Derby Trail Video Channel
In The Gate Podcast
Around the World in 80 Days
Mike de Kock discusses the rigors of bringing horses from South Africa to Dubai, plus Kentucky Derby analysis from Tim Turrell and a Barry Abrams commentary.