Uncle Sigh runs for a good cause
Who's Leading The Way?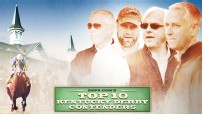 ESPN.com's Top 10 Poll
Each week, our panel of experts ranks contenders for the May 3 Derby. Think you know better? Be sure to tell us all about it in the poll's comments section.
Our friends at Brisnet.com have Past Performances for all Triple Crown nominees. Brisnet PPs
Bob Ehalt tells why Gotham winner Samraat faces a tough road to the Churchill Downs winner's circle. Story »
Uncle Sigh didn't win the Gotham Stakes Saturday at Aqueduct, but he was a strong second and he continues to look every bit the part of a serious Kentucky Derby contender. That means he's probably going to make a lot of money before the year is over, in the Wood Memorial and maybe even in the Kentucky Derby, and that's wonderful because this horse is out there to make money for wounded veterans and to shine a light on their needs.
For the longest time, Chip McEwen III, the co-owner of Uncle Sigh was a lot like most of us. He appreciated what our veterans do for us and occasionally donated a small bit of money to charities that support them, but that was more or less it. That all changed a year and a half ago when he and his girlfriend were getting off an airplane and the flight crew asked everyone to stay seated until a wounded veteran could make his way down the aisle. The veteran, McEwen says, had lost many of his motor skills because he had been struck in the head by an IED and had to be held up by his father. Alongside, other relatives carried his small children off the plane. It was a troubling but touching scene.
"I had to see it with my own eyes to realize just how difficult things can be for these people and for their families," he said. "I told my girlfriend that we need to do more for people like that. These are people that are getting seriously injured fighting for our freedom, and when that happens their lives and their family's lives are changed forever."
McEwen, who is not himself a veteran, decided the best way to help causes supporting wounded soldiers would be to donate earnings from his racing stable.
"There are a lot of people who need help and the government can't do enough for them," he said.
He changed the name of his stable to Wounded Warrior Stable and pledged to donate 10 percent of its earnings to various charities supporting injured vets. His silks are yellow and purple and depict a purple heart. Uncle Sigh isn't his only good horse as he also has the California-based Sushi Empire, who won the $75,000 Blue Norther Stakes on Jan. 1.


To read the full story, please click here »
• Bill Finley is an award-winning horse racing writer whose work has also appeared in The New York Times, USA Today and Sports Illustrated.
• To contact Bill, email him at wnfinley@aol.com
Flops are part of the Kentucky Derby game
The Kentucky Derby is a hard race to win, we all know that. But sometimes a horse that seems much the best in March or April will fail to live up to his high ranking on race day.
Horses are like other highly conditioned athletes: They can have a bad day, or the sporting press can fall in love with a champion human athlete or horse and overhype credentials, heaven forbid.
Consider how invincible Mike Tyson seemed before Buster Douglas knocked the heavyweight champion for a loop in February 1990. There are numerous other examples, including many from the 139-year history of America's most famous race.
A horse named Himyar, for instance, lost the 1878 Derby despite being held in such high esteem he went to the post at 1 to 4 odds (.25 cents on the dollar) -- the shortest odds for any horse in Kentucky Derby history.
Long forgotten by all except those crazy enough (like me) to do intensive Derby research, Himyar was one of 12 horses in history who failed to win the Derby despite going off as odds-on favorites, (lower than $1 to $1 odds).
Some of those heavily bet losing favorites were famous horses. Native Dancer for one, suffered his only career defeat in 22 lifetime starts in the 1953 Kentucky Derby. Easy Goer -- a very popular odds on favorite and a future Hall of Famer -- lost the 1989 Derby to Sunday Silence, another future Hall of Famer.
The Derby Trail
The Road to the Kentucky Derby is a 34-race series, introduced last year, in which points are awarded to the top four finishers in each race.
| Date | Race | Distance |
| --- | --- | --- |
| Mar. 8 | TB Derby | 1 1/16 mls |
| Mar. 8 | San Felipe | 1 1/16 mls |
| Mar. 15 | Rebel Stakes | 1 1/16 mls |
| Mar. 22 | Spiral Stakes | 1 1/8 mls |
For full schedule, please click here
For more on the series, please click here
Derby Points Leaders
The top 20 points-earners qualify for berths in the field for the May 3 Kentucky Derby at Churchill Downs. Earnings in non-restricted stakes races will serve as tiebreakers.
| Horse | Trainer | Pts. |
| --- | --- | --- |
| Samraat | Rick Violette Jr. | 60 |
| Intense Holiday | Todd Pletcher | 53 |
| Wildcat Red | Jose Garoffalo | 50 |
| Albano | Larry Jones | 24 |
| Uncle Sigh | Gary Contessa | 24 |
| Tapiture | Steve Asmussen | 22 |
| Vicar's In Trouble | Mike Maker | 20 |
| General A Rod | Michael Maker | 20 |
| Havana | Todd Pletcher | 14 |
| Cairo Prince | Kiaran McLaughlin | 14 |
For entire leaderboard, please click here
Derby Trail Video Channel
In The Gate Podcast
'Horseplayers' and the Triple Crown
Pete Rotondo Sr. shares stories from the making of the reality show, "Horseplayers." Plus, Triple Crown analysis with Jennie Rees of the Louisville Courier-Journal.