Derby experience no longer required
By
Gary West
| Special to ESPN.com
Who's Leading The Way?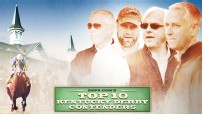 ESPN.com's Top 10 Poll
Each week, our panel of experts ranks contenders for the May 3 Derby. Think you know better? Be sure to tell us all about it in the poll's comments section.
Our friends at Brisnet.com have Past Performances for all Triple Crown nominees. Brisnet PPs
Jay Cronley gives his tip list that is full of sure things. Story »
For many years, the post-Derby winner's circle at Churchill Downs was horse racing's Amber Room, its Sanctum Sanctorum, a sacred and rarefied place that only the most respected and accomplished and experienced horsemen ever could enter. The passkey would only turn, or so it seemed, with the torque of some esoteric or arcane knowledge held in strictest confidence and passed along in pre-dawn whispers on the backstretch berm of Churchill Downs, but just to a chosen few, ordained by their inexhaustible dedication and devotion.
Over three decades, starting in 1972, trainers who either had a plaque in the sport's Hall of Fame or would soon have one saddled 23 Kentucky Derby winners. This was no country for young, inexperienced men, this hallowed winner's circle. Trainers such as Charlie Whittingham, Laz Barrera, Woody Stephens, Mack Miller, LeRoy Jolley, Jack Van Berg and Nick Zito won this most famous of races, men whose lives unfurled a furlong at a time. And then D. Wayne Lukas and Bob Baffert seemed to control the key, passing it back and forth between them. Yes, they're all in the Hall of Fame.
And so, based on that evidence and that history, with an inductive leap and a deductive syllogism, you could be fairly confident that the Kentucky Derby winner is running this week, either Wednesday at Gulfstream Park in Florida or Saturday at Oaklawn Park in Arkansas. Hall of Fame trainer Shug McGaughey will saddle highly regarded Honor Code for his much anticipated seasonal debut Wednesday. A few days later, Lukas will send out Strong Mandate in the Rebel Stakes, where Steve Asmussen, a finalist on the Hall of Fame ballot this year, will saddle Tapiture.
A Kentucky Derby victory is usually reserved for Hall of Fame trainers and future Hall of Famers. This week, three such trainers will saddle three of the most prominent Kentucky Derby contenders; therefore, the roseate winner is probably running this week. That's the reasoning. But, of course, it's specious. The last decade tears that reasoning up into little pieces and then tosses them into the maelstrom of modernity.
'Bird' flies into Hollywood spotlight
By
Amanda Duckworth
| Special to ESPN.com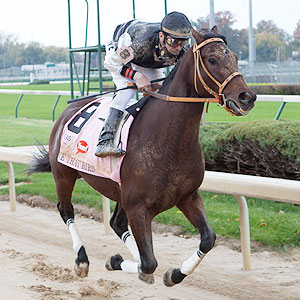 Photo courtesy Jim WilsonCalvin Borel plays himself in the movie "50 to 1."
Five years ago, I was stunned along with the rest of the racing world when 50-1 longshot Mine That Bird put in an unforgettable run to win the 2009 Kentucky Derby. However, unlike most of the racing world I was thrilled because I, for various reasons, had bet on the largely overlooked gelding.
Mine That Bird was a bit of a joke in racing's inner circle, especially before the race but to some degree, even after it. Far from the bluegrass fields of Kentucky, he trailed into the hallowed grounds of Churchill Downs via New Mexico. He was far from physically impressive and his connections were far from the fancy kind. They didn't expect to win, they just wanted to run respectably.
The gelding's story didn't follow the script, and he made some very smart people look foolish. So, it is not all that common I find a fellow Bird lover.
Therefore, when I heard whispers Mine That Bird's story was going to be turned into a movie, I was excited but surprised. When I found out the driving force behind the flick was going to be Jim Wilson, I was impressed. Wilson is best known as the the Oscar-winning producer of Dances with Wolves.
Later this month, Wilson's labor of love, the appropriately titled movie 50 to 1, is set to make its premiere. Much like no one had much faith in Mine That Bird, Wilson was unable to convince a studio to pick up the movie, so he and four others have funded it.
The Derby Trail
The Road to the Kentucky Derby is a 34-race series, introduced last year, in which points are awarded to the top four finishers in each race.
| Date | Race | Distance |
| --- | --- | --- |
| Mar. 15 | Rebel Stakes | 1 1/16 mls |
| Mar. 22 | Spiral Stakes | 1 1/8 mls |
| Mar. 23 | Sunland Derby | 1 1/8 mls |
| Mar. 29 | Florida Derby | 1 1/8 mls |
| Mar. 29 | La. Derby | 1 1/8 mls |
For full schedule, please click here
For more on the series, please click here
Derby Points Leaders
The top 20 points-earners qualify for berths in the field for the May 3 Kentucky Derby at Churchill Downs. Earnings in non-restricted stakes races will serve as tiebreakers.
| Horse | Trainer | Pts. |
| --- | --- | --- |
| Samraat | Rick Violette Jr. | 60 |
| Intense Holiday | Todd Pletcher | 53 |
| Wildcat Red | Jose Garoffalo | 50 |
| Ring Weekend | Graham Motion | 50 |
| California Chrome | Art Sherman | 50 |
| Midnight Hawk | Bob Baffert | 32 |
| Albano | Larry Jones | 24 |
| Uncle Sigh | Gary Contessa | 24 |
| Tapiture | Steve Asmussen | 22 |
| Vinceremos | Todd Pletcher | 20 |
For entire leaderboard, please click here
Derby Trail Video Channel
In The Gate Podcast
Wounded Warrior Stable
Chip McEwen's Wounded Warrior Stable, which owns Gotham Stakes runner-up Uncle Sigh, races to raise money for disabled soldiers.