An 'All Natural' approach to the Kentucky Derby
Who's Leading The Way?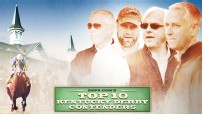 ESPN.com's Top 10 Poll
Each week, our panel of experts ranks contenders for the May 3 Derby. Think you know better? Be sure to tell us all about it in the poll's comments section.
Join Terry Turrell to discuss Saturday's big races. Derby Trail chat: 3-7 p.m. ET
Our friends at Brisnet.com have Past Performances for all Triple Crown nominees. Brisnet PPs
It may sometimes seem, with all the bad publicity, all the talk of drugs and cheating and investigations in horse racing, that there's nothing or nobody left out there that's untainted. That's not true. I have found an honest man with a horse who gets to the finish line on ability and determination alone. Now that man wants not only to win the Kentucky Derby but prove that you can win it the right way.
Dr. Russell Cohen is a practicing veterinarian at the NYRA tracks, a breeder and the racing manager for his mother's Tri-Bone Stables. On Sunday, Tri-Bone's Effinex won an allowance race at Aqueduct by 6 ¼ lengths. Cohen promptly wrote out a check for $6,000 to supplement the horse to the Triple Crown and began plotting a strategy to get his horse to the Derby. Cohen is considering a run in the April 5 Wood Memorial next.
That makes Effinex one of 100 or so that remain in the Derby pipeline, but he is unique in that Cohen refuses to bring drugs into the equation. The horse does not run on Lasix or anything else and Cohen says that the horse has had one shot of medication in his entire life.
"Unfortunately, there are people in this business that have fallen off the rail and believe that they cannot succeed without medication," Cohen said.
Cohen said he believes you can go drug-free and win, yet he admits his theories might put him at a competitive disadvantage. Effinex (named for Cohen's feelings about his ex-wife) will likely be the only horse in the Wood Memorial to run without Lasix, a legal drug that many believe is a performance-enhancer.


To read the full story, please click here »
• Bill Finley is an award-winning horse racing writer whose work has also appeared in The New York Times, USA Today and Sports Illustrated.
• To contact Bill, email him at wnfinley@aol.com
A road filled with potholes
By
Gary West
| Special to ESPN.com
Top Billing cracked a cannon bone during a routine workout, Indianapolis became ill, Shared Belief had a persistent foot problem, Honor Code injured a suspensory ligament and they've all left the highway. Are this season's 3-year-olds more fragile than past groups, or could it be that the road to this year's Kentucky Derby has more potholes than usual?
Or has the Derby road simply attracted more traffic than ever?
If the Derby road seems more hazardous than most boulevards, it's probably because the spotlight of widespread interest and media attention shines relentlessly on it. Each setback, every injury, is cataloged.
"I believe the attrition rate [on the Derby road] is magnified because everybody knows who these horses are," said Todd Pletcher, who this weekend will send out Intense Holiday in the Louisiana Derby and Constitution in the Florida Derby, "and everybody is following them."
Actually, the road leading to the 140th Kentucky Derby is no more hazardous than those that led to past Derbies, and probably no more precarious than the run-up to many rigorous sporting enterprises. Injuries accompany any athletic endeavor, either as a haunting possibility or a compromising burden. ESPN's astute baseball writer Buster Olney recently pointed out that it "seems like 30 percent of the starting pitchers in the American League West" have been injured already, and the MLB season hasn't even begun.
The Derby Trail
The Road to the Kentucky Derby is a 34-race series, introduced last year, in which points are awarded to the top four finishers in each race.
| Date | Race | Distance |
| --- | --- | --- |
| Mar. 29 | Florida Derby | 1 1/8 mls |
| Mar. 29 | La. Derby | 1 1/8 mls |
| Mar. 29 | UAE Derby | 1 3/16 mls |
| Apr. 5 | Santa Anita Derby | 1 1/8 mls |
| Apr. 5 | Wood Memorial | 1 1/8 mls |
For full schedule, please click here
For more on the series, please click here
Derby Points Leaders
The top 20 points-earners qualify for berths in the field for the May 3 Kentucky Derby at Churchill Downs. Earnings in non-restricted stakes races will serve as tiebreakers.
| Horse | Trainer | Pts. |
| --- | --- | --- |
| We Miss Artie | Todd Pletcher | 60 |
| Samraat | Rick Violette Jr. | 60 |
| Hoppertunity | Bob Baffert | 55 |
| Chitu | Bob Baffert | 54 |
| Intense Holiday | Todd Pletcher | 53 |
| Midnight Hawk | Bob Baffert | 52 |
| Wildcat Red | Jose Garoffalo | 50 |
| Ring Weekend | Graham Motion | 50 |
| California Chrome | Art Sherman | 50 |
| Tapiture | Steve Asmussen | 42 |
For entire leaderboard, please click here
Derby Trail Video Channel
In The Gate Podcast
Prince of Florida
Trainer Kiaran McLaughlin readies Cairo Prince for his Florida Derby close-up. Joshua Walfish of the Miami Herald analyzes, plus Barry Abrams' commentary.