No point to be made for fillies in the Derby
Who's Leading The Way?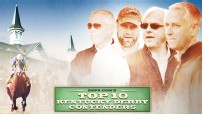 ESPN.com's Top 10 Poll
Each week, our panel of experts ranks contenders for the May 3 Derby. Think you know better? Be sure to tell us all about it in the poll's comments section.
Join Terry Turrell to discuss Saturday's big races. Derby Trail chat: 3-7 p.m. ET
Rosie Napravnik is a model for the Old Friends Thoroughbred Retirement hat auction. Gallery »
The qualifying point system presently used by Churchill Downs to select the maximum 20 horses that will be allowed to run in the 140th Kentucky Derby is better than the old system that was based on Graded Stakes earnings.
It is a lot better because it places an important emphasis on recent form achieved in races longer than one mile. This instead of giving free tickets into the Derby for rich victories scored at sprint distances the prior year. After all, the Derby is not a sprint, it's a testing 1 ¼-mile race for top quality 3 year olds.
Yet, despite the beneficial changes, the current point system still has a few glaring flaws that should be addressed by Churchill Downs' officials.
The most important is to realize how rare it will be to see a filly of high quality ever run in the world's most famous race. Frankly, under the current system, I make the odds of that happening about 100-1.
First, let me briefly summarize the key elements of the point systems for the Kentucky Oaks and Kentucky Derby.
The Derby has 33 Qualifying races, the first 18 date back to last September and includes races through mid February. They are worth 10 points to the winner, four for second, two for third and one for fourth. Beginning in mid February through late March, there are eight Derby prep races worth 50, 20, 10 and 5 points.
These are followed by seven premier Derby preps worth 100, 40, 20 and 10. This group includes the recently run Wood Memorial and Santa Anita Derby, among others.
Kentucky Derby hats for a cause
By
Amanda Duckworth
| Special to ESPN.com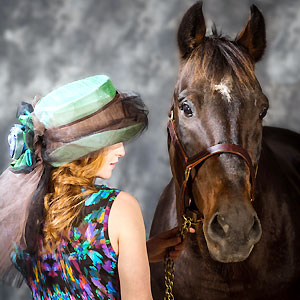 Matt Wooley/EquiSportJockey Rosie Napravnik gets in the spirit of the Kentucky Derby by showing off hats created for the Old Friends Thoroughbred Retirement hat auction.
Lavish hats are just as much a part of the Kentucky Derby culture as the horses themselves, and thanks to a collaborative effort, some select pieces are helping to raise money for retired racehorses long past their glory days.
This is the fifth year the horses of Old Friends Thoroughbred Retirement have benefited from a six month auction featuring different hats crafted by acclaimed milliner Sally Faith Steinmann's Maggie Mae Designs. However, this year, they were also aided by one of the most recognizable names in the game: leading jockey Rosie Napravnik.
"I have become invested in Old Friends because I really support and believe in what Michael Blowen and the organization do," said Napravnik. "I loved the idea of helping with this auction because I think it is a great way to raise money for the horses, and I also had so much fun modeling with them. It is probably one of the few photo shoots I really felt comfortable doing. That is thanks to the horses for making me feel like I was in my element when I was absolutely not!"
Blowen founded Old Friends in 2003, and the retirement facility is now home to more than 100 horses. One of the things that makes Old Friends unique is that it takes in stallions when their racing and breeding careers come to an end. The farm attracts nearly 20,000 tourists annually who can get up close and personal with the likes of Belmont Stakes winner Sarava and Breeders' Cup champion Gulch.
Obviously, such an endeavor is not a cheap one, and Old Friends is always looking for fun ways to raise money for its horses. When they were approached by Steinmann several years ago about an idea she had, they knew it was a winner.
Steinmann's work can be see internationally from Royal Ascot to the Dubai World Cup and has even been worn in the winner's circle at the Kentucky Derby. However, the first hat she made because she was inspired by a specific horse was done in tribute to the ill-fated 2006 Kentucky Derby winner Barbaro.
"I was an artist, a milliner, and I felt compelled that I had to create a hat to honor him and celebrate him," the life long horse lover said. "I had never done anything like that before, and I didn't want to sell it, I just wanted to share it."
The Derby Trail
The Road to the Kentucky Derby is a 34-race series, introduced last year, in which points are awarded to the top four finishers in each race.
| Date | Race | Distance |
| --- | --- | --- |
| Apr. 12 | Arkansas Derby | 1 1/8 mls |
| Apr. 12 | Blue Grass Stakes | 1 1/8 mls |
| Apr. 19 | Lexington Stakes | 1 1/16 mls |
For full schedule, please click here
For more on the series, please click here
Derby Points Leaders
The top 20 points-earners qualify for berths in the field for the May 3 Kentucky Derby at Churchill Downs. Earnings in non-restricted stakes races will serve as tiebreakers.
| Horse | Trainer | Pts. |
| --- | --- | --- |
| California Chrome | Art Sherman | 150 |
| Vicar's In Trouble | Mike Maker | 120 |
| Wicked Strong | James Jerkens | 102 |
| Samraat | Rick Violette Jr. | 100 |
| Constitution | Todd Pletcher | 100 |
| Hoppertunity | Bob Baffert | 95 |
| Intense Holiday | Todd Pletcher | 93 |
| Wildcat Red | Jose Garoffalo | 90 |
| We Miss Artie | Todd Pletcher | 60 |
| Chitu | Bob Baffert | 54 |
For entire leaderboard, please click here
Derby Trail Video Channel
In The Gate Podcast
Arkansas Derby/Blue Grass Preview
Ron Winchell on keeping his stars (Tapiture, Untapable) with trainer Steve Asmussen, in the wake of the PETA video. Plus, Katerina Vassilieva preps Big Bazinga for Blue Grass.