Timing is everything in the Derby chase
By
Gary West
| Special to ESPN.com
Who's Leading The Way?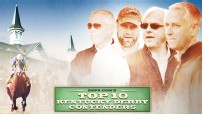 ESPN.com's Top 10 Poll
Each week, our panel of experts ranks contenders for the May 3 Derby. Think you know better? Be sure to tell us all about it in the poll's comments section.
Jay Cronley chimes in with wagering tips before the Kentucky Derby. Cronley
Our friends at Brisnet.com have Past Performances for Ky. Derby and Oaks contenders. Derby | Oaks
So who's going to win the Derby? The last few months have focused on the question of who's going to run in the most famous of races and who'll acquire sufficient points to qualify for a reservation in the starting gate. Well, the reservations have been made, the points acquired, and so the time has come to address more telling questions. Actually, though, to begin, the most applicable question might not be who will but who can win the 140th Kentucky Derby, with an emphasis on the "can."
Most Derby winners run the best race and give the best performance of their career when they take the roses. That's one of their most telling but subtle qualities: Their 3-year-old campaigns are all about development and improvement, culminating with an optimum performance that strikes the moment solidly and perfectly. That's why the Derby is an extravagant and ceremonious coming-out party. The confluence of unique circumstances -- the distance, the frenetic run to the turn, the turbulence of the moment -- challenges horses to reach new levels of performance and, in a few instances, greatness.
Barbaro, everyone knew, was talented and gifted, but the Derby challenged him to reach beyond that. The Derby made him great. Based on speed figures, nine of the last 10 Derby winners gave the best performance of their careers, to that point anyway, while winning at Churchill Downs. The exception, Smarty Jones, virtually duplicated his winning performance in the Arkansas Derby.
But when it comes to rising to the moment, one horse rises up like a sequoia: Mine That Bird. He, quite obviously, made the biggest improvement and took the largest leap forward among recent Derby winners. From his fourth at Sunland Park, he suddenly improved about 15 lengths to win the 2009 Derby. Truly remarkable stuff, his victory would have seemed like a ridiculous contrivance if it were the final happy scene in a Hollywood movie. But, of course, it happened, and so his story has become a movie that's immune, because of its factual origins, from accusations of manipulating the plot for sentimental effect. But aside from his astounding improvement, and his last-to-first rally along the rail and his winning margin of 6¾ lengths, another remarkable aspect of his Derby was that he was the only horse that did indeed step forward. Every other horse in the field regressed.
Over the last 20 years, only Fusaichi Pegasus won the Derby despite regressing in any meaningful way. And he regressed only about two lengths from his victory in the Wood Memorial, where Aptitude finished more than five back. His level of performance slipping slightly, Fusaichi Pegasus still won the 2000 Derby by 1½ lengths over Aptitude. The negative trend continued, however, into the Preakness. And in Baltimore, Fusaichi Pegasus finished second to Red Bullet, the runner-up from the Wood.
Collecting the Kentucky Derby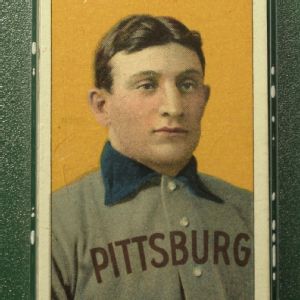 Chris Hondros/Getty ImagesThe T206 Honus Wagner baseball card is the 'Holy Grail' of sports collectibles.
As spring arrives and a horse racing fan's attention turns toward the magical first Saturday in May, there is a niche group that reacts to the new season by scavenging through basements, garages and attics in search of a dusty relic.
Much like owners, trainers and jockeys, collectors of sports memorabilia are not exempt from Kentucky Derby Fever. With each year, as Derby talk begins to spike, a familiar cycle unfolds. Some people try to remember where they placed that $2 ticket on the 1983 Derby winner, while others formulate their plans to get their hands on items from this year's Run for the Roses.
There may not be an equine version of a 1909 Honus Wagner baseball card, but horse racing, and in particular the Derby, has its own array of passionate fans and coveted items that are stored away in hopes of one day kindling a fond memory or perhaps covering an auto payment.
All that's missing are the massive number of people who stockpile Derek Jeter rookie cards or a football autographed by Peyton Manning.
"The horse racing collector or fan tends to be an older person," says Brandon Steiner, the founder and CEO of Steiner Sport. "They are very loyal, but the problem is that there are not enough of them. They are not a growing breed. They remind me of hockey fans in many ways."
For a licensed collector like Steiner and his company, items like dirt from the Churchill Downs racing surface or a jockey's whip would hold a unique value. Yet for the average fan, there is a much more standard checklist of collectibles tied to the famed opening leg of the Triple Crown. Derby commemorative drinking glasses, programs and mutuel and admission tickets are the traditional favorites.
Chris Goodlett, the curator of collections for the Kentucky Derby Museum, says he receives roughly 300 research requests a year from people wanting to know the value of their Derby memorabilia. The vast majority of them arrive in March through May and predictably focus on glasses, programs and tickets.
The Derby Trail
The Road to the Kentucky Derby is a 34-race series, introduced last year, in which points are awarded to the top four finishers in each race.
| Date | Race | Distance |
| --- | --- | --- |
| Apr. 19 | Lexington Stakes | 1 1/16 mls |
For full schedule, please click here
For more on the series, please click here
Derby Points Leaders
The top 20 points-earners qualify for berths in the field for the May 3 Kentucky Derby at Churchill Downs. Earnings in non-restricted stakes races will serve as tiebreakers.
| Horse | Trainer | Pts. |
| --- | --- | --- |
| California Chrome | Art Sherman | 150 |
| Dance With Fate | Peter Eurton | 108 |
| Vicar's In Trouble | Mike Maker | 120 |
| Wicked Strong | Steve Asmussen | 102 |
| Samraat | Rick Violette Jr. | 100 |
| Danza | Todd Pletcher | 100 |
| Constitution | Todd Pletcher | 100 |
| Hoppertunity | Bob Baffert | 95 |
| Intense Holiday | Todd Pletcher | 93 |
| Wildcat Red | Jose Garoffalo | 90 |
For entire leaderboard, please click here
Derby Trail Video Channel
In The Gate Podcast
Sugar Trouble in May
Trainers Mike Maker (Vicar's In Trouble, Derby) & Doug Anderson (Sugar Shock, Oaks) prepare for 1st weekend in May, plus Barry Abrams' commentary.