Injuries could torpedo Red Bulls' chances
October, 29, 2010
10/29/10
1:19
PM ET
Red Bulls Need Wings
Had a nice conversation with Wizards coach Peter Vermes on Wednesday night, as he's helping me with a piece that will run on ESPNNewYork.com next week, ahead of the first playoff game ever at Red Bull Arena. Diehard MetroStars/Red Bulls fans remember the role Vermes played in the franchise's first-ever playoff game some 14 years ago.
Anyway, Vermes gave me some thoughts on the current Red Bulls, who play the first leg of their "Eastern" Conference semifinal in San Jose, Calif., on Saturday. "They have so much talent," Vermes said. "But a lot of them have not been in the league long enough to know what the MLS playoffs are really like. And that could have an effect on them."
I stopped by Red Bulls training Thursday. Beyond New York's load of injuries entering the playoffs, there is no one denying that playing two games and having to fly 3,000 miles twice inside of a week is a new experience for many Red Bulls players.
[+] Enlarge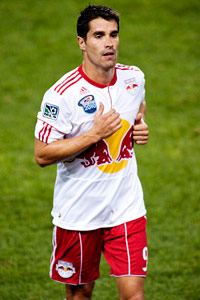 Icon SMIJuan Pablo Angel said of all the travel involved in the MLS playoffs: "There is really nothing like this anywhere in Europe, where a long trip is two hours in a plane."
"It's a difficult adjustment and there's nothing I can tell anyone that makes it easier," said Juan Pablo Angel, who is finishing his fourth season in MLS. "There is really nothing like this anywhere in Europe, where a long trip is two hours in a plane."
Coach Hans Backe even speculated that the Red Bulls injuries to Thierry Henry, Tony Tchani and Salou Ibrahim are travel-related. "We have so many hamstring injuries," he said, "I do wonder if I have worked the players too hard this year and not allowed enough recovery."
Backe now has to decide who can play alongside Angel in this series, as he all but ruled Henry out of both games yesterday. He could play Mehdi Ballouchy, even though he's more of a midfielder than striker, or he could play 17-year-old Juan Agudelo, who brings all of 14 minutes of professional experience into the series. Risky, but exciting.
"Juan is a very lively striker, a busy striker," Backe said. "He has good movement and he runs for 90 minutes. Every center back can't feel comfortable playing against those type of strikers. He also has been scoring (in training). His decision-making is better. He's a little bit more unselfish in his game now. He has improved all the time. In the beginning, we were a little bit worried because he didn't get games. When you're a young player you need to play games. That's the only way to develop and improve. He got games with the U.S. Under-20 and a couple of tournaments. He's had decent games. To see a 17-year-old improving with that spirit and attitude, you're happy as a coach to see that."
San Jose is riding the goal-scoring run of Chris Wondolowski, who has tallied the Quakes' last 10 goals. When asked about Wondo, Backe said it will be paramount for the Red Bulls to disrupt the service he's been getting from Geovanni and Bobby Convey. When asked if he was surprised to see a player like Wondolowski go on such a run, Backe said, "It's typical in some ways of many strikers to be able to go on a run. You see it all over the world, when a guy gets hot and shocks people. The big question will be to see if it's just one run or something he can do in years to come."
Back to Ohio
Columbus has to feel a bit lucky to have only surrendered one goal Thursday night in Denver, and the Crew can draw solace from being down a single goal as they head home for the second leg. The goal for any road team in this setup is, obviously, to steal three points or to draw, but being down one is a lot better for Robert Warzycha's club, as it doesn't have to panic. Tactically, the Crew can treat it like any other game -- that is, until they give up the first goal in Game 2.
Pablo Mastroeni was the unlikely goal-scoring hero for the Rapids, as Paul Kennedy wrote for Soccer America Friday. I did not have the record in front of me but was not surprised in the least when J.P. Dellacamera said it was Mastroeni's first career playoff goal. Harder for me to believe is that Mastroeni has but six career regular season goals in 13 MLS seasons. Quite simply, scoring is not his forte.
The Rapids may rue some of the chances they failed to bury in the first half last night, as Omar Cummings and Conor Casey had a number of solid opportunities.
Another Year, Another Coach
Martin Vasquez is out as head coach of Chivas USA, even though last week GM Stephen Hamilton said he would be back. The Goats will now look to hire their fifth head coach after their sixth season, and some fans have already been clamoring on the message boards for the man they called El Capitan, former midfielder Jesse Marsch.
I've known Marsch since he was 17 years old and think he'd be an excellent option, if he's willing to leave his post as assistant coach of the U.S. national team. He's a student of the game and a veteran of 14 MLS seasons. He raised three MLS Cup trophies, three Open Cups and he was a member of two teams that won the Double.
If Marsch isn't looking to make the move, isn't it time someone brought Octavio Zambrano back into the league as a head coach? A dozen years ago, Zambrano's Los Angeles Galaxy won the Supporters Shield, after scoring an amazing 85 goals while playing a racehorse style of soccer that entertained.
After his stint in L.A., Zambrano helped turn around the MetroStars, leading them to the Eastern Conference finals. He was let go after a disappointing 2001 season and has failed to land a head coaching position in the league since. He's coached in Moldova and Hungary, then returned to MLS to assist Vermes in Kansas City.
He's more than paid his dues.