Behind the story of Giuseppe Rossi
December, 16, 2010
12/16/10
10:08
AM ET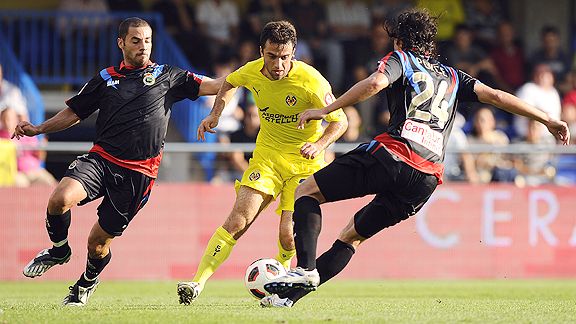 Jose Jordan/AFP/Getty ImagesGiuseppe Rossi has had his shares of success and setbacks in the past year.
"See you in South Africa."
Those were the last words I spoke to Giuseppe Rossi, last year right around this time, as I departed from his home in Castellon, Spain. Turns out I didn't see in him South Africa, and although some American soccer fans took delight in that, I did not.
This will be Part 1 of my Remembering 2010 soccer blog. Not sure how many parts there will be, ultimately, but the year that's winding up for me was pretty amazing.
It all started with a trip to Spain to see Rossi at Villarreal. It was a story I had wanted to write for several years, about the kid who was born in Clifton, N.J., but made his way to Italy at age 12. At first, the story was going to be about whether he'd decide to play for the U.S. or Italy, but that storyline went by the wayside when he made his announcement that he'd play for Italy.
All along, it was sort of an on-again, off-again deal for me. At one point, his agent said Rossi would like to do the story, then I stopped getting my phone calls returned. But when Rossi came off the bench and scored two goals to lead Italy to a 3-1 victory over the U.S. at the 2009 Confederations Cup, Brendan O'Connor, my editor at The Magazine, asked me to pursue it again. So I did, and arrangements were made.
As you probably know, I avoid writing about U.S. soccer because my brother Bob is the coach of the national team, but before I got on my flight to see Rossi, I asked my brother what he knew about him. All I remember him saying is, "He's a very polite kid."
Turns out, that's about all I was able to get out of five days with Rossi in Spain. Rossi is, indeed, a very polite kid. Any hope that he'd say anything volatile or derogatory about anyone was immediately abandoned. That's not to say I did not enjoy my time over there, and honestly, I've never been around a more accommodating athlete.
Our Magazine photo shoot with him must have taken four hours, most of it outside with a photographer asking him to change uniforms, try different movements. The whole time I was thinking, I'll never get any time for an interview, but when the photo shoot was over, Rossi suggested a tapas restaurant where we went and spent more time. He ended up driving me all over the place, picking me up at my hotel, basically looking after me the entire time I was there. I've never been around a nicer athlete.
The story was not to run for a good bit of time, so I put off setting up an interview time with the man who was most instrumental in Rossi's career, his father, Fernando. I live in Jersey, so I figured it would be easy to drive up to see Fernando. No rush.
Little did I know.
Week to week, I was following Rossi's season with Villarreal and began to worry that he wasn't scoring many goals and wasn't even starting in some away games. Then came an announcement in late January that he was leaving his club for "personal reasons." I tried e-mailing and texting him. Tried getting back in touch with his agent. Finally, one day, I got a text from Rossi, who said, "I'm OK." Every day I checked the Internet to see whether there was any news about Rossi's leave, and there was none. I was totally in the dark. Then, in the middle of February, my brother texted me, "Fernando Rossi passed away."
I was in shock. I had no idea. Turns out the personal reasons were indeed very personal. Fernando Rossi had been battling cancer for a long time, but Giuseppe wanted it kept in the family. My respect for this young man grew exponentially.
When I got back in touch with him, I told him that when he was ready, I wanted to talk to him some more about his dad. We did. It was so obvious that by playing for Italy, Rossi was making his dad's dreams come true. And the one thing everyone in U.S. Soccer, including my brother, told me was that Giuseppe never misled anyone. Although he'd been to one U.S. camp with the under-14s, he'd been all-Italy ever since.
But without some sort of conflict, there was probably not going to be a magazine story. So I went with the angle that with his two goals against the U.S. in the Confederations Cup, he'd salted the wound felt by many U.S. fans who'd been following his career. And then came the cover line. "America's Best Hope at the World Cup." I took a deep breath.
From the day Rossi took his leave of absence from Villarreal, I was concerned that Italy coach Marcello Lippi would leave him off Italy's final World Cup roster. But my Italian sources kept telling that Lippi was undyingly loyal and would keep Rossi simply because of the way he filled the supersub role during the Confederations Cup.
And so, he became our cover boy. Obviously, that didn't go over well with the folks at U.S. Soccer (bro included). I don't think the headline fit the story, but a headline is meant to be provocative. So, when Lippi's final roster was posted and Rossi's name was not included, I heard it from a lot of folks. I had no response. What could I say?
When Italy failed to advance out of group play (out of arguably the weakest group in the World Cup), I heard it some more, and that's fine. I would like to point out that Rossi sent my brother a note of congratulations on the U.S. team's advancement. Ever polite.
In recent games, Rossi has earned his place back into the Azzurri, even wearing the captain's armband in a friendly against Romania. He's had an awesome first half to his season in Spain, scoring 13 goals for Villarreal in all competitions. He will turn 24 on Feb. 1, so he has plenty of years left to make his mark for Italy. Here's hoping he does.