Statistical breakdown of Bradley era
July, 29, 2011
07/29/11
11:32
AM ET
By
Albert Larcada, ESPN Stats & Information
To judge the progress of the U.S. men's national team under Bob Bradley, let's take a look at how the team's Soccer Power Index ranking fluctuated throughout the Bradley era.
Bradley was hired in January 2007 with the U.S. ranked 28th in the world. In his first major competition as a manager, he managed the U.S. to the 2007 Gold Cup championship. Although the team's ranking did improve slightly (28 to 26), it was not a great tournament for the hosting squad. Aside from a 4-0 thrashing of El Salvador and a 2-0 win against Trinidad & Tobago, the U.S. won every match by only one goal. Considering three of these wins came against inferior opponents (Guatemala, Panama and Canada) and every match was played at home, the U.S. performance was not all that impressive.
[+] Enlarge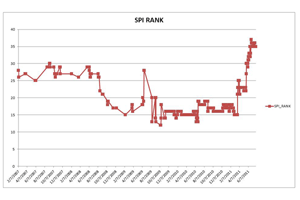 ESPN Stats & InformationHere's a look at the United States' SPI Power Index ranking throughout the Bob Bradley era.
This was, however, the beginning of an upward trend. The team cruised through 2010 World Cup qualifying. It defeated Barbados 9-0 on aggregate in the second round of qualifying. It dominated its third round group of Cuba, Trinidad & Tobago and Guatemala. And finally, it won the final round "hex," including arguably its best non-Confederations Cup victory in the Bradley era in a game against Mexico in Columbus, Ohio. Coincidently, Bob Bradley's son Michael scored both U.S. goals in that match.
The 2009 Confederations Cup is what most people will remember as Bradley's high point. The U.S. finished with a minus-1 goal differential for the tournament against some of the best competition in the world. It won games against the European champion, Spain, and the African champion, Egypt.
Shortly after this tournament, the U.S. defeated eventual World Cup qualifier Honduras on the road to clinch its spot in South Africa. The day after this match, the U.S. moved up to 12th in SPI rankings, its highest ranking during the Bradley era.
From here, the U.S. started its gradual decline.
It performed below expectation in three of its four World Cup matches (the 1-1 draw against England being the exception). This caused its ranking to fall to 19th in the world.
The U.S. won only one of its nine friendlies in between the World Cup and the 2011 Gold Cup, lowering its ranking further, to 22nd.
At this summer's Gold Cup, the U.S. finished with a plus-3 goal differential in six matches at home against inferior competition. As a result, the United States' rating plummeted to where it is today -- 35th in the world.