Who are the North Korean fans?
June, 29, 2011
06/29/11
12:41
PM ET
[+] Enlarge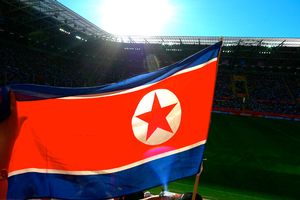 Courtesy Jaime LoweSupporting the cause against the U.S.
DRESDEN -- Last year in South Africa, it was rumored that Kim Jong Il paid one thousand Chinese actors to "play the part of Korean fans," according to the LA Times, and that the Dear Leader set up an elaborate and carefully orchestrated program for fan selection in South Africa. The actor rumor was never verified, and said fans refused to speak to reporters, which was probably part of the SAG agreement.
At the USA v. PKR game in Dresden on Tuesday, the crowd was mostly rooting for America (a lot of Germans got all Yankeed up chanting "OH-ES-AH"), but there was one Austrian trade unionist who was wrapped in the North Korean flag because, as he explained it, he's a huge fan of the North Korean women's ice hockey team (such an obvious team to follow). Thus he thought he'd extend his support to the women's soccer team.
And then there was the Section C contingent situated just below the dignitaries/VIP section (free flowing beer and food including items that were not wursts or cold cuts). The 40 or so assorted adults and children looked very proud, intent, clean and put together, intent on waving each of their flags at just the right time, cheering with every North Korean breakaway. When asked where they were from, a young girl asked me, "Where are you from?"
I answered, "New York."
She said very succinctly, "I don't have time," in a way that would make Barbara Streisand weep.
A South Korean sitting beneath a reunification banner that read "Korea is One!" replied that he was rooting for North Korea in hopes that they would soon be united into a single country. He had no problem with press and was chatting freely. The thing about Section C was the fans' clothing -- the girls wore floral sun hats with tastefully chosen outfits. They cheered in a well-timed chorus but not necessarily with emotion. I'm not saying they were bad actors or, for that matter, actors at all. But in contrast to the German fans who throw themselves into every stadium wave and are painted red, yellow and white from their toe nails to their tongues, it just seemed so contained.
On the train ride back to Berlin, South Korean lawyer Gyong Te, who was studying in London, overheard our conversation about fans and said "I think it's hypocritical of Kim Jong Il to promote his soccer teams, and for FIFA to let them play while he's criticized on a humanitarian level. I've known people who die of starvation in North Korea."
North Korea's political presence goes unspoken. We are more struck by bizarre excuses. (Really? Five players were struck by lightning at halftime and that's why the U.S. won?) But on top of all the nuances of cheering for or against a team that represents oppressive regimes (North Korea and Equatorial Guinea), Germany is still trying to politically and socially adjust to its own incredibly recent reunification. The Wall still stands in parts of Berlin, sometimes dividing an outdoor restaurant's kitchen from its dining area. But that's the beauty of the World Cup -- the world watches North Koreans play and maybe catches a glimpse of international mystery in the process.