[+] Enlarge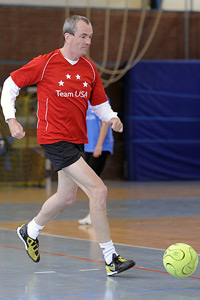 AP Photo/dapd, Matthias RietschelU.S. Ambassador to Germany Philip Murphy is a footie fan and also owns a stake in the WPS team Sky Blue FC.
WOLFSBURG, Germany -- United States Ambassador to Germany Philip Murphy takes soccer seriously, in addition to his diplomatic duties, of course. He also happens to own a stake of the New Jersey-based professional women's team Sky Blue FC. ESPN talked shop about the beautiful game with Murphy before the U.S.-Sweden match next to his four kids, who were decked out in red, white and blue face paint and various clown wigs. The ambassador plans on attending all U.S. games and the final in Frankfurt.
What do you think about soccer's popularity in the U.S. and do you sometimes feel like we need an ambassador to soccer?
I think it's growing every day. I think it's the No. 1 sport for kids, both girls and boys. And it will continue to grow, and success at tournaments like this will really kick-start the sport, not just in America but certainly in America.
Do you think that women's soccer is gaining traction in the States as a professional sport?
I think it's getting better by the day and if it weren't for Title IX, I don't know where we'd be. We just celebrated the 40th anniversary of that and what a monumental landmark that was. We live off that to this day. There's no better example of what women can achieve as athletes than our national women's soccer team.
How do you feel about participating in an international tournament with countries like Equatorial Guinea and North Korea, which don't necessarily align with America's humanitarian standards?
It doesn't enter into it for me. This is all about the game. That's the great thing about the sport -- it brings people together from all walks of life and that's a great part of the sport.
Please explain currywurst.
Currywurst is our favorite, a classic German dish with great ethnic heritage. Where would we be without it?