August, 12, 2012
08/12/12
11:09
AM ET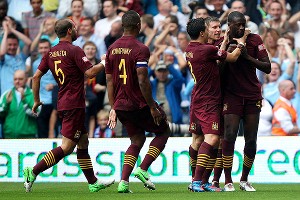 AP PhotoManchester City defeated Chelsea 3-2 at Villa Park.
There are two kinds of nights out with your significant other. You've got the "Hey, let's go grab a bite and catch a movie." And then there's the dreaded Date Night, when the same itinerary carries the weight of expectations. One is fun; one better be fun.
The Community Shield is kind of like football's version of Date Night -- it's a meaningless preseason friendly, the curtain raiser right before the Premier League season kicks off a week later. Yet, there's silverware involved. Expectations. You may be more concerned with not losing than winning. Roberto Di Matteo said as much heading into Sunday's showdown with Manchester City. "When you win, people will say, 'Well, it's not an important game,'" the Chelsea manager said. "If you lose, you know, it's an important game."
Important at least until the real thing starts in a few days. In the meantime, Di Matteo's men will have to lick their wounds as Manchester City defeated them 3-2 at Villa Park, the stand-in for the traditional venue for the Community Shield, Wembley, which was hosting the final day of the Olympics. An entertaining and intriguing match, it pitted a side in full regeneration mode against the defending champions who've done little during the transfer window, much to the chagrin of City manager Roberto Mancini. (Everton's Jack Rodwell, however, is on the verge of signing with City, pending a medical he was having Sunday.)
Despite City controlling the first half with pace and possession, Chelsea struck first -- and by the man who earned one of the cheapest Golden Boots in international football history, Fernando Torres. In the 40th minute, Ramires easily juked by Pablo Zabaleta outside the D before passing the ball through a sea of maroon jerseys to find Torres. The striker coolly chipped the ball over Costel Pantilimon to get the Blues on the score sheet in a 45 minutes in which they created only one other decent chance, a shot from range from Eden Hazard in the 29th minute.
Hazard showed he'll inject Chelsea with some much-needed guile, while we all know that the team's fate -- and perhaps that of Di Matteo -- will be inextricably linked to the success, or failure, of Torres as he leads the line and tries to find a way to replace all those goals Didier Drogba took with him to China.
Two minutes later, however, the game changed: Branislav Ivanovic earned a straight red card for a reckless tackle on Aleksandar Kolarov. The Serb took his rightful place as the fifth player in Community Shield history -- Sunday was the 90th edition of the curtain raiser -- to earn a straight red, joining Kevin Keegan and Billy Bremner, who were both ejected for their infamous brawl in 1974; Roy Keane in 2000; and Francis Jeffers in 2003. To be fair, Ivanovic's tackle was reckless, but certainly not malicious a la Keane. It was also stupid, as the Chelsea defender will now miss the first three games of the season.
And by the likes of how John Terry defended Sunday -- his inability to clear the ball in the 53rd minute allowed Yaya Toure to level the match at 1-1 with a brilliant curling ball into the near post -- Chelsea's back line will be tested straight away when the EPL begins. Of course, it wasn't a fair fight at that point, even if Chelsea seems to relish playing a man down and circling the wagons.
City, meanwhile, was experimenting with a back three, which at kickoff comprised Stefan Savic, Vincent Kompany and Zabaleta. The Sky Blues then got their second goal in the 59th minute by Carlos Tevez. It was a bit of individual brilliance, as Samir Nasri -- who had an excellent match -- found Tevez, who came inside toward the center of the D to unleash a beautiful strike into the upper right. His celebration involved lifting up his jersey where the words "Fuerte Apache" were emblazoned on a T-shirt. But this message wasn't snide; Tevez didn't do one of those ridiculous mock golf swings to mock his paymasters, or cup his ears to prove a petulant point. He's happy (for today, anyway -- that may be a story in itself), and so he simply referenced the impoverished neighborhood of Ejercito de Los Andes where he grew up in Argentina.
Nasri would ice the match, scoring the winning goal in the 65th minute on a slick bit of combo play that saw Kolarov cross the ball from the left. Instead of letting the ball go across his body, Nasri smashed the volley in with his left foot, tremendous skill from a player who has a bit to prove this season.
Chelsea has plenty to prove, too, as the following weeks and months unfold. As Di Matteo tries to rejuvenate his side, he'll have to demonstrate that the side can win with creativity thanks to the likes of Hazard, Torres and, eventually, Marko Marin, Oscar and even Lucas. His side also got one goal back in the 80th minute to make it interesting against City. Daniel Sturridge (on for Juan Mata) hit a shot toward Joe Hart stand-in Pantilimon, who bobbled the ball. Ryan Bertrand, on for Hazard, didn't hesitate to bury the sitter, after which the keeper, who stands an Ent-like 6-foot-8 starred down at Bertrand in a row that wasn't exactly Keegan v. Bremner Part II, but enough to earn both players yellow cards. While City is stacked at virtually every position, it should be indeed worried if Hart ever suffers a serious injury blow.
City had opportunities to put the match away, including Sergio Aguero missing a sitter. Yaya Toure, once he found himself in a slightly more advanced position in the second half, continued to show he'll be a menace to all teams. Tevez and Aguero linked well, too, with Mario Balotelli in the stands, smiling ear to ear. And Terry continues to prove that no matter where he goes, he will be booed. Same old, same old, in other words.
All in all, it was a decent curtain raiser to keep us entertained until the Big Show kicks off.
August, 8, 2012
08/08/12
5:34
PM ET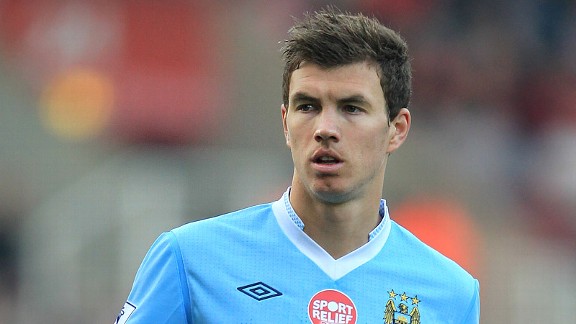 He was the team's second-highest scorer in the Premier League last season, yet Edin Dzeko seems to be on the outside looking in at Manchester City.
The brooding Dimitar Berbatov sits is in a dark corner of a pub. Cigarette in mouth, the Manchester United striker takes a drag. Then he offers a small roll of tobacco to another figure cloaked in darkness. "Here, take this," Berba says. "And welcome aboard. Now tell me your problems."
"Thanks," comes the reply before the glow of orange ambers at the end of the smoke reveals ... Edin Dzeko, who has joined the Premier League's Not Wanted Strikers support group, an unfortunate assembly of talented gentlemen who go unwanted by their employers despite a dependable return on investment.
All right, pardon the bit of dramatization, but you get the point. While we wait to see where Berbatov lands, Manchester City's striker is in a rather similar predicament.
It's no secret that his manager, Roberto Mancini, would like to get rid of him. Surplus to requirements appears to be the message coming out of Mancini's camp ahead of the Community Shield on Sunday. To read some reports, Dzeko is the biggest flop on the blue side of Manchester since Wayne Bridge arrived, a do-nothing, ineffectual striker who traded the Bundesliga about 18 months ago as the leading scoring in 2009-10 for the ignominy at Etihad Stadium.
If reports are to be taken at face value -- always a big "if" in the silly season, which raises more epistemological questions than anything else -- Mancini wanted to move Dzeko out and bring Robin van Persie in. With that deal apparently dead, the Italian manager said Dzeko is "pretty unlikely [to] leave."
Talk about a vote of confidence.
But is Dzeko the 27 million pound flop he's being portrayed? Far from it. If anything, he's a victim of his surroundings, the embarrassment of riches of the defending Premier League champions.
First off, Dzeko's production: 14 Premier League goals in 30 appearances (16 as a starter, 14 as a substitute) last season, which was the second-best return on the team behind Sergio Aguero's 23. Dzeko also netted 18 goals in all competitions last season. Not too shabby on a team with Carlos Tevez, Mario Balotelli and Aguero, and especially when starting a game is anything but a given.
When Mancini brought Dzeko on board in January 2011, he claimed that the Bosnian international might "make the difference" in the team's title ambitions. Dzeko didn't that year, but on the final day of last season he scored the dramatic header that leveled the match 2-2 in stoppage time against QPR before Aguero went on to win the match -- and the league. Dzeko also put four past Tottenham and two against United in that 6-1 drubbing.
Now the line against Dzeko is he runs hot and cold, which is fair enough, though hardly a unique trait among strikers. And his supposed claim in the media, where he said he's too good to be riding the bench, smacks of avaricious agent talk. But it also holds some merit. Down the stretch, Mancini favored playing Tevez or Balotelli, with Dzeko only making two starts in 14 Premier League matches from Feb. 12 to the end of the season, a run that hardly is going to allow a player to find his rhythm.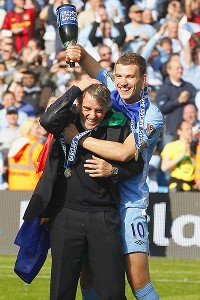 Roberto Mancini and Edin Dzeko celebrate winning the Premier League title.
This isn't to suggest that Dzeko is the top guy at the Etihad -- Aguero is the man who Mancini wants to build this team around, along with getting more consistency out of David Silva. Balotelli, for all his far-flung antics, came good on a number of occasions to earn the right for more starting time, though the manager's patience with the young striker continues to stretch credulity. Can you count on Mario to be super all season? About as much as you can depend on Joey Barton graduating with honors from an anger management class.
And Tevez? If not for the hefty transfer fee, Mancini would have already told the Argentine to take his petulant me-me-me world tour to another club.
But Dzeko has shown a keen understanding when he's on the pitch with Silva and Aguero. And as we saw when he was at Wolfsburg -- Dzeko became the highest scorer in the history of the club with 59 goals in 96 appearances in August 2010 -- he raises his game when he's playing with another striker, albeit when he's also given more license to roam, as he was at Wolfsburg.
With City's deep talent pool, Mancini is unlikely to give Dzeko the freedom he had in Germany -- such a ploy would risk the striker putting off any number of world beaters, and regardless of where the manager has started Dzeko (out wide, in the hole, etc.) he has been forced to remain quite disciplined.
That's not about to change.
Still, Dzeko represents something different from the other attackers in Mancini's arsenal. He's a traditional target man (Mancini likes that type of player). Last season, all but three of Dzeko's 14 league goals came from inside the box; his farthest strike from distance was 24 yards away from goal against Tottenham. On the other hand, only four of Dzeko's goals were headers. Chicken or the egg -- was Dzeko inconsistent, or was the service not there? A bit of bother, really.
If City ever developed real wing play, the Bosnian could become more of an asset. We all know that Silva & Co. attack straight up the middle, a predictable pattern that was still ruthless enough to win the EPL title. But this season teams will strengthen and find ways to counter, even if that means top sides parking the bus. (Chelsea, for one, knows a thing or two about doing that.) Eventually, City will need a plan B. Dzeko could be a key part to that, though for that to happen the side will need more out of their full backs: Aleksandar Kolarov is not especially pacey, though he has his rare moments getting forward; Gael Clichy is faster but doesn't exactly pump in the crosses. On the right, Pablo Zabaleta is all about defending, and Adam Johnson is a "winger" in name only, preferring to come inside.
But Dzeko's biggest fight won't be the opposing teams. It'll be convincing Mancini that the striker needs more time on the pitch, and perhaps in a slightly freer role. Tough spot, that. Dzeko is, to a high degree, a victim of the club he chose to join. Money talks, but you may pay the piper in other ways.
In the meantime, he could always ring up Berbatov for a chat.
July, 5, 2012
07/05/12
4:20
PM ET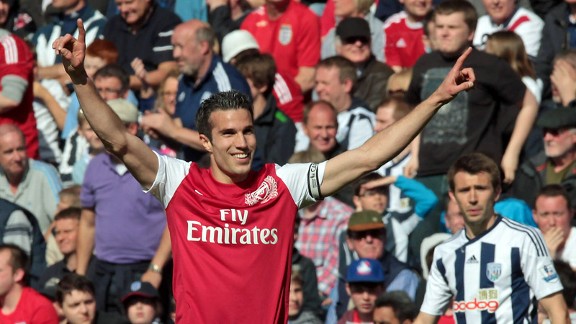 Ross Kinnaird/Getty ImagesRobin van Persie is headed toward the exit at the Emirates.
There are a few topics you shouldn't discuss at a fancy dinner party lest you be branded a rabble-rouser. Politics in general, and the Obama administration in particular. Religion is another no-no, a conversation starter that will end with recriminations (sorry, Gram). But perhaps the worst subject to bring up amid the fine china is Arsenal.
Ah, the Gunners. It's the north London club that keeps on giving ... controversies, infighting, false hope and a religion of its own, with Apostle Arsene Wenger leading the charge amid the Emirates' acolytes. The latest bit, of course, comes with Robin van Persie announcing to his fans that he has decided not to extend his contract with Arsenal (he has one year left) after he was unable to come to an agreement with Wenger and American majority owner Stan Kroenke.
This, in turn, has led to what the British media has branded an internal civil war. Arsenal stakeholders Alisher Usmanov and Farhad Moshiri -- who, through their investment company Red & White, own just under 30 percent of the club -- wrote an "open letter" to The Associated Press blasting Kroenke for letting Van Persie walk out of the Emirates.
This soap opera, in which there appears to be no winner, will continue to unfold in the coming days. In the meantime, some thoughts ...
1. The RvP of last season is not replaceable
Wenger has brought in some new guns, Germany striker Lukas Podolski and France forward Olivier Giroud, players, presumably, who would help fill the void when RvP takes his boots elsewhere. Now, we all know that Van Persie has all the durability of Elijah Price, the bad guy in "Unbreakable" whose bones were made of glass. But the Dutchman had an atypical 2011-12 season, one in which Gooners held their breath every time he kicked a ball or was tackled by a defender. After starting the season in disastrous form, Arsenal finished in third (still a remarkable achievement when you think about it) and RvP was a huge reason for this.
The man played all 38 matches (37 started) and scored a league-leading 30 goals from 174 shots (76 of which were on target), logging 3,576 minutes in the process, the 10th most in the Prem. Of the players ranked Nos. 1-9 in minutes played, only three were outfield players -- the rest were keepers.
Besides banging home the goals, RvP was a provider, too: He was fourth best in the Prem last season for that much-coveted stat "chances created" (passes that lead directly to a shot) with 92, behind only Luka Modric (95), Juan Mata (102) and David Silva (104).
No one is going to fill that hole -- and, frankly, it's doubtful even RvP could.
2. Which is why the time to sell is now
As much as RvP's 2011-12 season was amazing (those two volley goals remain fixed on the highlight reel) it is obvious that you will never get this kind of production out of the Dutchman again. In 2010-11, he started 19 games and scored 18 times; 2009-10, 14 games started, nine goals; 2008-09, 24 games started, 11 goals. You get the picture.
RvP is turning 29 in August, with the clock ticking down on his contract. With each passing day, Arsenal will have less leverage to cash in -- and we all know Wenger is an expert in two things: spotting young talent and getting rid of players the moment they're past their prime.
But the gaffer's influence and control on these type of situations isn't as strong as it used to be (is it for any manager?) -- the money pouring in from Etihad Stadium left him powerless with both Samir Nasri and Gael Clichy. As long as Van Persie is healthy enough to put pen to paper -- and if there's someone who could contrive to break his hand minutes before finalizing a deal, it's the Dutchman -- it's smart business for him to leave. But it's also smart business for Arsenal as long as they reinvest properly.
At all costs, they need to avoid the last-minute shopping they did in haste in the transfer window last August. Not that the players they bought were terrible -- Mikel Arteta acquitted himself well in the midfield, playing a deeper role than the player he ostensibly replaced, Cesc Fabregas. And, in fact, Arsenal didn't win a Premier League match without Arteta until the final game of the season.
Chelsea's Yossi Benayoun worked out fine but was a loanee. Left back Andre Santos came in from Fenerbahce, living up to the Brazilian stereotype that he won't let playing defense get in his way of a labored run down the flank. Per Mertesacker -- not bad, but not a first choice in the center of an already mentally fragile defense.
The die seems to be cast anyway: Podolski and Giroud have been brought in as players of their own right, not to complement RvP. And while more will be needed, Arsenal can hope that Jack Wilshere has a strong comeback season and Aaron Ramsey recuperates after being overused last season as a result of Wilshere's absence. But it should worry Arsenal fans greatly that the club has, once again, let a player get toward the end of his contract, which leaves the Gunners in a weakened business position. It happened with Nasri, and now it appears to be happening with RvP. Such business "strategy" will undermine the club's quest for trophies, and in this regard Usmanov and Moshiri have a strong point.
So now Arsenal fans can hope. Hope, because that's what Arsenal fans do best.
3. Not a black-and-white issue
RvP's statement about wanting to leave Arsenal to win trophies is the all-too-familiar refrain of players who want a bigger payday -- and it's one that is turning the Gunners into a glorified feeder club. But few teams are immune to this. Remember that Wayne Rooney wanted to leave for greener grass because United wasn't matching his "ambition" before doing an about-face which no doubt included a few pounds.
On the one hand, Van Persie is simply the latest case of a player engaged in subterfuge so transparent you'd think someone would have the good sense to tell him to zip it in statements. Instead, the striker released a statement implying that his own teammates aren't up to scratch. We'll hear that again and again, no doubt -- though if Theo Walcott starts spewing this nonsense (his contract is up at the end of the upcoming season) after what will surely be another season of unfulfilled potential, we may all as well pack it in.
On the other hand, injuries aside, Van Persie has played hard for the Gunners since joining in 2004, and he has just one proper title to show for it: the 2005 FA Cup (for those truly desperate, go ahead and count the Community Shield). Thierry Henry, the club's living legend, decamped in 2007 after an almost-decade stint with the Gunners and caused minimal fuss. Wenger said he left with his "blessing." But then, the Frenchman had helped Arsenal win two league titles and three FA Cups, and he left for Barcelona. Funny, that, because players seem to get a bit of a pass going to Camp Nou versus, say, Etihad Stadium these days. Cesc Fabregas? Oh, his childhood club. Nasri? Greedy @#$#$. But let's not digress.
At any rate, these types of decisions are complicated to make in a perfect world, let alone in an agent-driven, Twitter-dominated one where fans will rip you for anything and everything.
Arsenal supporters -- a good many of them, anyway -- have tired of Wenger's building for a future that never comes. Can they really begrudge RvP is he's tired of the rhetoric, too?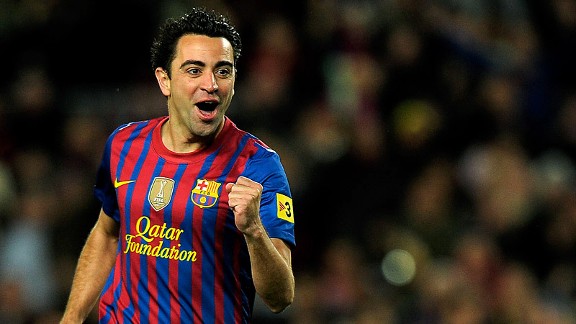 Lluis Gene/AFP/Getty ImagesXavi says that Spain must "keep fighting, maintain that thirst for a title" in Poland and Ukraine.
Lionel Messi earns the plaudits for Barcelona, but much of what he does wouldn't be possible without the man in the engine room, Xavi Hernandez. Watch as he controls the midfield: head in constant motion, swiveling as if on a pivot, to find a weakness in the defense and pick out the perfect pass. Whether it's maintaining possession or helping to launch an attack, Xavi arguably has been the most valuable to both club and country, as Spain has won the past two major international tournaments. Even Barcelona legend Johan Cruyff has given Xavi the big up as the best player in the world.
"If you see a guy like Xavi, who controls the ball and manages the pace of the game, he is also a great player," Cruyff said. "It is very hard to tell who is the best. [In my eyes,] the most spectacular is Messi, but the best is Xavi."
We had the opportunity to chat with Xavi this week. Talking points included Xaxi's new summer football camp. For 13 years, he's directed a camp in Catalonia; this summer, he brings the camp outside Spain for the time, to the U.S. at Lake Myrtle Sports Park in Auburndale, Fla., July 10-14 and July 15-19. It's the first Campus Xavi to take place outside of Spain.
We also chatted in-depth about Barcelona's season, which will conclude Friday with the Copa del Ray versus Athletic Bilbao, his future and fitness and, of course, Spain's defense of the Euro 2012 title.
Let's talk a bit about Campus Xavi Hernandez. I'd like to know why you chose the United States as the first destination outside of Spain.
The idea was born through my brothers. For many years, we'd been holding the Campus here in Catalonia for children of all possible ages and now we're going on 13 or 14 years, since I started as a professional inside Barcelona. This opportunity came through Aguilera, through friendships he has in the U.S. We were delighted; truthfully, we like it and it's a pleasure to hold the Campus here.
I hope many kids sign up. I have a lot of fun with them and, well, teaching the Barca values, which is a "school of life" for me, and teach them all the secrets of this school and the soccer values that I've been taught [is rewarding]. Delighted to be able to go there [U.S.] and we are really looking forward to it -- not only me, but the entire family and the entire Campus "Xavi" family, too.
What advice do you give a youngster who wants to become a professional player?
Well, enjoy [playing] and don't think about becoming a professional. To enjoy and play every possible hour and minute, all his spare time, when he comes out of school, when he's off on weekends. He should play, enjoy, have a good time and, most importantly, make contact with the ball. What I used to like as a boy was to take the ball, touch it, pass the ball, be in constant contact with the ball.
And then, at the Campus, with the coaches or with me -- since I will be present -- we will teach them the concepts that we deal with here in Catalonia or specifically at "Chez Barca." Above all the goal is that they enjoy, learn, listen. Everything related to this age. And then later on, if they have the talent to become professionals, then, hey, even better, right?
[+] Enlarge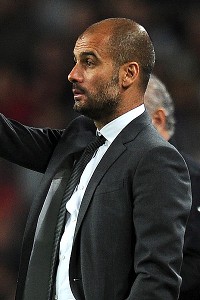 LLuis Gene/AFP/Getty ImagesXavi on Guardiola leaving Barca: "No, I didn't get to talk to him personally, because he is a very reserved and introverted person. His role is as a manager and we want the best for him."
Changing the subject to a pure and tough sports topic: With the Copa del Rey final near, is there a sense of added urgency to win the Copa due to the disappointments in La Liga, the Champions League, and, well, since it will be Pep's last game?
We want to finish the season well. It started fantastically well with the two Supercopas, the Spanish and European. Then we went to the FIFA Club World Cup, where we competed well against Santos. And then, yes, there were two disappointments. La Liga slipped away from us at home versus Real Madrid. Also, the bad luck we had in the Champions League against Chelsea, as everyone saw, because we were superior in both games, but soccer has those peculiarities. Chelsea won the final also with that strong dose of luck in terms of penalties and the game we all saw in general. In the end, we did not have the luck necessary to reach that Champions League final, where we would have liked to face Bayern. We were not able to win those two titles, but we have this Copa final against Athletic, which is a team that has been a revelation and is playing well under [Marcelo] Bielsa.
And we want to finish well, also, obviously for [Eric] Abidal, the illness and surgery he had ... and for Pep as well, because he deserves it after these four years, for the joys and for having helped us become a champion team once again, so that we may say goodbye to him as he deserves and we hope to take the Copa to Barcelona again.
How do you look back at the season's shortcomings? And how important has Guardiola's role been?
We competed until the end in all of the competitions. We reached the Champions League semifinal while we really deserved to advance to the final. Everyone saw that we were superior to Chelsea, but the ball did not want to go in, above all, in Stamford Bridge. Even here at home, up 2-0 and them playing with a man less, we still suffered the misfortune of losing the game -- in this case, the knockout game.
In La Liga, we had the misfortune that during the month of January and February, we distanced ourselves by 10 points from Madrid, which weighed on us. Even so, we competed until the end and had the possibility at the Camp Nou of turning those 10 points into just one point, but the game slipped from our hands. We didn't have that dose of luck that we had the last three years, so perhaps we let this year go a bit.
[+] Enlarge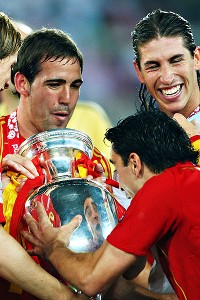 Lars Baron/Getty ImagesXavi reflects on winning Euro 2008, and he'll play a key role once again this summer. But Spain will be without both David Villa and Carles Puyol.
And so, Pep's role has been fundamental for us. He has given us order, discipline, marvelous tactical concepts to be able to compete and to win the 14 out of 18 titles that we have won and, well, now 15 out of 19 if we win this one. It truly has been a wonderful era under Pep and we thoroughly enjoyed ourselves with him. And we hope it can continue being like this, now with Tito Vilanova. Let's hope there is continuity after Guardiola since he will not change much and we will try to compete as we have up to now. The team has not lost the hunger, just that this year we did not have that necessary and essential dose of luck so as to compete until the end.
Did you get to speak with Guardiola personally to persuade him not to leave?
No, I didn't get to talk to him personally, because he is a very reserved and introverted person. His role is as a manager and we want the best for him. I was convinced that he could continue one more year, but he gave his explanations for leaving. He knows the locker room is behind him to the death and that we would all like for him to stay one more year, but he did not think it so and we must respect his decision. He believes that is best for him and for the club, and we are also delighted with him and this decision.
Do you visualize Pep Guardiola as a national team manager in the future?
With the prestige he has, I imagine he could coach any club and any national team; he will receive many offers. I would think he'd want a sabbatical year to rest after the tension of these four years and then see what the future holds for him. We wish him all the best and no doubt it will go very well for him, because he is a meticulous and different manager who is very well respected in the soccer world.
How do you assess the fact that Jose Mourinho will remain in charge of Real Madrid until 2016?
Well, it doesn't change anything. It is our eternal rival. Mourinho has been there two seasons. The truth is we don't pay much attention, because obviously it is our eternal rival, but we try not to look elsewhere. Things have gone well for us looking inside our own doors and we must continue this line. Thinking about ourselves, the team we have, the team chemistry, our philosophy, that Tito is coming in, that he has been Pep's right-hand man and I imagine the chemistry will be the same. We have everything to continue winning titles next year and we will fight for that.
Do you think it's possible that Tito wins as many titles as Guardiola?
Hey, obviously I'd like to think so. I know it is very complicated because no team in history has ever achieved this [under Guardiola], even the six titles in one year was historic, but we will fight. We cannot guarantee titles, but we can promise that we will fight and give our maximum effort and our will to keep on winning titles for Barcelona. Logically, what we did under Pep Guardiola will be very hard to duplicate, but we have a strong team to keep fighting towards the goals, which is to win titles by the end of the year.
How do you see yourself physically and mentally heading into Euro 2012 as compared to the World Cup or the previous European championship?
Good, very good. I am very hopeful, to tell you the truth. First, the Copa final and then, I arrive well physically. The last few months I had muscle problems in the calf, in my left leg, but right now I am doing great, really. I have been training for 15 days at top level and I played against Betis in the last Liga game and truthfully, I feel very well. In truth, I am excited about this Copa final and also the Euro, where we would like to make history as a national team. We would like to make history and repeat the European title from 2008, which would signify the best historical phase for a national team, to win the World Cup and the European championship. We very much look forward to going there, competing and making it far.
Del Bosque has a tough decision to make at forward: Fernando Torres, Fernando Llorente, Roberto Soldado, AlvaroNegredo up top, with David Villa out. But also, do you think Raul merits consideration after the season he had?
Yes, [Del Bosque] will surely consider him. In fact, there is much competition not only at forward, but in every area of the field. Even at goalkeeper, on defense, at midfield. It's true that one tends to always look at forward. There are many qualified players who can make the national team. They have all proven this. Raul himself, Soldado, Negredo, Llorente. They play at a very high level; now there is also Atletico Madrid's Adrian. There are many, many very good forwards and that is good for Spain and for the manager -- he has options. In that sense, the competition and competitiveness of the Spanish soccer player is good, that he is so gifted technically, physically; we have a great team and it will surely be difficult for Vicente to chose the 23 who will go, but it is something Spain welcomes.
Going to the Euro as defending champions, does that change a player's mentality and preparation?
I think it is a positive because before it was more so -- the sense of urgency. Spain had not won practically anything since the European championship in '64; we had not made the semifinals in any important tournament. And now our team is at peace. At peace in terms of winning an important title. We've been winning everything the past four years, the European championship and the World Cup and the team goes ready to compete.
Well, with that peace and tranquility we mustn't let it confuse us. We must keep fighting, maintain that thirst for a title. And we'll see what's in store for us, whether we have the same stroke of luck as in both events we won -- the European championship and the World Cup -- and we will try to reach the final and win it. It will not be easy, that's for sure.
Speaking of difficulties, who are -- in your eyes -- the favorites along with Spain?
Barring any surprises, I'd say the traditional ones. There's Germany, there's Holland, there's France, there's Italy, there's England, then there's also Portugal, who are very competitive. There are many national teams. Nowadays any team ... and it's not to deflect the topic, but that's how it is. They complicate your existence and it is very hard to beat them. Everyone prepares, they work well on defense and it will be hard for us to break through and score the first goal in many games. I picture Spain dominating, but they will really make things difficult for us. But there are many favorites this year, honestly. There are seven, eight teams who need to win, whether it be for historical reasons or due to an urgent nature. It will be very difficult, for sure.
Is there any team you fear more than others?
Spain has no fears. We simply play soccer, not changing our philosophy nor speculating about any rival, but obviously Holland itself, right? If we meet in the final, they are very strong; and Germany is also very tough. Perhaps they are the two teams ... but also, I don't want to disrespect anybody. France, Italy, even Portugal as well have a very good team, they are competitive.
Does Carles Puyol's absence on the defensive line worry you?
Yes, because he is a player who, beyond what he contributes on the field, is a leader, a reliable and established presence inside the locker room. As a person, he is very concerned about the rest of the teammates, the youngsters. He is one of the captains, with a lot of history behind him. It is an important loss for the group which we must overcome, and, well, let us see who comes.
ESPNDeportesLA.com's writer Gonzalo Aguirregomezcorta contributed to this report.
May, 19, 2012
05/19/12
6:24
PM ET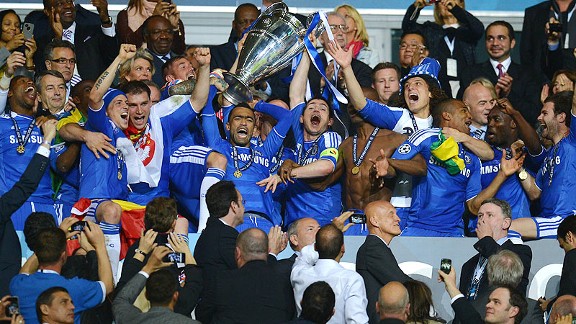 Lars Baron/Bongarts/Getty ImagesIn a fitting end to this dramatic European club season, Chelsea defeated Bayern Munich to win its first Champions League.
The classic horror genre is predicated on the concept that a monstrous creature refuses to die despite being left for dead over and over again. Chelsea Football Club turned that concept on its head Saturday at the Allianz Arena -- and, really, has been flipping the script right from when Roman Abramovich hired Andre Villas-Boas to start this long, arduous and unpredictable season. Of course, the Blues were hardly a monster in Munich; they set up to defend against the powerful threats of Arjen Robben, Franck Ribery & Co., but they didn't die. Instead, they rescued the match in the 88th minute thanks to a Didier Drogba goal against the run of play to level the match at 1-all and eventually went on to win the contest on penalties 4-3 with Drogba applying the finishing touch.
The ghosts of Moscow '08 are officially banished, while the shadow of Franz Beckenbauer, who led Bayern to a hat trick of European Cups in the 1970s, continues to loom large over the German side.
The match playing out the way most predicted, Bayern Munich maintained the bulk of possession in regulation time, while Chelsea defended in numbers like it did against Barcelona in the semifinals. While it worked a few weeks back, the tactic appeared doomed Saturday night.
Bayern missed three key chances in the first half (Robben, Thomas Muller and Mario Gomez, who appeared to choke on more than one shot in the match) but finally broke through in the second half. In the 83rd minute, on a Toni Kroos cross from the left, Muller -- who was likely starting only because defensive midfielder Luiz Gustavo was suspended -- headed the ball into the ground. Petr Cech attempted the save, but the ball bounced over his head, hit the underside of the crossbar and went in.
Cue the celebrations -- and perhaps the game's most important tactical decision. Bayern coach Jupp Heynckes decided to ride out the match, taking Muller off for more defensive help in the name of Daniel van Buyten.
But really, after everything we've seen this season in general and from this Chelsea side in particular, should we be surprised at what happened next? Bayern was dominating possession and proving that attack is the best form of defense. And so it was that in the 88th minute, on a Juan Mata corner, Drogba raced across the goal to hit a powerful header into the upper right corner. Maybe Manuel Neuer could have done better, but nonetheless, this was the first sign that this was shaping up to be the night of Drog.
In extra time, Drogba looked to make minimal contact on Ribery, who's not exactly known for staying on his feet when a light breeze blows through the penalty box. Down he went, and although as innocuous as it looked, that was it for Ribery -- he went off injured. Former Chelsea player Robben stepped up to take the penalty, and his powerful, low drive was saved by former teammate Cech.
It was a more even affair from then on, with tired legs and minds shaping the affair. As commentator Gary Neville said, "This isn't about football anymore."
No, it turned out to be all about Chelsea, with more ironic twists than can be recounted in this space. But when we reached the penalty shootout, you had to favor the Germans, right? Chelsea famously lost the 2008 final in Moscow on PKs, with John Terryslipping on the turf. And Bayern staked itself to an early lead after Philipp Lahm converted the night's first penalty and Mata missed Chelsea's first attempt.
Bayern had victory close in hand, a 3-2 lead, when Ivica Olic (playing his last competitive match for the club) chummed his kick from the spot. Then, a weary Bastian Schweinsteiger made his stop-and-start run-up more awkward to watch than an episode of "Life's Too Short," his effort saved by Cech. Finding itself one kick from Abramovich's holy grail, just like in '08, Chelsea's man for the big occasion stepped up. In Moscow, Drogba was unable to participate in the shootout after being sent off, and Terry had to step in. This time, the captain was the spectator due to suspension and Drogba the hero as he cooly took what could be his last kick for the Blues.
Chelsea's night of destiny
Rich with irony, this game of football, and rich with drama, too. Chelsea came to Munich in an all-or-nothing scenario. It had finished sixth in the Premier League, its worst finish in 10 years, and while it won the FA Cup, a loss here would have sent the club into the footballing purgatory otherwise known as the Europa League. Instead, the Blues have ended what is undoubtedly the most successful season of the Abramovich era. It could have been a disaster; instead, it turned into a borderline miracle.
Much of the credit must go to interim head coach Roberto di Matteo. When he took over for AVB -- can anyone even remember those tortured times, with the young coach crouched in psychic pain on the sidelines? They seem a lifetime ago -- the Italian righted the ship. Di Matteo, whose Chelsea blue blood is almost as strong as his instinct to play a defensive setup, played to the strengths of this squad, propping up the old guard of Frank Lampard, Drogba, Terry and Ashley Cole, all of whom appeared miffed at the younger AVB. And in turn, the players repaid their manager with spirit and a willingness to go all-out for the cause.
You saw that against Bayern. Cole, who had a superb game in terms of effort and position, blew past David Luiz in the 59th minute to block a shot by Robben. In the 75th, with Cole far up the pitch, Drogba played the role of left back and stopped Robben. Just two of many examples of a team playing as a unit, with Gary Cahill also putting in a blood-and-sweat shift at the back after returning from a hamstring injury. Even in extra time, he did just enough to put Gomez off what looked to be a certain goal.
One for all, all for one -- that was the Chelsea ethos in Munich. Bayern, on the other hand, played the better football for most of the 120 minutes, with Robben being the team's standout. But erratic shot-making got the better of the side, with the pressure of playing at home, in the shadow of Beckenbauer, perhaps too much to handle after all. Plus, with Bayern having lost the German league and getting tonked in the cup final, this match was a similar all-or-nothing affair for this side. The moment maybe got the better of them. Instead of starting a dynasty with a well-rounded squad, which was being talked about before this match, Schweinsteiger & Co. will have to wait another year.
In contrast, no one is talking about building anything with this Chelsea team. If anything, it could be torn asunder during the offseason as Abramovich looks to rebuild his "aging" squad and perhaps find a new manager.
True enough, the Blues will have to rebuild at some point. But if this was Drogba's last kick of a football for CFC, what a way to go out.
The ghosts of Moscow have finally been exorcised.
May, 18, 2012
05/18/12
11:19
AM ET
It's the last hurrah of the European club season, the Champions League final. Bayern Munich will be looking to polish its already shiny CV in Europe (four European Cup titles and nine final appearances), while Chelsea will hope to win its first title in only its second appearance in the final. So as we count down to the match at the Allianz Arena, we asked a number of football analysts to give us their impressions of the final. Here's what they had to say, in alphabetical order.
Roger Bennett, ESPN columnist
This final promises to be a rollicking tactical battle. Bayern Munich will employ the width that allowed them to shock Real Madrid. Chelsea will seek to press relentlessly and suffocate Bayern's passing game, while pounding the ball through the middle.
Much has been made of Bayern's home-field advantage. I believe it may turn out to be anything but. Playing at home can create a crushing pressure born of expectation. The Germans may be heavy favorites but Chelsea's Champions League odyssey has been giddily odds-defying. Just ask Barcelona and Napoli fans how difficult it was to kill Chelsea off. On the European stage, Didier Drogba, Frank Lampard & Co. have proved to be as tenacious as ragweed.
The fact that Chelsea is shorn of so many first-choice starters will only increase its backs-to-the-wall, us-against-the-world mentality. With all the pressure on its hosts, I would not bet against Chelsea. Spurs fans should be afraid. Very afraid.
John Brewin, Soccernet senior editor
And so to Munich, where Chelsea has the chance to achieve Roman Abramovich's heart's desire with possibly the worst squad he has paid for since Claudio Ranieri was manager at Stamford Bridge.
Home advantage clearly favors Bayern, and it has thrown much at getting to a final at its own home. But the record of teams in their own backyard on such occasions is mixed. Real Madrid's all-conquerors of the European Cup's early years lifted the trophy in the Bernabeu in 1957, and Helenio Herrera's Inter won at San Siro in 1965, but Roma lost to Liverpool in the Stadio Olimpico in 1984.
Aside from its obvious gravitas, this will be no normal home game for Bayern. The "UEFA Family" of sponsors, media and neutrals will make up a high proportion of the attendance in the Allianz Arena, and those home fans lucky enough to get a ticket are bound to be racked by nerves. And one of football supporting's great cliches is that the away fans make the most noise anyway. Chelsea fans, there by hook or by crook perhaps, have the chance to roar their depleted heroes to an unlikely victory.
Michael Cox, Zonal Marking, freelance contributor, ESPN.com
Bayern is clearly the stronger team, but tactically this might suit Roberto Di Matteo's side. Dortmund comfortably defeated Bayern at the weekend by staying compact and then breaking quickly past the Bayern full backs, and that's essentially what Chelsea did so effectively against Barcelona, so I expect Di Matteo's strategy to be similar.
Of particular interest is the fact that, without the suspended Luiz Gustavo, Jupp Heynckes will be forced to field Toni Kroos and Bastian Schweinsteiger deep in midfield together. They're both ball-playing midfielders and intelligent passers, which has both positive and negative consequences. With Chelsea sitting deep, Bayern will have two clever playmakers able to penetrate Chelsea's defensive lines -- but it's likely to be vulnerable to Chelsea counterattacks without a proper tackler in that zone. It's certain that Bayern will dominate the ball, but it has to be very careful at defensive transitions, for Chelsea has the right ingredients to spoil the party in Munich.
David Hirshey, ESPN freelance columnist
I mean, isn't this just a classic "Lesser of Two Evils" match for me? On one hand, I'm constitutionally incapable of rooting for a team whose midfield general's nickname is "Schweini" -- or Piggy. It's not that I'm a militant vegan, it's just that anything German not named "Heidi Klum" (and, beginning next season, "Lukas Podolski") has always given me the willies.
On the other hand, there's John Terry.
Just because he's not allowed to humiliate himself again in a Champions League final doesn't obviate my lifelong loathing of the Blues and their odious captain. I suppose if I had my way, the earth beneath the Allianz Arena would open up and swallow both teams. But even that has a downside, because it would mean Spurs would automatically qualify for next year's tournament. Since keeping the Lilywhites from defiling the CL is for the planet's greater good, I'm forced at Bud Light-point to hope that the Blues roast Schweini & Co. this weekend, but that Terry slips off the podium while lifting the trophy and suffers a concussion that keeps him out of the Euros.
Chelsea 1-0.
James Horncastle, freelance writer
A lot has been made about the home advantage Bayern Munich will supposedly enjoy in this year's Champions League final. Historically speaking, this has happened on only three other occasions. Real Madrid overcame Fiorentina at the Bernabeu in 1957, Inter conquered Benfica at San Siro in 1965, and more recently Roma held Liverpool to a draw at the Stadio Olimpico in 1984 only to lose agonizingly in a penalty shootout.
The omens aren't good for Chelsea. "Having the fans behind us and being encouraged at every street corner since our qualification in Madrid gives us confidence," insists Bayern goalkeeper Manuel Neuer. "Knowing the place is an advantage because we have our habits like staying in the same hotel, taking the same bus route to the stadium, the dressing rooms … " The question is: Will Bayern make it count, or will it get too comfortable?
Graham Hunter, freelance contributor
There have been three previous Champions League or European Cup (as was) finals in Munich, and on each occasion the competition ended up celebrating a first-time winner -- Nottingham Forest in 1979, Marseille in 1993 and Borussia Dortmund four years later.
Football fans being the superstitious lot that they are, there is much talk of how Chelsea, never having won the Champions Cup, is now somehow "fated" to lift it against serial winners Bayern Munich this weekend. Go figure.
However, despite the fact that only Milan and Benfica have lost more European Cup finals than Bayern (five compared to four) since the competition was inaugurated in 1955, Jupp Heynckes' side deserves to be called the favorite. Not just for home advantage but because, on form, they have a frightening array of goal power, while the Blues are defensively troubled (no John Terry or Branislav Ivanovic, and Gary Cahill and David Luiz seeking to get fit).
But I have a sneaking suspicion that the experience and determination of football warriors like Petr Cech, Frank Lampard and Didier Drogba might -- just might -- produce a surprise.
An open game, goals, fun and a surprise winner. There you are. And I'm not even superstitious!
Simon Kuper, co-author of "Soccernomics" (get an updated version here)
Amid all the fuss over Barcelona and Madrid these past couple of years, not many have noticed which is the only club to have reached two of the past three Champions League finals. Bayern Munich is the rising silent force of European soccer.
The Bundesliga's lucrative new television deal will propel German clubs even higher: From 2013-14, Sky TV will pay 628 million euros a year to broadcast Bundesliga games. That's 52 percent more than it pays now. Throw in the best generation of German players since 1990 and you've really got something. Already Germany has taken third place from Italy in the UEFA coefficients rankings, based on their clubs' performances in European competitions these past five years. Southern Europe's economic crisis is hitting all Italian and Spanish clubs except perhaps Barcelona and Madrid, which are too global to notice.
When the world works logically, Western Europe's biggest and richest country should house Europe's best soccer teams. We're starting to move that way.
James Tyler, ESPN.com
I have a funny feeling that Chelsea will sneak this. Where this weird premonition came from is unclear, though let's face it, we've been spoiled rotten this season across Europe, what with Montpellier's PSG-busting brilliance, Real's first La Liga win in four seasons, Borussia Dortmund's phenomenal counterattacking verve and Juve's unbeaten Serie A season. Yet looking deeper, there are a number of factors that make me think the Blues are likely to sneak a Champions League victory.
For one, there's the pressure. The Blues largely tanked in the EPL down the stretch, being brushed aside by Newcastle and then decimated by Liverpool, because for Roberto "Low Expectations, High Rewards" Di Matteo & Co., the goal was obvious: Get the FA Cup, and get the Champions League. As for Bayern, it was undressed by Borussia Dortmund (for the fifth time on the trot) in the German Cup final Saturday, and having already lost the league weeks ago, the struggling Bundesliga demigods are in danger of finishing without a trophy this season. In short, Di Matteo's living a charmed life, while Jupp Heynckes is wound very tight.
Form-wise, neither side is in tremendous shape, and English sides tend to thrive in nervy, physical dogfights. That half the Bayern side will have one eye on remaining fit for the Euros also might come into play.
Then there's the storyline. It would be so Istanbul '05 of the Blues to heroically overcome a superior (on paper) side, even though both will be without key players -- you sense that Chelsea's lack of Ramires in the middle will be hardest-felt on both sides -- and after seeing what the soccer gods rolled out for us on the final day of the Premier League season, I wouldn't be surprised to see something equally jaw-dropping at the Allianz Arena.
So: pressure, form, the impending specter of the Euros (in which Germany will surely be expected to succeed, if not outright dominate) and the power of a good narrative.
Chelsea 2, Bayern 1 after extra time. Make it a game winner after the 115th minute for good measure.
Ravi Ubha, ESPN.com
Chelsea fans, either way, won't soon forget the date May 19, 2012. If Chelsea beats Bayern Munich, the club lands its maiden Champions League title, the piece of silverware billionaire owner Roman Abramovich has desperately craved. There's no way the Russian would be able to sack interim manager Roberto di Matteo.
But if Chelsea loses to Bayern, as the bookies expect, di Matteo is likely gone, and the Blues could turn into a team battling for third or fourth spot in the Premier League in the years to come instead of challenging for top honors. Which star players would want to join Chelsea next season without the promise of Champions League football?More is at stake for Chelsea than Bayern.
Bayern to win, 2-1.
May, 13, 2012
05/13/12
12:53
PM ET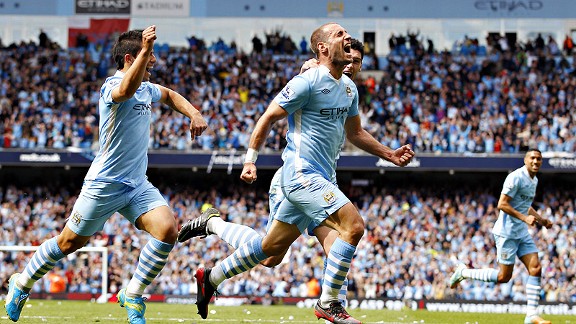 AP Photo/Dave ThompsonManchester City won its first league title in 44 years.
The result was what everyone expected, but the way in which Manchester City won the Premier League title -- its first in 44 years -- could never have been scripted. Well, it could have, but the script would have been thrown out of any Hollywood studio for being unbelievable, ridiculous even. You're having a laugh? Win the Premier League title in the fourth minute of stoppage time after throwing away a 1-0 lead in what was shaping up to be a monumental choke job? Get out of here. But that's exactly what Roberto Mancini's side did in beating a 10-man QPR team 3-2 in what was the most exciting finish to the league title race perhaps ever, and certainly since Liverpool versus Arsenal in 1989.
The surreal scenes that played out at Etihad Stadium were a microcosm of this crazy, oft-times inexplicable campaign that, as ESPN's Steve McManaman correctly pointed out, keeps making fools of all of us. Predictions? Good luck with that.
At Etihad Stadium, the team with the best home record in the league was going up against the team with the worst away record -- so, naturally, when Pablo Zabaleta scored his first goal of the season in the 39th minute to put City ahead 1-0, you assumed that it would be all academic from there. Riiiight.
But the Sky Blues started to choke, no two ways about it. In the 48th minute, ex-City man Shaun Wright-Phillips lofted a ball forward. Joleon Lescott, who had a subpar game and clearly a brain cramp in this instance, saw Djibril Cisse making a run off him and so headed the ball … right into the path of Cisse, who promptly blasted a volley past keeper Joe Hart.
[+] Enlarge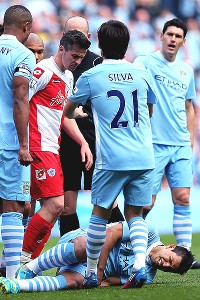 Alex Livesey/Getty ImagesJoey Barton went mental in the match, first elbowing Carlos Tevez to earn a straight red card, then attacking Sergio Aguero.
The plot thickened when Joey Barton went postal in the 55th minute. Yes, Carlos Tevez took a swipe, but the notorious anger-management candidate then elbowed the Argentine in the face. The linesman saw the infraction, giving referee Mike Dean no choice -- straight red. Barton proceeded to chop down Sergio Aguero from behind and almost threw down with Mario Balotelli, who came out from the sidelines to join the fracas. The pinched-up, weasel-like face Barton made when he brought down Kun showed that no matter how deep down you lock your demons, they never truly go away.
Down to 10 men, though, QPR defended amazingly well. It'll be lost in City's miracle on grass, but the likes of Clint Hill, Anton Ferdinand, Taye Taiwo, keeper Patrick Kenny and Shaun Derry were all among the heroes, with the zero of Barton thrown in for good measure.
One of the key turning points in the match was when Yaya Toure came off at the end of the first half due to injury, replaced by Nigel de Jong. Mancini's men sorely missed the leadership and explosive game-changing runs of the Ivorian, and continued to show signs that they were snatching defeat from the claws of victory when, in the 66th minute, an unmarked Jamie Mackie got on the end of an Armand Traore cross. From there, City was in meltdown mode: Mancini was crouching on the sidelines a la Andre Villas-Boas, the horrors playing out in front of him. Missed chances, players snatching at balls, some bad luck -- all while United clung to a 1-0 lead at Sunderland.
This, truly, was what picture-in-picture was invented for.
Was this to be another United day to remember? Before the day's fixtures, Sir Alex Ferguson had hoped that something "stupid" would happen -- and it did, twice, for City by conceding two poor goals for a side that boasts the best defense in the league. And by the time it was announced that there would be five minutes of stoppage time, that had to be it, didn't it? Five minutes of funeral procession. City fans were in shock; some took out their frustrations on whatever they could grab (one young man laid the beatdown on his shirt a few times) while others stood there, silent.
But then Balotelli just missed a header on a cross, Kenny making another of the many top-class saves of the game, before Edin Dzeko, brought on shortly after QPR's second goal, headed home on another corner. The emotion in Etihad Stadium turned from dread to hope, as City restarted as quickly as possible. Then, in Minute 4 of stoppage time, Aguero wrote himself into the team's history books by winning the Premier League title. Thankfully, given the way QPR fought, clawed and grinded out on the pitch, Mark Hughes' side, while gutted, was not relegated. The "honor" went to Bolton.
The number of emotional twists and turns in this match were absurd. United fans' hopes were dashed, then buoyed -- after throwing away an eight-point lead on Easter weekend, the Red Devils looked to improbably, impossibly nip the title in the end -- and finally, crushed. Stomach-wrenching stuff, and City fans felt the same for most of the match. Fans needed Dramamine to get through the ups and downs.
The last time the Sky Blues won, in 1968, they entered the final match day tied on points (56) with Manchester United before besting their rival. And no one, really, can argue that they were the better team for this season, a more powerful, dynamic side. At the same time, no one can really argue that Ferguson got the most out of his players, who were well below vintage United and will have to do some fairly considerable rebuilding for next season.
In the mind games heading into Sunday's matches, Ferguson warned that if City threw away this opportunity to win the league, it would end up haunting the club for ages, undoing all the good that some 800 million pounds of investment has done to rebuild this team. And for 94 minutes, SAF was getting his wish. But as the United players milled about the pitch at Sunderland, waiting for the result in Manchester, City staged a comeback for the ages. It had 81 percent possession to QPR's 19 percent; 19 corners to zero. But it's only the three goals that matter.
Check that, the number 44 matters most -- to City fans, anyway, while United supporters seethe at what almost was, and what may not be for a long time as the Sky Blues build toward a dynasty rich in talent and British pounds.
Now, after weeks of saying United were the favorites to win the title, Mancini can finally ditch his poker face and revel in a truly monumental achievement.
May, 11, 2012
05/11/12
7:39
AM ET
So it's down to this, the final day of the 2011-12 Premier League season Sunday. We've seen it all -- as Fugazi once sang, "Tell me something I don't know, is there anything left to know?"
A few things, actually -- a final relegation spot still beckons for one unfortunate side, while qualification for the Champions League is still up for grabs, as Arsenal, Tottenham and Newcastle battle for two spots (or one, if Chelsea wins the Champions League final). At the top, based on the reactions of pundits and over-the-blue-moon supporters this past weekend at Etihad Stadium, Manchester City is already champion for the first time since 1968.
While Roberto Mancini's team has dominated for large stretches of the season, the lead atop the table among various teams has changed 11 times. Will there be one more twist?
Until we get closure on City versus QPR and United versus Sunderland, let's take a look back at some key turning points and talking points that have gotten us to where we are now, in no particular order.
[+] Enlarge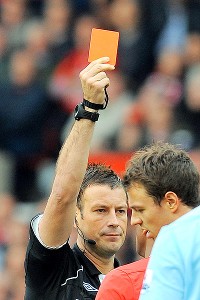 Andrew Yates/Getty ImagesReferee Mark Clattenburg showed Jonny Evans red, but the 10-man United kept attacking City -- which led to the 6-1 drubbing in October.
1. Game of goal difference
In "The Italian Job," Gianluca Vialli points out that in Italy when a team is losing by a couple of goals or more, it sets up shop in damage-limitation mode. As for England? Sir Alex Ferguson said it best: "We always try to come back. We don't have that rational way of thinking you have in France and Italy. It's not our way."
Indeed -- live by the sword, good knight. After falling behind 1-0 to City at Old Trafford in October after a first-half Mario Balotelli goal, Jonny Evans started the second half by pulling Balotelli down just outside the 18-yard box. Straight red, but the 10-men Red Devils kept attacking. "It was hard to believe we were 1-0 down, but that's retrievable," Ferguson said afterward. "The sending off was the killer blow. After that, we kept attacking. It's all right playing the history books, but common sense has to come into it. When we went to 3-1, 4-1 we should have settled for that. We kept attacking … that was suicidal, crazy."
More than anyone could know at the time. The 6-1 match represented a goal-difference swing of 10 that is roughly equivalent to United's deficit in the GD column. Mancini's postmatch words have turned out to be even more eerie: "But in the end there are only three points -- we don't take six points." True; this massive result may have taken much, much more.
2. Stomach for the fight
This isn't a single turning point, per se, but a troubling trend for United. The Red Devils failed to win a single match after conceding the first goal: 1-1 away to Liverpool; 1-6 home to City; 2-3 home to Blackburn; 0-3 away to Newcastle; 3-3 away to Chelsea; 0-1 away to Wigan; 4-4 home to Everton; and 0-1 away to City. Three points from a possible 24.
Compare that to City's efforts from losing positions. On March 22, at the Britannia Stadium, Peter Crouch went all Papiss Demba Cisse on Mancini's side, striking one of the season's wonder goals, which you can relive here, or the absolutely hilarious "FIFA 12" version in which Martin Tyler's screamo rendition almost tops Gary Neville's real-time, real-match reaction to that Fernando Torres goal that potentially threw light on Neville's (shall we say) private side. The scoring sequence was incredible, kicked off by Asmir Begovic hoofing the ball upfield; it never touched the grass before landing on Crouch's foot. Crushing blow, but City was saved by the man who has become synonymous with being the team's big-game savior, after Yaya Toure unleashed a bomb from 30 yards out -- yes, it look a wicked deflection off Ryan Shawcross, but there was no mistaking the big man's intent.
[+] Enlarge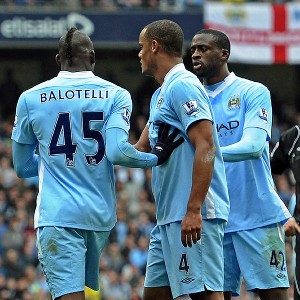 Paul Ellis/AFP/Getty ImagesCity players haven't always gotten on -- there have been training-ground bust-ups and this, an argument between Mario Balotelli and Yaya Toure. But it hasn't stopped them from winning.
Less than a week later, at Etihad Stadium, City once again fell behind 2-1 to Sunderland (and then, with less than a half-hour to go, 3-1) after Sebastian Larsson and Nicklas Bendtner scored in the first half. City appeared to be falling to bits: Balotelli and Toure got into a heated discussion while Micah Richards was being treated for an injury. Deep into the second half, after Aleksandar Kolarov won a free kick, why-always-him Balotelli and the left back were in each other's grills, with Vincent Kompany (aka the mature one) pushing Balotelli away. But the frustrations galvanized City, because Balotelli would strike in the 85th minute and Kolarov in the 86th minute, proving once again that a team doesn't have to get along to win.
Given that we head into this weekend with City and United tied on points, these two matches represent key results (and crucial points) for Mancini -- and the kind of fight back that United is typically known for.
3. Out of Europa League
Yes, we know -- no one cares about the Europa League (well, try telling that to Atletico Madrid), and certainly United and City didn't seem to prioritize it. Still, it was a dark day in March when both City and United were eliminated from the competition: Ferguson's side lost 5-3 on aggregate to Athletic Bilbao and Mancini's side on away goals with a 3-3 aggregate score to Sporting Lisbon. City showed more passion for the (ultimately losing) fight, but what about the fallout? Not being in Bucharest was no biggie, but you could make the argument that being out of the tournament was quite critical for the Premier League title race. After all, both United and City were eliminated from the FA Cup and Carling Cup (oh, the humanity) and were long booted from the Champions League. That left one trophy to play for -- and on that score, City held a decided advantage given the depth of talent on its squad.
In 2012, United had to bring back Paul Scholes to help beef up the team, and the old veteran was brilliant -- heading into the final weekend, he was fourth in the league in passes completed in the attacking half of the field. But Ferguson's side was always going to be up against it when City could pour all of its prodigious resources into the Prem.
4. Addition by subtraction
On April 8, against Arsenal, Balotelli was sent off for collecting two yellow cards, thus incurring a three-game suspension -- though it could have been more had the FA decided to mete out further punishment for a reckless tackle on Alex Song. It was perhaps the nadir for City, as the 1-0 loss to the Gunners saw Mancini's side fall eight points behind United on Easter weekend, prompting what became a mantra for the Italian -- the title is lost. He also suggested Balotelli was finished at the club: "With Mario, it's always a big risk. Every time we risk one [man] being sent off, even if he can also score in the last minute."
But losing Super Mario turned out to be a blessing in disguise because it opened the door for want-away Carlos Tevez. Having spent a chunk of the season on holiday in Argentina after that night in Munich, he had found himself back into the side from March 21 to April 8, serving out his purgatory as a late-game substitute and trying to regain his fitness. But with Balotelli gone, Mancini brought Tevez back into the starting XI -- and hasn't looked back since. Munich row? What row? Tevez scored in a 4-0 win over the Baggies, delivered a hat trick and assist in a 6-1 rout of Norwich and had an assist in a business-like 2-0 victory over Wolves.
Balotelli was back on the bench for the United match as an unused substitute, and wasn't even on the bench against Newcastle in the vital win at St James' Park.
Mancini came into the season trying to sell Tevez, and looks to be ending it with the Argentine as a key component rather than a throwaway. In the end, Balotelli turned out to be the bigger risk.
[+] Enlarge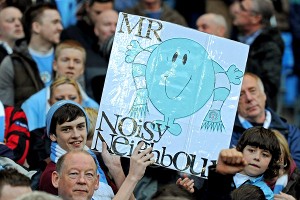 Michael Regan/Getty ImagesCity fans show their support against United on April 30, a 1-0 win for Roberto Mancini's side.
5. Eight wasn't enough
United's eight-point lead vanished in about four weeks, an epic slide. Of course, every match counts the same over the course of the season, but two during this period stick out. One was the 1-0 loss to Wigan, the first time the club avoid defeat in 15 meetings with its northwest neighbors. If not for referee Phil Down mysteriously disallowing a Victor Moses goal, the far-superior Latics -- who have done their best to personify Barcelona of late -- would have heaped more embarrassment against Ferguson's side.
Then, two matches later, came the inconceivable: United threw away a two-goal lead in the final seven minutes against Everton at Old Trafford.
6. The substitution
Mancini has been raked over the proverbial coals for his often conservative substitutions. Because he has so much attacking flair in the side this season, however, we've seen more champagne football than last season -- for players such as Sergio Aguero, David Silva and Balotelli, attacking is in their DNA.
But during the spring, City did hit a tough patch and struggled to create goals. So when the dapper Italian took out Samir Nasri for Nigel de Jong in the 62nd minute at St James' Park, you could practically hear the groans from critics -- yet as we all saw, it was precisely this move that freed up Toure to play more aggressively and score twice in a match that was billed as the one that would win or lose City the title.
Now it's up to Mancini & Co. to do United one better one more time, on Sunday against QPR before this wild ride comes to an end. Then, the victor can celebrate and the loser can see where it all went wrong. Put another way, since we started with a bit of Fugazi, "Provisional":
"Somewhere in these prying hearts
Conflicting histories tear us apart
And we hope we don't get what we deserve,
Hide behind the targets in front of all the people we serve
Now lie in it."
May, 5, 2012
05/05/12
3:18
PM ET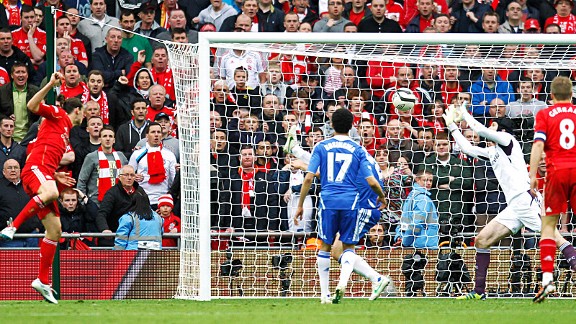 Ian Kington/AFP/GettyImagesIn a game Chelsea largely controlled, it took a superb late save from Petr Cech to secure victory.
Gone in 52 minutes -- that's how long it took for Liverpool to lose the FA Cup final to Chelsea at Wembley on Saturday. Of course, the Blues' goals didn't come as quickly as Roberto Di Matteo's famous strike inside the first minute of the 1997 FA Cup final against Middlesbrough, but Ramires' in the 11th and Didier Drogba's in the 52nd were enough to see their team to victory, 2-1.
The first half may as well have been sponsored by Red Bull, because you needed an energy drink to stay awake. It brought back memories of the battles between the two sides in the mid-2000s in the Champions League. Indeed, most of us had probably put those turgid times behind us … until this.
The opening goal came after Juan Mata, awarded official Man of the Match honors, latched on to the ball in Chelsea's half and slipped it through to Ramires. The Brazilian midfielder, heroic for his goal against Barcelona in a Champions League semifinal, is starting to forge a real reputation for being another Blues player for the big occasion (along with Drogba), and his goal was proof, muscling past Jose Enrique and charging into the box, where he smashed the ball past Pepe Reina at the near post. Credit to Chelsea, but terrible defending for the Reds: Enrique was caught out, Daniel Agger couldn't get across in time and Reina -- himself admitting it's been an underwhelming season for him -- had his body shape all wrong as he was beaten on the short side.
Not much happened for the rest of the half. Liverpool failed to get service to Luis Suarez, Steven Gerrard had to drift deeper to get the ball, and while Kenny Dalglish's side passed the ball, it didn't go anywhere with it, perfectly suiting a Chelsea side that has shown it can grind out the results under Di Matteo.
Chelsea appeared to execute the death blow in the 52nd minute. It was an "Old Boys" goal. First, John Terry came racing out from the back to intercept a ball intended for Craig Bellamy at the halfway line, and the captain's delightful touch found teammate John-Obi Mikel. After a few passes, Frank Lampard -- who helped shut down the midfield with wily defending and positioning in the first half -- slotted a sweet pass to Drogba, who was positioned between Martin Skrtel and Glen Johnson. The big Drog turned and fired between Skrtel's legs to the far post, thus becoming the first player to score in four FA Cup finals.
"I love the FA Cup," Drogba said. "A fourth win in eight seasons. It's fantastic for the club."
In the stands, the devastated look on Liverpool legend Ian Rush's face said it all.
Carroll changes the game
A minute later, Dalglish substituted Jay Spearing -- decent first half, dreadful second, including losing Lampard on the winning-goal sequence -- for Andy Carroll, and with the ex-Newcastle striker partnering Suarez up top, the Reds finally came alive. It was a microcosm of the team's season: underachieving in the first half, then showing signs of life for the final 30 minutes.
Carroll was a real beast, winning headers, bringing down balls, holding up play -- everything Fenway Sports thought it was getting when it purchased him for all those millions of pounds. He was also responsible for scoring Liverpool's only goal, in the 64th minute. Suarez raced down the left and tried to pick out Stewart Downing. In an attempt to make a tackle, Jose Bosingwa kicked the ball, which deflected off Downing to fall to the feet of Carroll in the box. He tip-toed to the right before getting the ball on his favored left foot and smashed a shot past Terry into the top of the net.
From there, Liverpool was on the front foot while Chelsea -- showing clear signs of attrition for a club that has been battling on three fronts -- lost its shape, energy and endeavor.
What will be debated for seasons to come is what happened in the 80th minute. Suarez hit a finesse chip to find Carroll open on the far post. His header appeared to cross the line before Petr Cech cleared the danger, palming the ball into the inside of the crossbar before seeing the danger away. The linesman adjudged the ball not to have fully crossed the line; most replays suggest the call was correct, but nothing was conclusive. Cech knows that all too well. "I had a lot of luck," he said after the match.
Bad luck for Liverpool, but amazing reflexes by the veteran Cech. Somehow, Chelsea regrouped. Drogba did his usual feigning of injuries -- including a comical falling to the pitch when going in for a challenge against Jordan Henderson. Really, the big guy, who is brilliant at holding the ball up, could be felled reading a menu in a restaurant.
In the end, it is Chelsea's sixth FA Cup win since Di Matteo scored that stunning 1997 goal, and fourth in six seasons. (And seven for Ashley Cole, if you keep track of that sort of thing.)
Kings of England
The doomsday scenario for Chelsea, of course, was quite clear: Lose this match against Liverpool, then fail against Bayern Munich in the Champions League final. Without much chance of finishing fourth, the Blues would end this season trophy-less and start the next one without top-flight European football. Now, though, they've bagged a title and head into Munich riding high on confidence.
With fourth place all but a distant hope, Chelsea knows May 19 will remain an all-or-nothing match if it wants to stay in the Champions League -- a match in which it will be without two key players in Terry and Ramires, along with Raul Meireles and Branislav Ivanovic.
Questions, questions, and more questions
The match will also serve to raise more questions than answers at this point.
Should Di Matteo, the interim manager, stay on in a full-time capacity? Does he still need to win the Champions League? The players clearly love him -- he's one of the guys, and genuflects to them, which is a key component to what is now a very symbiotic relationship. But is he the man to rebuild this squad? Talking about the "aging" Chelsea players seems a bit silly at the moment; the much publicized problems still exist, but right now, there is no mistaking that Chelsea is cobbling together what could be an incredibly special, if bizarre season.
Another question: Is Dalglish the best manager for Liverpool, or has his magic runs its course? Given the way he was changing systems (three, by the looks, just in the first half) and failed to find the side's mojo until it was too late, Reds fans may be thinking it's time for King Kenny to get a "promotion" upstairs and bring in a manager with a bit more tactical acumen.
Was Liverpool's season a success? Only if you consider the league cup the measure of quality, while languishing in the league -- especially since after the new year. On the other hand, Carroll has in the past few matches raised hopes of his own that he may be the man to lead the line next season, while Suarez continues to be a bit of an enigma. As for Downing, Henderson and Charlie Adam, well ...
We'll have to wait to see how it all shakes out. For now, Chelsea could end up proving virtually all of us wrong by ending this 2011-12 season as the most successful club in England. Winning the FA Cup and the Champions League would trump winning just the Premier League.
Oh, and this just in: Somewhere, Andre Villas-Boas is fitting himself for a straitjacket.
April, 30, 2012
04/30/12
5:35
PM ET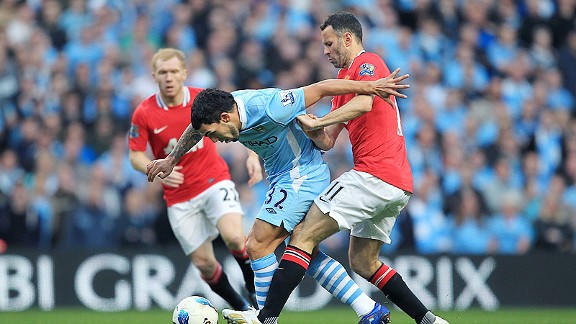 AP Photo/Press AssociationCarlos Tevez and the Sky Blues defeated United 1-0 to go atop the Premier League table with just two league games remaining.
If you were to play a drinking game a few hours before the start of the United-City derby, whereby you had to take a shot of your chosen poison every time someone said "massive," you'd have been absolutely hammered well before kickoff. But, in truth, this was the one match where the hype was justified. At one juncture not too long ago, United was eight points clear of its noisy neighbors, but going into the clash at Etihad Stadium, its lead was down to three. Roberto Mancini had been spending most of the past couple weeks telling everyone that the league was all but lost and that there was no chance of catching United, while Sir Alex Ferguson remained cagey in his comments.
Well, Mancini can stop the rhetoric, because after a 1-0 win at home, City is atop the table on goal difference. Then again, Vincent Kompany, who scored that significant goal, told Sky right after the match, "We've been waiting for it, but it's definitely not over yet."
So in the meantime, what have we -- some 650 million viewers from around the world -- learned from this "massive" match? Well, United's dominance on Monday nights is over: Since 2007-08, the Red Devils have won all eight of their Monday evening encounters.
Ferguson has also met his match in Mancini, who has now outwitted the Scot in both league encounters. The Italian was also only too happy to get into a war of words on the touchline after Nigel de Jong fouled Danny Welbeck. With the dapper Mancini motioning with his hand to suggest that Ferguson was running his mouth to get the Dutchman red-carded, Ferguson -- unaccustomed of late to having his authority challenged -- shot back. The two still shook hands at the end, but it was a scene that will live long in the memories of both sets of fans.
But it's the future where this match's significance really lies. If City does go on to win the league, it could be the equivalent of plate tectonics, a fundamental shift in the balance of power in which the Sky Blues come to dominate the Premier League for the foreseeable future. That's what former United legend Gary Neville was suggesting in the buildup to the match.
That's down the road, of course. For now, here are three thoughts from this match.
1. You could see this coming
Given the way United set up, with Wayne Rooney alone up top and Ryan Giggs, Park Ji-Sung, Paul Scholes and Nani across the midfield (from left to right), Ferguson clogged the center of the pitch. It's the tried-and-true formation used by the gaffer in Europe this season, and we all know how well United's Champions League and Europa League campaigns turned out. The script was written from there: City would wage most attacks and dominate on the ball, Rooney would inexorably drift into midfield to get possession, his frustration building, and United would fail to create many chances.
But formations aside, what's even more baffling is Ferguson's decision to start Park -- his first start since January. It's well-known that the manager has long relied on Park on the big nights, but the South Korean hasn't had a strong campaign and couldn't be considered match sharp or fit. At what point does habit become half-witted? That's one of the questions United fans will be asking themselves, knowing that Park's inclusion meant the exclusion of Antonio Valencia, the pacy right winger who could have helped trouble Gael Clichy a bit more and stop him from getting forward, not to mention provide more service into the box. Then again, that was never United's game plan. Even on breaks, there weren't enough players to support Rooney or whomever else was fortunate enough to get forward and trouble Joe Hart.
2. It's the simple things
Read any football book, and one of the golden rules is don't be beaten during stoppages of play -- free kicks, throw-ins, after injuries are treated and, of course, the most basic of plays, corner kicks. And so it was that in stoppage time in the first half, David Silva swung the ball into the box. Rio Ferdinand was ball-watching and Chris Smalling -- who did defend well on the night -- lost his mark, Kompany, who made no mistake on his free header. With the net bulging, City's hopes were on the rise.
And, point of fact, Mancini's men played the better match. United had a few spells here and there (especially at the very start of the game and pockets in the second half) but found themselves defending for their lives toward the end of the match, lucky at that point that Samir Nasri didn't add a second goal. Carlos Tevez didn't make all of United supporters' worst nightmares come true by scoring against his former team, but he was still influential -- and physical, very, very physical -- in the attack. And with his father-in-law Diego Maradona in the stands, Sergio Aguero was threatening throughout the match, while Clichy and Pablo Zabaleta gave City width it usually lacks, while United, which typically depends on its wing play, looked like a narrow and dull arrow. For that, blame Fergie.
3. Advantage, City
The Sky Blues haven't won their first league title since 1968 just yet, but with two games to play they are primed for the (OK, let's say it) massive breakthrough. First, they are away to Newcastle, and then home to QPR. The Newcastle match is supposed to be the final difficult hurdle, though the way the Magpies were thrashed by Wigan this past weekend, don't be so sure they'll stop City. Ironically, though, the last time City clinched the top-flight league, in '68, was after a 4-3 win against Newcastle.
United, meanwhile, are home to Swansea City and away to Sunderland.
But Mancini's men are now the odds-on favorite to win the league, which conjures a scene telecast on Sky Sports before the match when a United supporter, drinking a pint, was asked how he'd feel if City won the league. "Worst day of my life," he said.
The reverse will be true among the blues of Manchester.