In praise of The Special One
August, 6, 2010
08/06/10
9:18
AM ET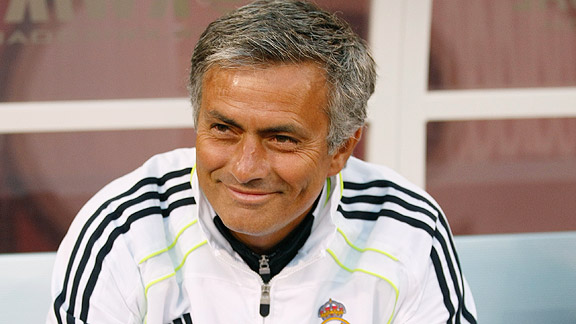 AP Photo/Marcio Jose SanchezJose Mourinho is special, but his doppelganger is even better.
I don't know about you, but I haven't been able to look at Jose Mourinho the same way since shortly after he left Chelsea. It was about that time that the coach went into the talk-show business. Well, sort of.
The now-defunct Setanta Sports launched "I'm On Setanta Sports," a satiric puppet show -- and a none-too-subtle dig at Sky's "You're On Sky Sports" -- starring The Special One as host. Virtually all of the characters, including the likenesses of Mourinho and Sven-Goran Eriksson, are voiced by Irish actor and comedian Mario Rosenstock.
Ah, those puppets. They're reminiscent of the old Sid and Marty Krofft creations -- psychedelic puppets that sometimes seem a little too real for comfort. Think H.R. Pufnstuf crossed with the biggest ego in football.
With the collapse of Setanta, the show has since become "Special 1 TV," but one thing hasn't changed: It's still the funniest football parody ever, as the recent World Cup webisodes proved.
Mourinho -- the real one -- is touring the U.S. with his new club, Real Madrid. What better way to pay homage to the sport's supersized manager than spending some quality time with his show-biz doppelganger.
While there's too many choice episodes to call out, here are three classics:
Welcome to Special 1 TV: As Mourinho says, "It's fantastic … I'm syndicating myself senseless."
Jose becomes the new Doctor Who: No one, not even a seemingly strung-out Joaquin Phoenix, will top Jose for his non sequiturs. "Potato, voyeur, Mr. Alex -- we're all over it."
The best of season 2008/2009: This complication includes the season's best "shut-ups" and, to this day, the funniest skit on Special 1 TV -- Wayne Rooney interviewing Robbie Keane. "This is Robbie's story," announces Rooney in a heart-felt voice-over, "who's changed his name in order to protect his identity."
The clip is cataclysmic.
One last note before we start the weekend: ESPN.com's footy friend and contributor Roger Bennett has a new book coming out about one of the best sports of all-time, table tennis. Check out his site here.