Where to begin? Referee Martin Atkinson needs glasses or laser surgery for his eyes. Fans who deem the tackle to be fair need to have their heads examined. Above all, Nigel de Jong should be banned from the EPL for as long as Hatem Ben Arfa is out with a broken leg.
How the Butcher of Manchester got away with this horror tackle on Ben Arfa without so much as a foul called is farcical. The tackle was nothing short of reckless. And spare me the argument that football is a contact sport, a man's sport, where you stick in the boot. If you want to see thugs trying to detach limbs and break bones, tune in to MMA. Or the NFL. Too many fans of that sport celebrate the bone-crushing brutality with a disturbing bloodlust.
Just as we should have been outraged at Tomas Ujfalusi's thuggish hacking down of Lionel Messi a few weeks ago, we should be similarly aggrieved over this. Ben Arfa is no superstar, but he deserved better than what he got at Manchester City on Sunday.
[+] Enlarge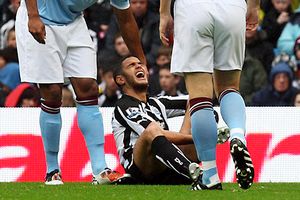 Ian Horrocks/Newcastle United/Getty ImagesHatem Ben Arfa holds his injured leg after a horror tackle by Nigel de Jong.
De Jong's record is starting to read like a rap sheet for a common street criminal: broken leg (Stuart Holden), impaling by way of cleats to the chest (Xabi Alonso). Of course, we're not even counting all the vicious little bruising tackles that don't end with a player on oxygen in a triage unit.
De Jong is a reckless player at best, a dirty player at worst. Amazingly, he has been booked for only 13 fouls and two yellow cards this season, with zero reds. This past weekend's tackle should have been a straight sending-off. Just because you play the ball doesn't mean a tackle can't be irresponsible. And spare me the argument that it was his trailing leg that broke Ben Arfa's, as if that somehow makes the tackle acceptable. Besides, it's the trailing leg that often ends up doing the brunt of the damage on bad tackles.
Netherlands coach Bert van Marwijk has cut de Jong from his country's two upcoming Euro 2012 qualifiers, saying that de Jong has a problem wanting to go to extremes. You don't say? Johan Cruyff said that de Jong has "crossed the line two or three times now."
But it's not enough. If nothing else, the Premier League should suspend him for the equivalent of a red-card ban of three games.
It would be little solace to Ben Arfa, of course, who has two broken bones in his left leg. For now, he'll be watching the games from his couch while the Butcher of Manchester is allowed to wreak more havoc on the pitch.