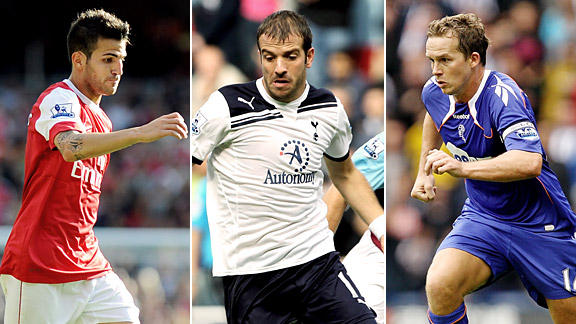 Getty ImagesLife after Fabregas, Van der Vaart's rich run of form and praise for Davies' Bolton -- it's all here.
Is it over? This latest international "break," brought to you by the HBO series "Bored To Death."
Watching Scotland employ a 4-6-0 formation against the Czech Republic -- that's 90 minutes I'm never getting back. Note to Scotland: When you face the Czech Republic next September, why not just use a 10-0-0, throw some lawn chairs in front of goal and bring in a few kegs. At least it would make for a more entertaining game. Like England against Montenegro. If you couldn't get excited by watching Don Fabio's team fuel its addiction for long-ball football, as it futilely tried to pick out Big Bird Peter Crouch, well, you must already have one foot in the grave.
The Euro 2012 qualifying wasn't all soporific slop. Scotland redeemed itself by putting up an inspired fight against Spain. Germany reminded us that breaking down a stubborn defense -- in this case, Kazakhstan's -- with guile, speed and smarts can be enthralling. But the only real pyrotechnics of this latest round of qualifying were supplied by crazed Serbian hooligans in Rome.
But the good thing about these inconvenient international breaks is they give you time to reflect on more important matters -- upcoming EPL fixtures, for example. So as we get back to the business of club football, here are a few things on my mind.
There's hope for you Gunners yet
I don't mean you'll be winning any hardware this season. Kim Kardashian has a better chance of nabbing a Nobel Peace Prize. But there's hope for dealing with life after Cesc. I kid, of course, but it'll be an uphill battle for the Gunners for the Premier League title or Champions League.
You all know Cesc Fabregas is as good as gone, most likely heading back to Barcelona after this season. Every time Xavi goes down with so much as a hangnail, you can practically feel the collective desire of the Catalans to bring home one of their favorite sons. And just this week, Fabs declared that his team lacked a "winning mentality."
So when he splits, what then, Arsenal?
Gunners fans -- the ones worshiping at the altar of Wenger -- will tell you that there are plenty of solutions among the team's young guns, depending, of course, on how Aaron Ramsey recovers from injury and the development of Samir Nasri and Jack Wilshere. There's also Abou Diaby, who aspires to be an offensive central midfielder even though he's built like Patrick Vieira and probably should be playing a more defensive role.
[+] Enlarge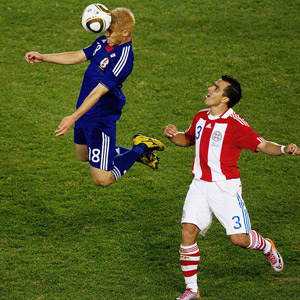 YasuyoshiiChiba/AFP/Getty ImagesHonda was a star at the World Cup -- and he could be a good fit for Arsenal, post-Fabregas.
Wengerites get particularly fired up about Wilshere. The kid has potential, but he remains a work in progress. Against Chelsea, for example, he had more passes than any other Arsenal player but no shots on goal. Wilshere is the future, but then, how often do we hear that about a Gunner?
There are a lot of "what-ifs" post-Fabregas. Well, what if Wenger went out and got himself a Honda -- Keisuke Honda, to be exact. You remember him. The playmaker had a breakout performance for Japan in South Africa, where he had two goals and an assist. He's currently at CSKA Moscow, but according to his agent, Honda has not been pleased at having to play in a defensive role and might entertain a move during the January transfer window.
Arsenal could be an excellent fit for the versatile Honda, who could play left of the central midfielder (and move Nasri into the center, where he longs to be) or play attacking midfielder. Either way, an Arsenal midfield of Nasri, Honda and Wilshire could be formidable.
There's also an interesting connection here, my fellow conspiracy buffs. Wenger managed Japanese J. League team Grampus Eight in 1995-96, winning the Emperor's Cup and finishing second in the league. And Honda came up through the Grampus youth system. Just another reason for Wenger to give this Honda a closer inspection.
But Honda might have two things going against him: he's 24 years old, which means he's a senior citizen by Arsenal standards; and two, his agent might have the temerity to ask for a bit of money. Considering Wenger refused to reach into his profitable pockets to purchase Mark Schwarzer and fill the Gunners' weakest position, you can't wager he'll spend much (or at all) to replace Fabregas when he decamps for the Camp Nou.
Where's the love for Bolton?
Ever since Owen Coyle rode into town, he's made a point of telling fans that he wants to abandon Bolton's Route 1 approach for something resembling beautiful football -- or at least a style of play where the ball is on the ground more than it is in the air. Ambitious stuff.
And while no one is going to confuse the Wanderers with the Gunners, Coyle's men are playing with a bit of variety this season. They can be a threat in the air, but also off the ground, down the middle or out wide.
In fact, Bolton deserves credit for the moves it has made over the last season. For starters, last December the club sacked that sad sack Gary Megson, who bears a disturbing resemblance to Toby, that sad sack HR director on "The Office." Although to hear Bolton forward Johan Elmander tell it, that's where the resemblance ends, as Megson eschews the calm and quiet of Toby for the hair dryer treatment in dealing with his players.
Clearly, it's been good riddance. Under Coyle, who left Turf Moor for the turf of the Reebok in January, Elmander has sprung to life and netted four goals so far this season. Along with the foul machine that is Kevin Davies and the talented Croatian international Ivan Klasnic, Bolton can be a handful up top.
The club also deserves credit for completing a smart bit of business this summer by buying the services of Manchester City's out-of-favor winger Martin Petrov. The Bulgarian has excellent delivery on set pieces and superb ball control. He showed off his talents against Manchester United earlier this season when he virtually single-handedly scored Bolton's second goal by cutting inside Park Ji-Sung to drive the ball past Edwin van der Sar.
With Petrov on the left and Lee Chung-Yong on the right, Bolton has some nice width. These two players don't always have a huge impact on a game -- they went missing for large stretches against Fulham, for example -- but the threat is there.
Going into this weekend's action, Bolton sits midtable, with eight points in seven games. With the resources at Coyle's disposal, he should be able to get a bit more out of this team as the season wears on. If anything, the manager will have to address the frail back line. While Bolton is fifth in the league in goals scored (10), it ranks seventh in goals conceded (11). It's a leaky boat -- but at least it's a boat worth watching these days.
Don't you wish your club had …
Rafael Van der Vaart. He's been playing like a man possessed for the Spurs. That time training with Real Madrid's players has clearly raised his game (and, frankly, made him look much more talented than most Prem players).
The free-spirited Dutchman, who can play in the hole, central midfield or on the left, was inspiring in the Champions League against Twente for his peerless effort and goal -- before, that is, he got sent off for a needless foul. Van der Vaart was even more impressive against Aston Villa, when he scored twice, and could have had a hat trick. Not bad for $8 million pounds, huh, 'Arry?
Of course, he's also playing alongside a star in the making, Gareth Bale, who has lit up the left side with his blinding pace and well-weighted crosses. As long as those two don't get in each other's way -- it'll come down to how Harry Redknapp figures out where to play Van der Vaart -- the Spurs will be making a strong case for booting out either Arsenal or United from the top four. First Liverpool, now this? It's too early to suggest that, I suppose. But look at the firepower and balance of the Spurs versus the lack of spark and creativity for United. I'm just saying.