Troubled times for the old guard
October, 17, 2010
10/17/10
5:34
PM ET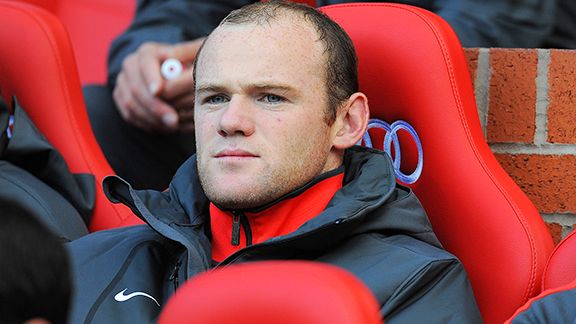 Andrew Yates/AFP/Getty ImagesWayne Rooney has told the English media that he wants out of Old Trafford.
Driving into the office, I pass a number of billboards that seem to cover the entire human condition. "Direct Cremation" reads one. Almost directly on the other side of the road a billboard announces a deal for "Blazing Hot Stoves." As I merge onto Interstate 84, a dangerous intersection, a sign asks me, "Have you been hit by a truck?" A little ways down the road I'm told "After you die, you will meet God." One sign suggests that I may be a V.I.P. until I check the fine print ("Very Intimate Pleasure"). There's a final call to action before I hit my exit: "Oops! You just passed Captain Liquor!"
Really, is there anything more depressing than billboards? Well, yes, if you happen to live in Liverpool. The club, of course, hit another low on Sunday. With new owner John Henry in the stands at Goodison Park, the Reds fell to the Blues in a Premier League derby for the first time in four years.
Any euphoria that Liverpool fans felt when Hicks and Gillette were finally sent packing quickly disappeared in a game that highlighted the team's many problems. It's a long list to consider. For starters, Fernando Torres is being starved of service from an ineffectual midfield. He might as well be on an island by himself.
For Torres to be effective, he needs service from the wing players, which on Sunday were Joe Cole and Maxi Rodriguez. But Liverpool has no width. Both Cole and Rodriguez kept looking to come inside instead of bombing down the flanks. Cole, in particular, is in a major league slump. He doesn't have a left foot to speak of, and he goes missing for such long stretches that you half expect to see his face on the back of a milk carton: "Missing: English winger and attacking midfielder with a knack for creative playmaking."
Liverpool has struggled with wide players for some time. See Albert Riera and Yossi Benayoun (both of whom left the club after last season). Unlike Cole, they are capable at spreading out the play, but Liverpool didn't know what to do with them, too often sending the ball up the middle through Steven Gerrard. Nothing has changed with Mr. 4-4-2 Roy Hodgson, who fidgets from the sidelines as if he needs to be treated for OCD. It's in stark contrast to his placid demeanor last season at Fulham, where he exuded a quiet confidence.
Another issue for Liverpool is Brazilian Lucas, who adds nothing but dead weight and poorly taken chances from the midfield. And even on those few occasions when he receives the ball, Torres looks off his form, too.
If he didn't know it before, Henry knows it now: He's got a major overhaul on his hands. This isn't a one-season turnaround -- it's a multiyear project. The Reds can kiss goodbye any hope of Champions League football -- and the injection of cash that comes with it -- for many seasons to come, especially with the competition of strengthened teams such as Manchester City and Tottenham Hotspur. Even Everton and Aston Villa look to be poised for more success than the Reds.
During Liverpool's transitional period, you can expect major changes at Anfield. How long, for example, will Torres remain stranded up top, where he cuts the grumpy, moody figure these days? January might not come fast enough for El Nino. Jamie Carragher, 32 -- who should be commended for his work rate on Sunday -- will likely be retired. At 30, Gerrard is not someone you build around anymore, though Liverpool might not have a choice. England international Glen Johnson, a right back who loves to attack but too often forgets his defensive obligations, might head for greener pastures. All the while, Henry's got to revamp a stadium in decay.
Will the Reds be relegated? Still hard to believe that will happen, though Sunday's performance does give you reason to pause.
Tick, tick, tick…
Liverpool hasn't cornered the market on team implosions. Another English institution, Manchester United, appears to be a time bomb that could detonate sooner than later. The club is walking a financial tightrope -- last week, it announced an operating profit of 100 million pounds and posted a loss of 83.6 million pounds -- while the Glazers continue to come under fire. Supporters are understandably upset that the ownership is spending millions on debt service instead of investing in new players who aren't named Bebe.
Really, some people have no appreciation for the American way.
Meanwhile, the players on the field find themselves in more crises than Amy Winehouse. On Saturday, the Red Devils threw away yet another lead, as Edwin van der Sar committed an epic error that landed him a 10 out of 10 on the Robert Green sliding scale of blunders. That makes a total of six points dropped in matches where United had the lead. For a team that created a slew of chances in the first half against West Brom, it struggled to muster any creativity or attack in the second half.
And then there's Wayne Rooney. According to reports in the English media, the star striker has had a falling out with Sir Alex Ferguson and wants to join a who's who list of stars -- David Beckham, Roy Keane and Ruud van Nistelrooy, among others -- who've left Old Trafford after their relationship with the manager soured. It's a sensational blow to the club. Even though Rooney has scored just once in the Prem, off a penalty kick no less, he's coming off a career season for United. But his attitude and fitness have come under question, and you can place too much importance on one player at a club. Given the club's finances, perhaps it would be for the best if United sells Rooney (his contract expires in 18 months) so the club can address its weak spots.
Without Rooney, the Red Devils will have to rely on Dimitar Berbatov and Javier Hernandez. Both have been playing well, especially Berba, but neither of them are as battle-tested as Rooney in the crucible of competition that is the Theater of Dreams.
And word is that French international and troublemaker Patrice Evra is also looking for the exit sign.
These wouldn't be minor personnel changes, but the beginning of a seismic shift in the makeup of the team. This season, Ferguson already has used 24 players in the Premier League alone. This isn't because he's trying to cope with an injury crisis, like last season. It suggests a few other things, though: one, a manager who must rotate his aging players; two, a manager who can't figure out his best Starting XI; and three, a manager who knows big changes are ahead.
After all, how much longer can old-guard warriors Paul Scholes and Ryan Giggs be counted on? And who will replace them? If the answers are Anderson and Michael Carrick, who started on Saturday, United is headed for mediocrity and the Europa League.
That's where the dominoes could start to fall. Without the financial windfall that comes from playing in the Champions League, United's financial outlook would go from bad to worse. If the Red Devils couldn't reinvest some of the $80 million they received from the sale of Cristiano Ronaldo two seasons ago, who would they be able to afford if they were bumped out of Europe's premier competition? Let's hope Bebe has a kid brother or something.
It's a doomsday scenario, but at the rate both clubs are going, do you think either one will be in the top four by season's end? Going from top dog to struggling has-been is a slippery slope. Once you're on it, it's hard to stop.
Just ask Liverpool.