Ferguson should slam door on Rooney
October, 20, 2010
10/20/10
12:20
PM ET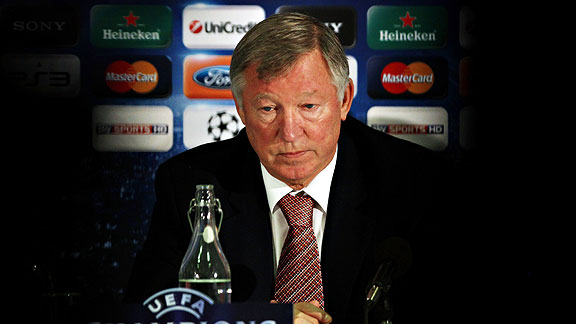 Alex Livesey/Getty ImagesAlex Ferguson seemed out of touch during his press conference this week.
Good riddance. That was my knee-jerk reaction to the news that Wayne Rooney wanted out of Old Trafford. A day later, after reviewing the developments that have more twists and turns than a soap opera, I still feel that Manchester United would be best served to let Rooney go. The sooner, the better.
At Tuesday's press conference, manager Sir Alex Ferguson looked like a hurt father, scorned by a wayward son who no longer wanted his advice. Instead of the surly Scot renowned for giving his stars the hair-dryer treatment, Ferguson solemnly spoke about keeping an "open door." He seemed resigned to the fate that he'd lost control of a player. He bemoaned that these days clubs have to deal with agents instead of parents.
In short, he sounded out of touch with the modern game in which mercenary outfits such as Manchester City -- with buying power that is much greater than virtually any club in the Prem, save perhaps Chelsea -- buy a player's loyalty one check at a time. United? It's a selling team right now, not one in a position to purchase expensive players given the club's poor finances.
But Ferguson shouldn't keep an open door for Rooney. He should slam it shut.
While Ferguson's demeanor was a surprise, we shouldn't be too shocked that Rooney wants out. Yes, he has said that he would spend the rest of his career at United, but do we believe anything professional athletes say these days? Their words are too often only as good as what their agents are telling them. Besides, as a friend of mine reminded me today, Senor Shrek used the exact same tactic when leaving Everton. "You reap what you sow," my buddy wrote. Indeed, Rooney left Everton because the club didn't meet his ambitions. And now, neither does United. Fair enough, but the club needs to take a firm stand.
What is United losing? One goal -- a penalty kick -- this season from a player whose off-field life would fit right in on the Jersey Shore.
This isn't Cristiano Ronaldo, Part II. Ronaldo, more than any other United player, deserves credit for United's recent success. Since he left, the team has yet to replace his peerless skill -- and goal tally.
Of course, letting Rooney go isn't that simple. He was the best player in the league last season. He is a worldwide star. He's one of the faces of EA Sports FIFA Soccer 11, for goodness sake. Does it get any bigger? United's American owners, the Glazers, want to continue to expand the Red Devils' brand on a global scale to help bring in revenues and pay off their massive debts. Without a star like Rooney, and no other stars on the squad right now, that becomes a much more difficult proposition.
The Glazers keep insisting the money is there for Ferguson to spend on marquee players, but no one believes this, do they? After all, the club hardly touched the £80 million pounds from the sale of Ronaldo. Instead, the Red Devils welcomed Antonio Valencia and Chris Smalling, among others.
It's naÔve to think that the Glazers' business plan would fold like lawn chairs after Labor Day if Rooney left. The Old Trafford turnstiles have seen many stars come and go, and the club remains one of the biggest and most popular in the world. The reason, of course, is the continued success on the pitch more than any one player. And that's where "Rooney Gate" becomes intriguing.
It's not necessarily critical that United sells Rooney and uses the money to buy another EA-worthy star, though fans would surely welcome such a move. What's important is that the Red Devils use the opportunity to strengthen the team so it can stay in the top four of the Premier League and keep its spot in Europe's premier competition, the Champions League. Those are not exactly the ambitious goals you associate with United. Reality sometimes bites.
Given the bad feelings between Rooney and Ferguson and knowing that Rooney is clearly not the type of player who's going to hang around like Paul Scholes or Ryan Giggs but instead will more than likely burn himself out at a much younger age, Ferguson needs to cut bait. Frankly, United has firepower up top without him. Dimitar Berbatov has found his scoring boots this season, and Javier Hernandez is proving to be an asset in front of goal. The Mexican international should only get better.
Instead, the Red Devils should use this opportunity to their advantage. If they're smart, they won't trade striker for striker but bolster the team's midfield.
For example, you could see a situation developing between United and Real Madrid in which Rooney heads to the Bernabeu and Karim Benzema, who Ferguson wanted a season ago, heads to Old Trafford (with some extra coin to compensate United for its troubles). And Jose Mourinho has told reporters that Rooney should "give me a call" if he decides to leave. It wouldn't be a bad move getting Benzema, whose style would fit in with the Premier League, but if Real seriously pursued England's No. 1 striker Ferguson might want to consider Kaka instead. The Brazilian playmaker has been injured this season. He also was patchy last year, struggling in particular when he was on the field with Ronaldo. Perhaps a move to Old Trafford could reignite his career.
Another option could be Real's Lassana Diarra. He's not the most creative type, but he would add a welcomed bit of pace and muscle to United's midfield, which aside from veterans Scholes and Giggs is as barren of talent as "America's Got Talent." Real's Esteban Granero, who can be a creative playmaker or sit behind the strikers, is another option, especially since he's not getting much playing time at Real.
This isn't to suggest either of these players are world-beaters or the equivalent of an in-form Rooney but Diarra and Granero would be a step up from United's current midfield options. Anderson, who also wants out, makes so many wayward passes and runs, he might as well wear sunglasses and hold a tin cup. Michael Carrick, once a rising star, has seen a precipitous dip in his form and is not the answer. Wednesdays' Champions League match proved it again.
Wherever Rooney ends up -- Man City, Chelsea, Real, Barca, Bayen Munich, which are the clubs that could afford him -- United should treat Rooney like a Band-Aid. Don't pull it off slowly, but rip it off quickly. It'll hurt, but only for a second. Trade him in the January transfer window, and move on. Otherwise, he'll continue to be a distraction on a team that's already struggling to put points on the board and keep pace with league leader Chelsea.
Ferguson has always put the club first, the player second. Yet he appeared soft and emotional on Tuesday. That, and not Rooney's decision to leave, is perhaps the most surprising development of this soap opera.
Hopefully, the surly old Scot whom United fans love and critics love to hate will come out of the witness protection program and slam the door on Rooney.