Get ready for Manchester mashup
November, 9, 2010
11/09/10
9:08
AM ET
Yoda has nothing on Sir Alex Ferguson. The United manager is renowned (and reviled) for engaging in Jedi mind tricks. He's a master at distracting opponents and deflecting criticism. And Fergie was back at it on Monday.
No sooner had the buzz died down after Park Ji-Sung's late-game stunner against Wolves this weekend that Ferguson turned his attention to his city rival. He told "Inside United" that Manchester City would not stop its spending spree until the club wins the Premier League title. Although Ferguson admitted that this added spice to the EPL, he also wondered aloud -- purely out of concern for the Blue side of town, naturally -- whether City would be able to handle the pressures that come with such lofty ambition.
All that was missing was for Ferguson to say, "Struggle to win, City will. Dangerous is the dark side."
Of course, it would suit Ferguson just fine if City suffered from performance anxiety on Wednesday, when the two teams square off. (You can watch it on ESPN2 and ESPN3 at 2:55 p.m. ET.) Although you can't take much of what the codger says at face value, Ferguson did get one thing spot on -- City's rebirth has been good news for the Prem. From a neutral's perspective, it's given fans more big games, more storylines and more characters, the latest being super Mario Balotelli.
With apologies to those on Merseyside or in London, City's newfound clout has turned the Manchester derby into the biggest matchup of the Prem season these days. There's enough bad blood and bitterness between the sides to make promoters of a MMA card proud. The managers snipe. The players snipe. The fans snipe. And it captures the media's attention in a much bigger way.
Before Sheikh Mansour took over at Eastlands in 2008, the Red Devils viewed City as a nuisance, a gnat that needed to be shooed away. Funny how a half a billion dollars of player investment can change that. Now United's Paul Scholes talks about how the team is "desperate" to stay ahead of its rival. City's manager, Roberto Mancini, meanwhile, told reporters that Chelsea, not United, is the club's main competition.
Translation: Bragging rights from the Manchester derby have never meant so much.
Ever since that agit-prop billboard went up in the city's center two seasons ago -- a picture of an open-armed Carlos Tevez emblazoned against a blue background with "Welcome to Manchester" -- the rivalry has escalated. City's fans not only rejoiced in stealing one of United's own, but also used the opportunity to make the case that they represent the true Mancunian identity compared to the more corporate mindset of United.
It'd be like the New York Mets signing Derek Jeter and then putting up a billboard in Times Square announcing "Welcome to New York." Them, as they say, are fighting words.
Suffice to say, we can expect a fierce battle at Eastlands on Wednesday, as both teams try to gain ground on Chelsea. Here are a few talking points heading into the clash:
Bug bites
Since returning from Turkey in the Champions League last week, United's players have been hit hard by a virus. Patrice Evra, Nemanja Vidic, Dimitar Berbatov and Scholes are among those whose fitness will be in question. And with Nani and Ryan Giggs out with injuries, expect Ferguson to play some of the less experienced young guns, such as Gabriel Obertan and Bebe (more on him below).
Early returns on Mr. Mysterious
Who's Bebe? Well, no one really knows much. Ferguson signed him in August sight unseen, and even many in the Portuguese league where Bebe played can't tell you anything about the 20-year-old. This much we think we know: Bebe was raised in an orphanage and lived on the streets for a time. This much we do know: Based on his five appearances for the Red Devils, Bebe is physically imposing and has an instinct for the goal -- he's netted twice this season -- but he's also very much the unfinished article. Against Wolves on Saturday, after Owen Hargreaves went down with an injury after five minutes, Bebe came in on the right side of midfield and proceeded to mishit and mistime cross after cross to the point that fans needed flak jackets for protection.
[+] Enlarge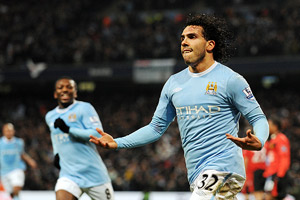 Chris Brunskill/BPI/Icon SMIThis season, Carlos Tevez has 10 goals and four assists in the Prem.
Carlito's way
Carlos Tevez is the engine for City, the man around whom the club runs. Without him, the Blues look flat. Since Mancini has taken over just before Christmas last year, Tevez has scored 24 goals from open play and another seven from penalties. When he's not feeling homesick, Tevez is lethal in City's preferred 4-3-3 formation, providing the cutting edge up front and tracking back to help out on defense and link up play. Though as a Manchester City player he has scored only three times against his former club, all coming in the League Cup last season, Tevez will be more motivated to score than a college kid on spring break.
Money can't buy you happiness -- yet
Since the 2008-09 season, United has won all four Premier League matchups between the teams, including the dramatic 4-3 victory in which Michael Owen scored the winning goal in "Fergie Time" last year. City also bowed to United in the Carling Cup last season, winning the first leg but losing the series on aggregate.
Ironically, it was the season before the era of the City Slickers that the Blues performed the double, defeating United 1-0 at home and 2-1 away. The scorers on those days: Geovanni, now with San Jose Earthquakes; Darius Vassell, now with Leicester City; and Benjani, now with Blackburn.
And speaking of those whom City sent packing, Mancini was dimwitted in pushing Craig Bellamy out. He was the club's best player last season, scoring 12 goals and providing an added spark of pace and passion that seems to be sorely lacking among the current crop of malcontents not named Tevez. This isn't to suggest that Bellamy is a choir boy -- the man probably gets into arguments looking into the mirror -- but his quality was unmistakable. And Mancini clearly has no issue with coaching headcases. See Balotelli, who will miss Wednesday's derby after earning a red card for pulling a Triple H leg kick against an opponent on Sunday.
[+] Enlarge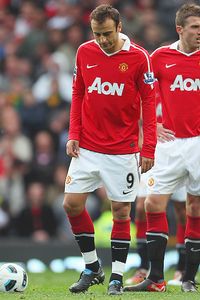 Alex Livesey/Getty ImagesAfter a strong start to the season, Dimitar Berbatov has come down with a case of the Mondays -- every day.
Who's the moody Bulgarian in the corner?
It seems like eons ago that Berbatov was putting together a highlight reel. No doubt United fans were adjusting their television sets and calling their local cable providers when they saw the Bulgarian tracking back to play some hustle-up defense early this season. Surely, the cable feed must have been creating some sort of optical allusion.
But no, Berba was the hottest player in the Prem. Now, though, he's about as effective a Democrat running for U.S. Congress. Since scoring that glorious hat trick against Liverpool, Berbatov has failed to find the net in seven straight matches. It's his attitude, though, that should concern United. His body language -- slumped shoulders, dour puss -- suggests he's not enjoying his football. In the Champions League against Bursapor last week, he moped around the pitch after Gabriel Obertan's pass didn't reach him, and he shook his shoulders at Scholes as though the service wasn't up to snuff.
If he recovers from the virus and plays against City, which Berbatov will show up? The guy who started to win over United fans with his newfound endeavor? Or the guy who looks like he belongs in a café smoking a cigarette, wearing all black reading Nietzsche?
City likes to control the ball -- but to what end?
Both sides know how to maintain a healthy possession of the ball. But while United likes to take its chances, City tends to value controlling the ball for its own sake. Instead of picking up the tempo, particularly in the midfield, the players have tended to be more measured in their movements, especially in the past few games -- one goal in a loss to Lech Poznan in the UEFA Cup and one goal in a loss to the Wolves. City also laid a goose again against Arsenal and beat West Brom this weekend by just 2-0. Which makes Tevez's contributions on Wednesday all the more important, as he's best suited to provided the spark.
Keep your eye on Darren Fletcher
Javier Hernandez and Dimitar Berbatov have gotten a lot of pub for their wonder goals, and Park rightfully soaked up the accolades last weekend. But it's been midfielder Darren Fletcher who has been behind some of the Red Devils' biggest goals this season. In fact, United has won six matches in the past three weeks and the Scotsman has played in all but one of them.
Against Liverpool, it was Fletcher who found Nani on a long pass down the right-hand side of the pitch, which Nani promptly crossed into traffic and Berbatov put into the back of the net with a once-in-a-career-bicycle-kick goal. Against the Wolves, it was Fletcher who had the vision of a soothsayer to pick out Park for United's first goal. And it was Fletcher who got the ball to Park for the game winner, too.
United's midfield can be pedestrian at best. Ferguson should be beating down a path to Bastian Schweinsteiger's door to eventually replace Scholes (and, while he's at it, get Gareth Bale to eventually replace Ryan Giggs). But until then, Fletcher is the man in the middle, along with Scholes, whom United will rely on to make things happen. If Mancini is up to the task of contending for the Premier League -- and based on some of his man-management moves this season, the jury is still out -- he should take a page out of Sunderland's playbook. Earlier this season, Steve Bruce's side took a basic but effective approach against United: Keep Fletcher and Scholes off the ball as much as possible and force those around them to create the chances. Net result: a 0-0 draw.