When will Man City man up?
November, 10, 2010
11/10/10
12:44
PM ET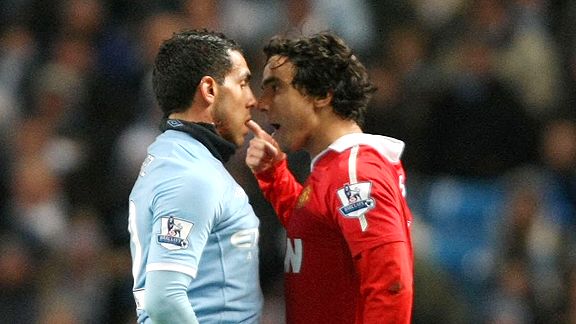 John Peters/Man Utd via Getty ImagesCarlos Tevez' dustup with Rafael was the fiercest offense City could muster.
Say this about Manchester City manager Roberto Mancini: The man loves to play defense. More, I'm guessing, than he loves his scarves.
At the end of the game between Manchester City and Manchester United, the commentators asked if City fans would be happy with a scoreless draw. Why would they? Their club has only poured half a billion dollars into new player signings, and yet their manager is competing in typical Italian fashion. The key players in the midfield -- James Milner, Gareth Barry and Nigel De Jong -- were all defensive in posture. Yaya Toure tried to get forward from time to time, but as his days at Barca demonstrated, he's a holding midfielder at heart. There was no real bite to the City side, no real ambition. Unless you count earning a point to be ambitious.
City had only one intention in this game -- to defend. It's understandable when you're a lesser team, a minnow outmatched by a bigger, stronger opponent with depth on the bench. It's why, for example, I can tolerate the way Glasgow Rangers park the bus, especially in Europe. But City has the man power to boss a game, and a bench that (on this day) was more equipped to change the match than United's available substitutions. Instead, it was the Red Devils that took command of the proceedings, especially in the second half, and tried to score.
To be fair, City defended superbly (as did United's Nemanja Vidic), but shouldn't its fans expect more given the club's resources? Supporters may laud Mancini's tactical approach, but how satisfying can that really be, especially if the club doesn't add a trophy to its collection? It's worse than being an Arsenal supporter. At least the Gunners play an entertaining brand of football, only to disappoint. City is just going to bore its faithful to death.
Mancini continues to show an aversion to playing Adam Johnson. Once again, he didn't start. And once again, City were sluggish and lacked spark on the counter-attack. You could practically take a bathroom break in the time it took City to mount a charge, and United's men were more than well prepared to defend in numbers by the time City was in the danger zone. And yet, Johnson was warming the bench. He can add pace down the right and terrorize defenses, but he wasn't brought on until the 73rd minute.
Emmanuel Adebayor sauntered onto the pitch in stoppage time. Of course, Mancini didn't dare leave Tevez on; heaven forbid you play two strikers up top … at the same time! In the end, the manager used the substitution to run down the clock, not try and win the game. You left Arsenal for this, Adebayor?
And no wonder Tevez likes to skip off to Argentina from time to time. He's not really homesick. He's bored to death playing on a team that looks like it OD'ed on tryptophan from eating too much turkey.
Mancini may do enough to reach a fourth-place finish this season for Champions League football next year. It's his major ambition at this point, having downgraded City's hopes at the beginning of the season for winning the league. But that's as far as he's going to take this team until Manchester City finally mans up.