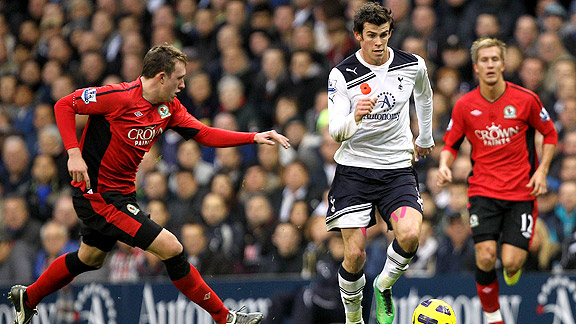 Hamish Blair/Getty ImagesGareth Bale is doing his job, but what about Tottenham's strikers?
Tottenham Hotspur's Gareth Bale has blown people away this season. Just ask Maicon or any other right back who has been charged with the unenviable task of containing the explosive Welshman. Why not ask them to solve the global warming crisis while they're at it? Or try to explain why some people find Adam Sandler funny?
But here's something that will really blow your mind. Roman Pavlyuchenko's goal last weekend in Spurs' 4-2 win over Blackburn was Tottenham's first league goal since April with a Bale assist.
Think about that for a minute. Bale has created more goal-scoring opportunities than any other player in the Premier League this season. You give him 5 yards, he turns it into 20. Defenders know he's not going to cut into the middle of the park, since he favors serving up crosses with his left foot. Bale is going only one direction -- straight down the flank -- and still few can stop him.
So riddle me this: Why aren't Spurs capitalizing when he sends balls into the box with impeccable timing and laser-like accuracy?
Tottenham is like a kid at a five-star restaurant who doesn't know what to do with the extraordinary service. Excuse me, garcon, but what's with all these forks, spoons and knives? Do you expect me to use all of these? If Tottenham hopes to maintain its spot in Europe next season, it better figure out how to take those balls Bale is serving up on a silver platter and deposit more of them into the back of the net.
The stat -- disturbing for Spurs supporters, manna for Arsenal fans -- will have people pointing fingers at Pavlyuchenko. Despite his prodigious talents, the Russian striker wastes more chances than Gary Busey. That was made abundantly clear yet again against Blackburn when he squandered a one-on-one opportunity with the keeper and dragged a penalty kick wide. But the week before against Bolton, Pavlyuchenko crushed a volley that will go down as one of the goals of the season.
Then there's Peter Crouch. Nine games started, one goal. With the type of balls he's getting from Bale in the air and on the ground, Crouch should do better. Yeah, yeah, his reputation for clutch play for the Three Lions is beyond reproach. But for Spurs this season, perhaps the 6-foot-7 Crouch needs to be more aggressive in the box and put his lanky frame on the line a little bit more.
Spurs' other key forward, Jermain Defoe, has been out with an ankle injury almost since the season started. Manager Harry Redknapp must be counting the minutes until Defoe, who scored 18 times in the Premier League last season, returns. He trained on Tuesday for the first time with the rest of the Tottenham squad and could be a boost for the derby against Arsenal on Saturday.
Imagine, though, if Spurs had a truly world-class striker or even an aggressive midfield poacher -- such as Everton's Tim Cahill -- who could convert more of Bale's deliveries? Talk about an unstoppable force. Bale does cause havoc with many of his balls, some of which eventually lead to goals. But the potential is there for so much more. And with a defense riddled with injuries, goals will continue to be a premium for Spurs.
As it is, the club faces -- for the first time, remember -- the tricky proposition of competing in the Champions League while also trying to maintain a fourth-spot finish in the Premier League. Last season, Redknapp had only to focus on finishing fourth to qualify for top-flight European football; the rest, as they say, was details.
Fighting campaigns on two fronts is another matter. Tottenham has depth and variety on its squad. But Redknapp and Co. would help their cause if they could figure out how to get from Point A (Bale's deliveries) to Point B (the back of the net) a little more often.
Footnotes
If you haven't checked out the latest Special 1 TV -- including Rooney's "radical" treatment in U.S., click here. Is there anything funnier on the web these days?
And on another note, don't you love the fact that Arsenal finds itself at the bottom of the disciplinary table, tied at 27 and 4 with the most yellow and red cards, respectfully. Looks like the Gunners, always accused of not playing physical football, are finally getting stuck in. It bodes well for their title chances.