The Devils are in the details
December, 9, 2010
12/09/10
11:35
AM ET
If you looked at the fixture list back in September, you might have regarded Monday's clash between Arsenal and Manchester United as a game between also-rans, clubs fighting for the table scraps. Such was the force of public opinion that Chelsea would turn this season into the longest coronation march in recent memory. But for whatever reasons you like -- injuries to the likes of Frank Lampard, the loss of players such as Michael Ballack and Joe Cole in the summer, a struggling Didier Drogba, a thin bench, a meddling Russian owner causing backroom havoc, or all of the above -- the Blues have dropped to third.
Of course, there's plenty of football left to be played, and Chelsea is just two points behind Arsenal and one behind United. But there can be no mistaking that the winds of momentum are no longer behind the defending champions. The Blues face an uphill battle, at least for now (having to face Tottenham, United and Arsenal in their next three league matches).
Which brings us back to Arsenal versus United, a matchup of two teams with reinvigorated title aspirations. Here are some thoughts on Monday's clash at Old Trafford -- specifically, three reasons the Red Devils will win and three reasons they won't.
Why they'll win
1. SAF, manager of the year (so far)
The managers of this season's promoted teams -- Blackpool, West Brom and Newcastle -- deserve high praise because their clubs are doing better than many expected. Indeed, they might all stay up. So props to Ian Holloway, Roberto Di Matteo and the unfairly sacked Chris Hughton. And let's give a shout-out to Harry Redknapp for overachieving with Spurs in Europe.
But with all due respect to those folks, Sir Alex Ferguson's accomplishments are more impressive. His men are a point off Arsenal's lead and with a game in hand, no less. He also prevented the team from imploding during Rooney-gate. In less capable hands, the inmates would have been running the asylum, but United's boss proved that age still hasn't diminished his ability to handle a situation with a politician's aplomb. He put a masterful spin on the situation, so that if Wayne Rooney had left the club he would have forever been branded as Manchester United public enemy No. 1.
On the pitch, United is 8-7-0. All those draws might ultimately be the club's undoing, but an undefeated record is impressive given that, compared to recent incarnations, this is an average Red Devils team. Ferguson has had to rely on aging, if great, players in Paul Scholes and Ryan Giggs -- that is, when they haven't been injured or rested. Rio Ferdinand has missed a lot of games, and is only now starting to find his form. And Ferguson has also had to ride the highs and lows of players such as Dimitar Berbatov and the mostly lows of players such as Michael Carrick.
SAF has mixed and matched his team like a master chef who can't quite settle on the right ingredients. Tuesday's Champions League match marked the 150th time in a row he has changed his team (a streak that dates back to May 2008). It's understandable given the size of the squad and the fact it fights campaigns on multiple fronts. But Ferguson usually gets his first-team selections right when it matters most, and you would expect nothing less on Monday.
2. Rooney nearing top form
Since he has returned from his exile at Nike HQ, Rooney has slowly started to shake off the rust. Tuesday's Champions League match offered the most encouraging signs yet that Wazza was just shy of top form: He blasted a drive in the 36th minute that hit the crossbar, and had a superb curling effort in the second half. He was also instrumental in United's attacks, often going out wide to help provide service to Berbatov. "He's getting there quickly," Ferguson told the press after the match. "He did very well for us tonight -- his distribution, the way he led the line." For Arsenal, Rooney represents a ticking time bomb ready to go off.
[+] Enlarge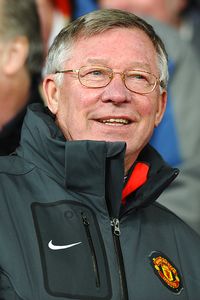 Paul Ellis/Getty ImagesThis season, Sir Alex Ferguson has been at his managerial best.
3. United starting to click
In fact, the Red Devils looked strong for most of the match against Valencia. Aside from some 20 minutes in the second half, when the Spanish club controlled the game, United was the stronger side. A pleasant surprise was Anderson, who hasn't seen much first-team action for good reason. But he played with energy on Tuesday and even scored United's goal. Before that match, in league play, the Red Devils thumped (an albeit abject) Blackburn 7-1. So Ferguson should have his players in a positive frame of mind -- to score, to win -- come Monday.
Why they won't win
1. United's midfield could be outmatched against Gunners
If Andrei Arshavin is in the mood, as they say; if Samir Nasri continues his ridiculous goal-scoring form; if Cesc Fabregas returns from a hamstring injury and commands the troops; if Jack Wilshere helps run things from the center of midfield -- a lot of question marks -- United will be in for a long night. United got a boost when Ferguson told the media on Friday that midfield maestro Scholes, who's coping with a hamstring injury, should be ready for the match. But will he be fully fit? And will SAF have to rely on Carrick or Anderson in the midfield? Beyond Anderson's strong showing on Tuesday, he hasn't exactly been an impact player -- eight starts, two substitutions, with one goal, two assists and four shots on goal. And Carrick? Although he has shown signs of improvement in the past few games with some good passing, especially the longer-range variety, he remains a weak link. Remember, he was the culprit who lost concentration, and then possession -- in his own half -- to Alejandro Dominguez on Tuesday, which led to the first goal. There are no signs that the best midfielder next to Scholes, Darren Fletcher, will be fully fit when the whistle blows.
2. Concern for Rio
That collective "gulp" you heard when Ferdinand walked off the pitch on Tuesday with a tight hamstring was United fans worried that the England international might not be fit on Monday. In the past few weeks, Ferdinand has regained his form and made a formidable pairing with Nemanja Vidic; together, they've helped stem United's ugly habit of having panic attacks in the back and conceding late goals. Ferdinand is supposed to be fine for the Arsenal match, but if he's unable to see the game out, the options are not too appealing: Chris Smalling, who is capable if average, and Jonny Evans, who gets worse with each passing game he plays in. Whoever makes up the center of defense with Vidic will be tested -- again and again -- by Arsenal's relentless, flowing attack.
3. Walcott as wild card
Although more mention has been made of Robin van Persie's recovery from injury, the return of Theo Walcott gives Arsene Wenger another option to threaten the United defense. Used as a second-half substitute in recent matches, the speedy Walcott scored the go-ahead goal in Wednesday's win over Partizan to seal the Gunners' qualification into the Champions League knockout rounds. And with RvP not yet fully meshing with Marouane Chamakh up front in Arsenal's attack, might Wenger give Walcott the start at Old Trafford? Or will the young Englishman be brought on again late as a fresh attacker, to run at the older legs of United defenders and potentially provide the difference for the London side, who hold the league's best road record thus far this season?
Either way, it should be a great game.