Yin and yang of Manchester
January, 23, 2011
01/23/11
6:14
PM ET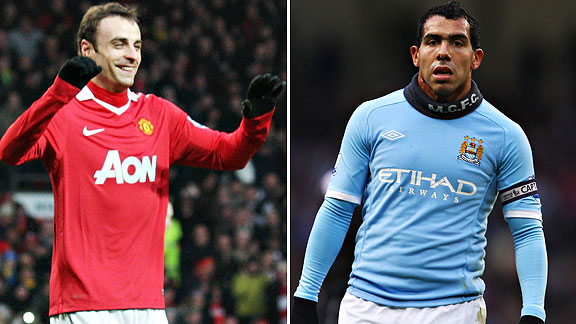 Getty ImagesThis weekend, United crushed Birmingham while City failed to break down Aston Villa.
You learned a lot about two EPL teams in Manchester this weekend. One of them dismantled its opponent with ruthless finishing. The other engaged in an exercise in futility. One of them showed verve and creativity. The other looked like a lackluster rat in a science experiment -- no matter how many times it got electro-shocked, it kept going back for more.
We're speaking, of course, about Manchester United and Manchester City.
United crushed Birmingham 5-0, a scoreline that could have been even more lopsided if Nani hadn't tried to turn the second half into an episode of So You Think You Can Score. City fell meekly 1-0 at Villa Park, where newcomers Edin Dzeko and Darren Bent both had good games for their new teams but only one found the back of the net.
For United, it was a virtuoso performance. Ryan Giggs continued to turn back the clock, as the 37-year-old looked razor sharp and scored the game's most difficult goal. When Dimitar Berbatov wasn't busy scolding Nani for ill-conceived crosses and dillydallying on the ball, he joined Alan Shearer and Ruud van Nistelrooy as the only players to score three hat tricks in an EPL season. And, yes, Nani did finally make good on his indulgent attempts at goal. The Portuguese winger has had a good season, and all could be forgiven for his second-half antics since the Red Devils had all but put the game away in the first half.
In the middle of almost everything good that happened for United was Wayne Rooney.
Ah, Rooney. We should all give thanks to the Internet, because without it we'd be back to print as our primary medium. And you can imagine how many trees would have been slaughtered in the past few months as journalists tried to psychoanalyze Master Wayne's scoring drought.
But after watching United's virtuoso performance, you could be left with only one conclusion -- so what?
So what if Rooney isn't the same player who scored 26 league tallies last season? On Saturday, he had two assists and was the creative engine for much of the team's success. So what if Rooney isn't sending header after header into the net? On Saturday, he was the one who picked out Giggs for the game's third goal. So what if Rooney isn't living up to his reputation as a world-class striker? On Saturday, he brought down a long ball from Edwin van der Sar in the middle of the park with the kind of instant control that would have him fitting in at Camp Nou. Wazza then found Berbatov, who completed his hat trick.
Last season, Rooney was the leading man and Berba the supporting actor. This season, the roles are reversed. Obviously, Rooney would love to be basking in the spotlight -- and he may still get there -- but credit to him for finding many other ways to contribute to his team's increasingly fine form. But as far as his so-called dip in form? It doesn't matter. Not right now.
Manchester City could have used someone like Rooney on Saturday. The Blues came out flat in the first half. They were better in the second -- only a deflection and the woodwork kept a Nigel de Jong missile from finding the net. Still, for the most expensive team ever assembled, you have to expect more from the players. It's the blessing and curse that comes from an owner willing to shell out some 335 million pounds.
This was a game City could ill afford to lose. With two games in hand and having already won earlier in the day, United put the pressure on its crosstown rival. It showed. Roberto Mancini's men played as if the weight of the world was on their shoulders. Even the one goal they gave up smacked of sloppy play. After breaking up a Villa attack, Kolo Toure made a boneheaded pass to David Silva, who found himself under pressure. Stewart Downing regained possession, Ashley Young ripped a shot at Joe Hart and Darren Bent put away Hart's parry.
Done and dusted.
Did City show enough hunger? No. Did City demonstrate a lack of imagination? Yes. Mancini's men kept attacking through the middle, where congestion and go-nowhere cul-de-sacs awaited them. Even Wile E. Coyote changes his tactics after being foiled by Roadrunner. But City never found a way to take advantage of Dzeko's height in the box, though, in fairness, he looked lively and should be a great asset to the team going forward.
But right now, United -- a team of grizzled and gray veterans, "slumping" superstars and wingers who dream of hitting highlight-reel goals -- knows how to get the job done. That kind of experience is something you can't buy. Yes, it was just Birmingham. But it cuts both ways, as Aston Villa isn't exactly an intimidating opponent, Bent or not.
On this weekend, one team took a step closer to a record-breaking 19th EPL title, while another took a step back.