Three things we learned on transfer day
January, 31, 2011
01/31/11
7:54
PM ET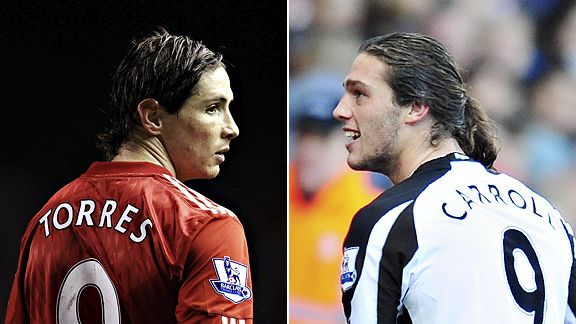 Getty ImagesTransfer day: Fernando Torres heads to Chelsea while Andy Carroll leaves Newcastle for Liverpool.
It was one of the craziest, most spend-happy transfer deadline days you'll ever see. What have we learned?
1. Roman Abramovich isn't ready to concede the title just yet
The Russian oligarch seemed to have lost interest in his team. Journalists pointed out that he was rarely showing up at home games. Others speculated that his mind might be on other matters -- the 2018 World Cup bid, for one. But with the Blues struggling in the league, 10 points behind league-leader Manchester United, Abramovich dug up some spare coin behind the couch cushions to purchase Fernando Torres for 50 million euros. We haven't seen that kind of spending at Stamford Bridge since the days of Jose Mourinho in 2007.
Chelsea's youth policy hasn't panned out, and injuries and a thin bench have doomed the Blues to some horrific results. But now, in comes Torres. You could debate whether Torres will be a good fit at Stamford Bridge, where manager Carlo Ancelotti tends to use one striker up top. Does that mean he'll bench Didier Drogba for Torres? More than likely, he'll use a 4-4-2 formation. Suffice to say, there could be some growing pains. But Torres is just 26, while Drogba is 32. The future at Chelsea appears to be clear.
Whether you think Torres is the right move for the Blues, you can't argue the fact that Abramovich wants to salvage his season -- Chelsea still has two games against Manchester United, and Torres can help his new team in the coveted Champions League -- and the Russian wasn't about to let a few measly pounds get in his way.
2. Credit crunch -- what credit crunch?
Chelsea spent 75 million pounds on Torres and Benfica defender David Luiz. It happened the same day the club announced it had lost nearly 71 million pounds in the year ending this past June. Just a few months ago, Liverpool was on the brink of bankruptcy. Now, new manager Kenny Dalglish is trying to spearhead a revival that has cost 35 million pounds for Andy Carroll and another 22.8 million pounds for the signing of Luis Suarez. This all comes after Aston Villa set a club transfer record for paying 24 million pounds for Darren Bent a few days ago. And earlier this month, Manchester City, which seems to be able to print pounds at will, spent 27 million for Edin Dzeko. Is the Prem's spending out of control? It's not a stretch to think that UEFA president Michel Platini, a proponent of the governing body's financial fair play rules, is in a dark room somewhere, gnashing his teeth and sticking pins in a voodoo doll or two.
3. Arsenal and United refuse to join the madness
Sir Alex Ferguson keeps insisting the Ronaldo money is there but that he hasn't seen any good value in the transfer market on which to spend it. The United manager kept to his word Monday by staying out of the fray, although there was a rumor the Red Devils were making a play for Blackpool's Charlie Adam. Apparently, Ferguson is going to continue to sit on that pile of C-Ron cash like Smaug in "The Hobbit," at least until he is forced to find a replacement for retiring keeper Edwin van der Sar in the summer.
And Gunners fans, well, they aren't surprised at the silence at Emirates Stadium on transfer deadline day. No one really expected Wenger to pony up for a central defender, such as Bolton's Gary Cahill, or dangle filthy lucre to land a capable keeper. Those are the big holes on the team, of course, but Arsenal's manager continues to use the transfer market as an opportunity to make money for the club rather than to necessarily improve the team that takes the field. Arsene Wenger believes in his bargain-basement yet highly talented kids. They are poised to make a charge for the title, as they stand just five points behind United. But let's face facts: Arsenal also is notorious for late-season swoons, which is something Wenger could have guarded against with a purchase or two. Well, there's always the summer transfer market. Ah, who are we kidding?