Meet the Harlem Globetrotters of football
February, 8, 2011
02/08/11
10:56
AM ET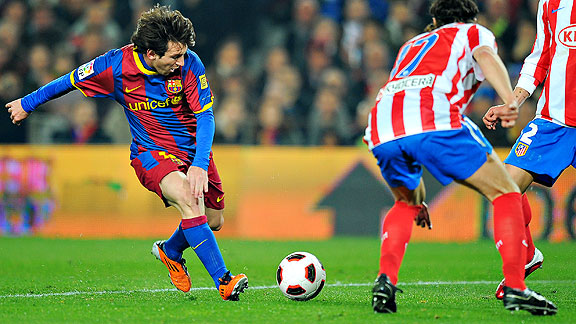 Lluis Gene/AFP/Getty ImagesLionel Messi and Barcelona have been making a mockery out of the competition in La Liga.
There was a moment in Barcelona's match against Atletico Madrid this past Saturday when Sergio Busquets was working his magic. As a defender had the temerity to try to regain possession -- a rarity in La Liga these days -- he dribbled the ball back and forth, then quickly pivoted and continued his one-man show. Busquets could have held on to the ball and entertained the home crowd for as long as he wanted, prompting commentator Ray Hudson to announce in his singsong voice, "Busquets looks like Meadowlark Lemon out there."
The description was spot-on, because Barcelona has become the Harlem Globetrotters of football -- a team that razzle-dazzles the opposition with telepathic passing, rapid-fire one-twos in the box and seeing-eye back-heel flick-ons. Matches aren't so much competitions as exhibitions to showcase the wizardry of Lionel Messi, Xavi, Andres Iniesta, David Villa, Dani Alves and -- perhaps the most surprising standout of the season -- Pedro. It's probably safe to assume that Cristiano Ronaldo, who supposedly didn't even know who Pedro was during El Clasico in November, has a better idea now that the 5-foot-6 forward has notched 12 goals and seven assists in the league.
In Barca's past 14 matches, it has preposterously outscored the competition 56 goals to 5. It's the kind of absurd stat you'd expect to see on EA Sports' "FIFA 11." Oh, who are we kidding? You don't even see that score line from the pasty-white, online video gamers' brigade (of which I'm a card-carrying member).
Barcelona also has kept a clean sheet in its past five matches. Not surprising, since it's hard to actually put the ball into the back of the net when you're busy chasing shadows.
After the Blaugrana destroyed Real Madrid in November, the praise and plaudits came pouring in. Best in Spain. Best in Europe. Best in the world. Some even ventured to say they were the best of all time, or at least on the short list for consideration.
On Saturday, Messi scored another hat trick as the Catalans strolled to a 3-0 victory over Atletico Madrid at Camp Nou to break Real Madrid's 50-year-old record of 15 straight league victories. Amazingly, Real has a better league record this season under Jose Mourinho than it did last season, yet the team is further behind its bitter rival.
But here's the question: How do we judge this Barcelona side when it's making a mockery of the competition? Look back at some of these games. You're left with the impression that the league's opposition is rolling over like a lapdog the moment Barca scores its first goal.
Where are the hard tackles? Where's the closing down? Where's the hustle off the ball? It comes and goes with many teams; it's sometimes not there with others. How many times is Messi going to be allowed to charge the box unfettered? Granted, Atletico made a game of it on Saturday, but even then there were large pockets of time when they weren't sacrificing enough to get the ball. Barca spent so much time in the opposition's half that there was a distinct possibility that the image was going to be burned into your television set.
But this isn't a paean to Pep's boys; it's a call to action for someone to give them a real game. Which is why the Champions League knockout stage can't start soon enough. If La Liga's teams are going to be reduced to bystanders in awe of the talent before them, maybe the elite in Europe can test Barca's mettle. Right? Hello, anyone out there?
On Feb. 16, Barcelona will face Arsenal at the Emirates with the return leg at Camp Nou. Last season, Messi & Co. made light work of the Gunners, beating them 6-3 on aggregate. Will it be déjà vu? Things are already looking grim for Arsenal, which will be without Samir Nasri (hamstring injury). We also know that Arsene Wenger's men love to attack -- it's in their DNA. But that's also the equivalent of signing your own death warrant against Barcelona.
It took Mourinho's Inter, in a throwback to the extraordinary Italian defensive displays of yore, to stymie Barca's short-passing attack in the semifinals last time around. Yet there are those -- including Hudson -- who cling to the belief that Inter won only because an ash cloud forced the Spanish side into a 10-hour bus ride to Milan.
An assist for a volcano? Bit far-fetched, really.
But let's see whether the Harlem Globetrotters of football can razzle-dazzle their way to another European crown. If they do that, then -- and only then -- will we have to get down on our knees and proclaim, "We're not worthy."