Reason and madness in English soccer
March, 3, 2011
03/03/11
9:21
AM ET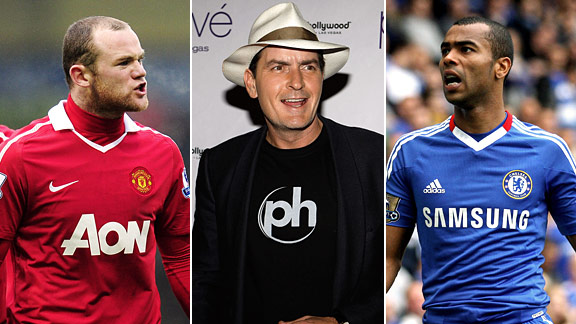 Getty ImagesCharlie Sheen would absolutely love the world of English soccer.
Imagine if Charlie Sheen lived under the auspices of the English FA. In such a world, the authorities wouldn't take his children away but, rather, would pat him on the back for his forward-thinking family model. Two goddesses and a boy -- brilliant, Charlie! And he wouldn't get kicked off his sitcom. Instead, the producers might just sack all the other actors and turn the camera on Chuck, 24-7. Reality TV is more unpredictable and dramatic, anyway. There would be no passing of judgment, no slaps on the wrist and certainly no need for Charlie to do the talk-show rounds to explain himself.
It's all good, Charlie, and we'll look the other way.
That's exactly what's going on in English soccer. It's a world where Cashley Cole can bring a .22-caliber air rifle to training, shoot someone and avoid suspension. It's a world where Wayne Rooney can pull a MMA move on an unsuspecting Wigan player and just receive a delicate talking-to by the referee.
Yesterday, that same referee, Mark Clattenburg, decided to pull out the yellow card to book Mario Balotelli after he hit Aston Villa's Chris Herd with an elbow in Manchester City's 3-0 FA Cup win. The infraction was clear, but even Villa manager Gerard Houllier said after the match that, "It looked harsh at the time but I have seen it again and I don't think he did it on purpose."
Now, just because you don't intend to do harm doesn't mean that you shouldn't be punished for an offense. But where's the consistency in refereeing? Where's the common sense? It's lacking from the ground up in English football. If Clattenburg deems Balotelli to be in the wrong -- and he clearly was, and probably deserved the yellow card -- then Rooney should have been given a straight red and three-match ban this past Saturday. He shouldn't have even been on the pitch during the Chelsea-United clash, when people were up in arms that David Luiz didn't get a second yellow.
And please, spare the technocratic talk about how Clattenburg saw what Rooney did so therefore the FA isn't allowed to take action. Yeah, that's in the rulebook, but isn't there some clause in there that also prohibits players from taking violent action with only one intent -- taking off a fellow player's head?
Again, no common sense.
And the fact the FA has all but turned a blind eye to Cole's shooting incident -- one in which the victim was said to be bleeding profusely -- is shambolic. Especially when you consider this is the same FA that fined Ryan Babel 10,000 pounds for the treacherous act of … tweeting a funny picture of referee Howard Webb in a Man United shirt after Liverpool lost to the Red Devils on a penalty in the FA Cup. Babel has since left for exile to 1899 Hoffenheim and no doubt will live in infamy in the halls of English soccer.
And today we're greeted with headlines that referees are demanding an apology from Alex Ferguson for his outbursts over the referring in the Chelsea-United clash. Whether you agree or not with the calls -- and I actually think, Luiz aside, the calls were correct (no handball, and it was a penalty) -- heaven forbid someone criticize refs. Shouldn't they, and the FA, be held accountable, too?
Apparently not. They're certainly not in the business of punishing their star players -- the ones that take the field for the England national team. But today the FA charged Ferguson for his remarks after the Chelsea game. In the FA's view, voicing opinion is clearly more of an offense than committing acts of violence. Calling this "hypocrisy" doesn't even do the situation justice.
So, in summation, let's get this straight: It's perfectly acceptable to bring a loaded weapon to work, fire it off (even if by accident) and not get suspended from your day job. No problem, either, if you decide to sucker hit an opponent and get away with it so long as your name isn't Joey Barton. But if you accidently elbow an opponent when you challenge for the ball, it's a yellow card. And tweeting a funny picture is a punishable offense.
Makes about as much sense as Charlie himself.