Dani Alves is the game's best right back
March, 23, 2011
03/23/11
8:52
AM ET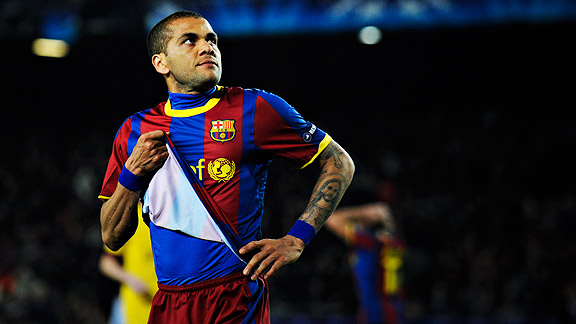 David Ramos/Getty ImagesHe doesn't get the recognition he deserves, but Barcelona's Dani Alves is among the world's elite.
Oh, Dani boy, we knew you never wanted to really leave Barcelona. You just wanted to get some well-deserved respect. And on Tuesday, just three days after hitting arguably the most amazing goal of the season, you inked a new contract with your club that you're calling a "dream" deal. It'll keep you tied to the Blaugranas through June 2015, when you'll be 32.
It's a smart move for player and club. On a team with world-beaters to spare, Dani Alves is an exceptional, attack-minded right back. Best in the world at his position? I'd say so. He'd also make my top 10 list of current best players, period.
Since arriving at Barcelona in 2008, Alves has never been given the full recognition he deserves. That is understandable to a point, since it's hard to stand out on a team with the likes of Xavi, Andres Iniesta and Lionel Messi.
Before Alves came to town, Barcelona finished La Liga at No. 2 in 2006-07 and No. 3 in 2007-08. In the summer of 2008, Pep Guardiola took over the first team, and one of his first bits of business was to sign Alves from Sevilla. Since then, the club has won the league two consecutive seasons and is on the precipice of a third straight title, unless something goes dramatically wrong between now and the end of May. Although Alves isn't the sole reason for Barcelona's recent dominance, he's a key cog that has allowed the Blaugranas to lay waste to opponents in La Liga and in Europe.
This season alone, Alves is second in Spain with 13 league assists, behind only Messi's 16. Think about that for a moment -- a right back has helped his team score more than Real Madrid's playmaker Mesut Ozil and wingers Angel di Maria and Cristiano Ronaldo. Or compare it to someone like Bayern Munich's Philipp Lahm, who's incredibly talented in the back, but going forward has just two league assists this season. Of course, Alves' success is a testament to Barcelona's style of play, which turns defensive backs into marauders down the flanks. But Alves deserves massive props for his contributions, especially considering the bulk of his assists are helping to pad the résumé of the world's greatest player, Messi.
Call him a right back, or a wing back, Alves has long proven his quality. Indeed, his service with a smile to Messi cannot be underestimated. If opponents could find a way to shut down Alves, they might better contain the little flea. But it hasn't happened, because Alves is that good.
In many ways, the Brazilian has proved himself to be the second-best player on an all-star team. The knock on him, as we all know, is his defense isn't up to snuff. But as Gol TV's Ray Hudson said this past weekend, "It's good enough. More than good enough." Indeed, snuffing out attacks and anticipating the target of opposition passes has been an underrated element of Alves' game. Fair enough: He's never going to be confused with an out-and-out pure defender, the type of player who could anchor a back four a la Maicon. And there's no question that Alves can get caught out from time to time when he's being too adventurous.
But Barcelona has proved that it doesn't need defenders who defend -- at least not four of them superglued to the back line.
[+] Enlarge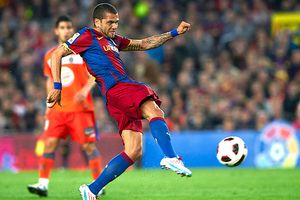 Manuel Queimadelos Alonso/Getty ImagesDani Alves unleashed a wonder goal against Getafe on Satuday.
If a team did rein in Alves, you wouldn't see jaw-dropping shots such as the goal he scored this past weekend against Getafe. Sitting about 22 yards from goal, the Brazilian cracked a thunderous volley with his right foot, carving through the ball from left to right so it curled into the upper right corner of the net with the force of a heat-seeking missile. Only Wayne Rooney's bicycle kick surpasses Alves' strike for technique and the wow factor this season.
All that said, Alves might have found himself a bit out of water if he had been more receptive to the come-hither looks from suitor Manchester City. Had Alves decided to join Roberto Mancini's crew, given how much emphasis the Italian manager places on playing the most boring football ever -- sorry, I mean emphasizes the intrinsic beauty of technically sound defense -- Alves could have been in for a rude awakening. He would have been like a greyhound tied to a stake and told to wait for the enemy to approach. Staying put is not in Dani's DNA.
He won't have to worry about that now, as news of Tuesday's deal brought an end to a protracted almost-season-long contract negotiation between player and club. For a while there, it looked as if Alves was on his way out, with reports (taken with a TMZ-sized grain of salt) Guardiola opened the door for the player's exit when he said he wanted Alves to be happy at Barcelona -- or someplace else. All part of the dance of business negotiations, no doubt.
Barca made the right decision on the right back, though that probably won't change that Alves will still play second fiddle to more players than he should. It even happens to him on the national team, on which he toils in the shadow of Inter's Maicon, the go-to right back for the Brazilian squad -- and the likely starter in the friendly against Scotland on Sunday (watch on ESPN3 at 9 a.m. ET).
Sort of like Novak Djokovic and Rafael Nadal plying their trade in the "Age of Federer," Alves has had the misfortune of coming of age at a time in which another great player, Maicon, is around. But it would be nice to see him get the starting nod for his country more often.
As Barcelona marches on to its third consecutive league title, and perhaps another Champions League crown, let's recognize old Dani boy for being one of the best players in the world, at least after that guy named Messi.