Fernando Torres still misfiring
April, 6, 2011
04/06/11
3:39
PM ET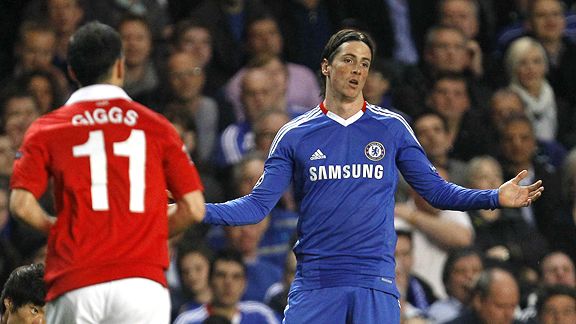 AP Photo/Alastair GrantIt was a night to forget for Fernando Torres as Chelsea lost to Manchester United 1-0 in the Champions League quarterfinals, first leg.
During the Champions League quarterfinal first-leg tie between United and Chelsea at Stamford Bridge, the camera panned over to owner Roman Abramovich after Fernando Torres whiffed on a sitter just a few yards in front of the goal. It was right before the end of the first half, and clearly the best chance the Blues had to score up to that point. The anguish on Torres' face was met with a look of disbelief from the Russian oligarch.
Abramovich's 50 million pound record transfer signing had misfired again. In fact, it was overall a disheartening game for Torres as the Blues fell to United 1-0. In the 32nd minute, Jose Bosingwa swung in a pass across the face of goal. Didier Drogba just missed it at the near post, and Torres was caught daydreaming at the far post. The ball rolled past him without so much as a threatening move from El Nino.
Then, in the 35th minute, Torres broke into the penalty box. When Nemanja Vidic went in for the block, Torres put on his flippers for a dive that would make the likes of Arjen Robben smile. Even worse, after Chelsea was robbed in stoppage time when a penalty wasn't given after Patrice Evra fouled Ramires in the box, Torres dove yet again in an attempt to win a penalty kick. This time he was carded for his offense.
There were some bright spots for Torres, such as in the 75th minute, when he hit a header across goal that forced keeper Edwin van der Sar into a stretching save. But in the end, Torres still hasn't scored his first goal for Chelsea. His runs have gotten better, his reading of his teammates' passing sharper. But patience must be wearing thin for Blues supporters.
What's perhaps more worrying is that Torres and Drogba continue to struggle to find any sort of rhythm up top. While United's two players up front, Wayne Rooney and Javier Hernandez, are on the same wavelength -- when one moves into the box, the other drops back or to the side to help provide service, an effective tandem -- Drogba and Torres too often are working at cross-purposes, like a couple of solo artists. It doesn't help that Torres must be suffering a crisis in confidence, but this odd couple isn't clicking. It's clunking.
To be fair, Chelsea created more chances in the match, especially in the second half, and should have been given the aforementioned penalty.
That said, it was quite a shock that Carlo Ancelotti decided to take Drogba off instead of Torres in the 70th minute. The Ivorian was creating more chances and threatening United with his trademark physical play in and around the box. Torres, up to that point, was having little impact on the game.
Yet the hook came out for Drogba. Then again, he didn't cost 50 million pounds. With that price tag dangling around Torres' neck like an albatross, Chelsea's brain trust is going to have to find a way to get him scoring again. Abramovich didn't bring him to London for any other reason than to become a focal point of the offense.
You get the sense that when that first goal finally does come, Torres will start scoring in bunches again and become the intimidating figure he used to be. But with a return leg at United next week in the only competition Chelsea has a realistic shot of winning, the Blues can't wait much longer.