Real beats Barca in an instant Clasico
April, 20, 2011
04/20/11
2:15
PM ET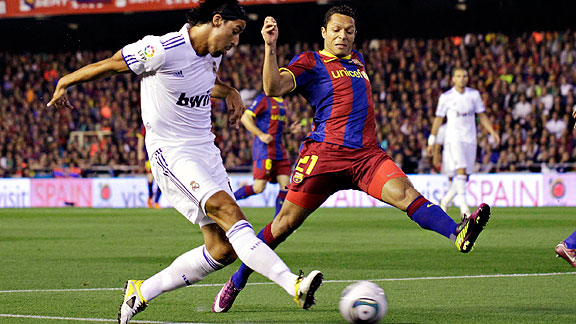 AP Photo/Alberto SaizThe Copa del Rey final was a Clasico in name and spirit, as Real Madrid defeated Barcelona 1-0 in extra time.
This was more like it, a match that lived up to the Clasico name. The Copa del Rey final between Barcelona and Real Madrid was a red-hot affair on the verge of boiling over into fisticuffs on more than one occasion. Referee Alberto Undiano Mallenco did all he could do to keep a lid on the pyrotechnics, 90 minutes worth of crunching tackles, strung-out emotions and brilliant attacking.
After the Clasico this past Saturday, everyone, it seems, was criticizing Jose Mourinho for his ultra-defensive tactics. People bemoaned the manager's cynicism and ripped the players for being hell-bent on breaking up plays instead of creating them. Even Alfredo Di Stefano, Real's godfather, piled on by labeling the team's performance "like a mouse against a lion."
Well, at the Mestalla in Valencia on Wednesday, Real Madrid was the mouse that roared.
It took 120 minutes of exhausting, soul-sapping soccer, but in the end -- after Angel Di Maria's sublime cross found Cristiano Ronaldo, who thundered home the historic header in the 103rd minute to give Real the 1-0 win -- Mourinho had his revenge. Real Madrid won its first Copa del Rey in 17 years.
Here's how it all unfolded.
Act I: The First Half
Mourinho's men attacked like a pack of jackals. They did everything right -- getting behind the back line of defense and preventing Barcelona from maintaining possession and controlling the tempo. Alvaro Arbeloa had a massive game snuffing out passes before they grew into anything that remotely threatened keeper Iker Casillas. Pepe and Xabi Alonso ganged up on Lionel Messi when he got the ball. And Mesut Ozil proved yet again why he creates more chances than anyone else in La Liga, feeding the likes of Ronaldo and Sami Khedira, who -- freed from having only defensive duties on Saturday-- had a resurgent game.
Barcelona was all out of sorts. With just one shot on goal all half, the Blaugranas were being bullied and hurried. Sergio Busquets kept missing his mark. At times, the tiki-taka was abandoned for the Route 1 approach, no doubt causing that other critic-at-large, Johan Cruyff, to cringe.
When the half ended, Barcelona was counting its blessings that it wasn't trailing 1-0, after Pepe got on the end of an Ozil cross in the 44th minute to rattle the upright. It's probably still vibrating in the Mestalla.
Real couldn't have done much more. And in the end, it still wasn't enough.
Act II: The Second Half
As much as Real dominated the first half, Barcelona stormed back in the second. This was the Blaugranas as we're used to seeing them, dominating possession, stretching the game and passing their way into the danger area. It took a brilliant play by Ricardo Carvalho to intercept a pass that would have found its way to the feet of David Villa in a one-on-one situation with Casillas. In the 69th minute, Pedro blasted a shot into the back of the net, only to be rightfully ruled off side by a hair.
As the match wore on, the gamesmanship increased. Regulation time ended with heroics by both keepers. As Real was placed firmly on the rack, Casillas made superb saves off shots from Pedro and Iniesta. In the 88th, Jose Manuel Pinto just got his hand on a torpedo from Di Maria.
Act III: Extra time
They say that when athletes are stretched to the limit physically and mentally, it's not about the game as much as it's about nerves. And it was Barca that blinked first in extra time.
With weary legs and minds, players on both sides of the ball struggled to create chances as the play got mired in the midfield a bit. Mourinho's substitution of Emmanuel Adebayor for Ozil seemed a bit dubious at first, since Ozil was so central to Real's attack in the first half, but Adebayor certainly kept Real Madrid on the front foot in many situations, particularly in linking up with Ronaldo.
Ah, Ronaldo. He finally got his moment in the spotlight, the kind of day he's no doubt been dreaming of since he was a wee one.
In the 98th minute, Alonso slipped through his best pass of the game, finding Ronaldo in full stride. He barely missed when he shot the ball across the face of the goal. But just five minutes later, Di Maria found Ronaldo on the far post. It will be a header that will go down in Real Madrid lore. This is why the club bought CR7 -- to put the dagger in the hearts of Barcelona fans worldwide.
This was a Clasico in name and spirit. How can these two great teams top a performance like this when they meet again in the Champions League semifinals next week? Hard to imagine.
But we'll always have Wednesday night at the Mestalla. With lungs burning and minds racing, the players performed every duty possible, from chippy tackles and taking cards for the team to finding a way to defeat undefeatable Barcelona. On Wednesday night, sport stood in for war.