Final act of "hell" Clasico looms
May, 2, 2011
05/02/11
5:04
PM ET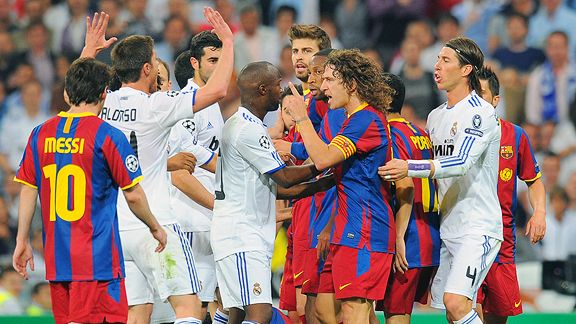 LluisGene/AFP/Getty ImagesAfter three matches marred by gamesmanship and a war of words between Jose Mourinho and Pep Guardiola, Real and Barca face off in the final El Clasico of the season.
Before this series of four Clasicos kicked off, we were all asking ourselves if it was too much of a good thing. Would the rivalry lose some of its luster? Would familiarity breed even more contempt? Were we going to see over-the-top gamesmanship?
As we head into the final act of Hell Clasico, we now know the answer to all of the above. Real Madrid and Barcelona have delivered more drama than a soap opera to the point that both teams have done the sport a disservice. No matter which side you support, no matter who you think is more at fault -- and there's plenty of blame on both sides -- these teams have sunk to new lows after last week's Champions League semifinal at the Bernabeu.
In the aftermath of that ugly encounter, both clubs started hurling accusations of cheating at each other, a campaign of agit-prop waged in media releases and via YouTube. Real has accused Barca's Sergio Busquets of racism, perhaps the most serious charge of all, toward Marcelo. In the case of Busquets, Barcelona -- which has started so many campaigns against racism -- doesn't seem to be paying much attention to Busquet's alleged comment.
Jose Mourinho, meanwhile, continues to find all manner of conspiracy theories designed to undermine Los Blancos (even though he has seemingly forgotten that his team, Inter, beat Barca last year.)
UEFA has rejected the brunt of Real's and Barcelona's complaints. Pepe's red card has been upheld, and it has ignored Real's request to ban six of Pep Guardiola's players for "premeditated anti-sporting behavior" -- also known as pretending you've been shot when you've barely made any contact with your opponent. Or in the case of Dani Alves, no contact at all.
But Hell Clasico's bad blood runs much deeper than a bunch of players rolling around like fish out of water.
In looking back at the past match, when both teams were at each other's throat after yet another tiring did-he-get-hurt-or-didn't-he incident, the camera closed in on Mourinho. While the players were close to fisticuffs, the atmosphere tinged with the ominous threat that things were about to get seriously out of control, the Special One slyly grinned as he surveyed the chaos. This is what he wanted -- to provoke his opponents into losing their cool and embrace the dark side. It was like watching Darth Vader trying to turn, and ultimately destroy, Luke Skywalker by baiting him, egging him on.
But Real's provocation was met with Barcelona's play-acting. It was mutually assured destruction.
So what now? Real Madrid heads to Camp Nou down two goals. Mourinho's anti-football tactics won't work this time. Los Blancos need to score -- and preferably in the first 30 minutes -- to assert some pressure on Barca. If that happens, the match will be more on a knife's edge, and Real will have a chance. Not a big one, as no team has ever advanced in the Champions League after losing the first leg by multiple goals at home. But on the other hand, the last time Real won by two goals in the away leg of a Champions League knockout tie was against Barcelona in 2002.
Will Real come out swinging? Will Mourinho abandon his typically conservative approach and throw caution to the wind? It goes against his coaching style, of course, but it doesn't appear that he has any choice. With Pepe and Sergio Ramos out of this game, Mourinho might decide to drop Sami Khedira, if he's fit, (or Lassana Diarra in his place) and Xabi Alonso deeper to protect that back four and add an extra attacking threat. Options there would include Karim Benzema and Gonzalo Higuain. And expect Angel Di Maria to continue to attack down the flanks, flinging in crosses, linking up with Cristiano Ronaldo and exploiting right back Alves' tendency to venture too far up the field. The Brazilian has extraordinary "make-up" speed, as they say, but against the speedy Di Maria, it's often not enough. Di Maria got the better of Alves on more than one occasion in the Copa del Rey final, and he'll be hoping for a similar outcome on Tuesday.
Real will also benefit from the return of Ricardo Carvalho, a wily, physically tough center back who, like Barca's Carles Puyol, brings leadership and a sense of purpose to the back line.
As for Barca, well, all it has to do is play its possession brand of football and run down the clock, and it can book its place in the final at Wembley.
You can also bet that more eyes than ever will be scrutinizing each and every foul, as everyone is now so acutely aware of the gamesmanship between both teams. Will that change how either side approaches the match? And how will the officials respond after so much bad publicity?
The ref for Tuesday's match is Frank De Bleeckere, who was one of five officials named by Mourinho as being biased against Madrid. Bleeckere, you might recall, sent off Thiago Motta for pushing Busquets (there's that name again) in the face when Mourinho's Inter met Barca at Camp Nou in last year's Champions League semifinal. Soon after hitting the ground, it must also be reminded, Busquets was seen on TV playing a pretty bad game of peek-a-boo, glancing through his fingers to see if he'd conned the ref into a card. No doubt the Special One will see this as further proof that his side is fighting a losing cause.
So now we must simply hope that Bleeckere can bring the players to the center of the pitch before the match starts and tell them these simple words: All right, boys, let's have a good, clean fight.
And let's hope they listen.