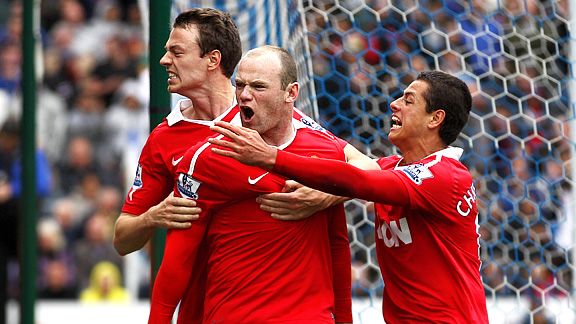 Dean Mouhtaropoulos/Getty ImagesIt wasn't easy, but Manchester United got a 1-1 draw against Blackburn, a result that gave the Red Devils the point they needed to win a record 19th league title.
Love him or loathe him, you have to respect him. When Manchester United's 2010-11 campaign comes to a close next weekend against Blackpool, Sir Alex Ferguson will have made 850 team selections for the Premier League since the start of the 1992-93 season. Take your pick: Peter Schmeichel or Edwin van der Sar, Eric Cantona or Wayne Rooney, Bryan Robson or Nemanja Vidic, Ferguson has constantly reinvented his side, changing the pieces but never the goal.
Except it was more than a goal. It was an all-consuming desire to "knock Liverpool off their bloody perch," as Ferguson famously said. When the Scot arrived in Manchester in 1986, United had won the First Division title seven times; Liverpool had been the top team on 16 occasions. Now, with United's title-clinching, 1-1 draw against Blackburn at Ewood Park on Saturday, Ferguson can claim mission accomplished.
Manchester United has won a record 19th title, while Liverpool remains stuck at 18, its most recent top-division crown coming in 1990.
Since taking control of United, Ferguson has won a total of 12 championships starting with the inaugural year of the Premier League in 1992-93. One man's determination has helped overturn a rich Reds history dominated by legends such as Bill Shankly, Bob Paisley, Joe Fagan and Kenny Dalglish.
In commemoration of United's achievement, we take a look back at 19 (mostly good) memories, comebacks and standout players of the 2010-11 season.
1. Ryan Giggs -- "Tearing You Apart Since 1991"
Gareth Bale
won PFA Player of the Year, and while his performances bombing down the left-hand side of the pitch during the first half of the season were inspiring, Bale -- along with most of his Spurs teammates -- lost steam in the second half. He beat out
Charlie Adam
,
Samir Nasri
,
Scott Parker
,
Carlos Tevez
, Rafael van der Vaart and Vidic. All worthy picks, but Giggs, 37, should have at least been on the list, if not at the top of it. To do what he's done at his age is remarkable. The way he nutmegged
Michael Essien
, almost 10 years his junior, in United's win over Chelsea last week said it all. So did Giggs' two brilliant assists in the Champions League quarterfinal at Old Trafford to knock the Blues out of the competition, and countless other moments of magic from the Welshman. There are flashier players out there, but Giggs does something even more special -- he makes the players around him better. Saturday's title is also the 12th of Giggs' career, as he has been a part of all the squads that have finished No. 1 during Ferguson's reign. "It's a great achievement by the team and the manager to haul back our biggest rivals over the 1970s, 80s and 90s," Giggs recently told reporters.
2. Memorable comeback
With the score knotted at 2-2 between United and Liverpool in September, Dimitar Berbatov completed a hat trick in the 84th minute to give the Red Devils the win.
3. Berbatov's strange season
In 2010-11, it was the silky-smooth Bulgarian who led the EPL in goals with 21 (as of May 13). Reason to celebrate? Yes. Well, sort of. Many of his goals came in bunches -- three against Liverpool, five against Blackburn and three against Birmingham, for example -- and he also lost his starting role to Javier Hernandez, especially in the big games. But he played his part in the campaign, especially when Rooney was AWOL, scoring some late goals and providing link-up play in the final third. Unlike in past seasons, his insouciant shot-making was also often ruthlessly effective, certainly to the point that Berba's critics were all but silenced.
4. The Little Pea's big impact
Pele may be getting ahead of himself when he said that Chicharito can be the next Lionel Messi, but there's no denying that the young Mexican has taken the Premier League by the scruff of the neck, with 13 goals in 27 EPL clashes. It's what the kid does off the ball -- his incisive runs, his ability to get between defenders and his ability to see how a play is going to develop -- that allows him to make most of his goals look almost too easy. It's because Chicharito has already done most of the hard work. Calling him a poacher is accurate (a classic example was when he was lurking on the far post to net the 1-0 winner late in the game against Everton in April). Then again, calling him a poacher doesn't do his game justice, as his neck-twisting, physics-defying header facing away from goal against Stoke demonstrated.
[+] Enlarge

John Peters/Getty ImagesJavier Hernandez headed home the late winner in United's 1-0 win over Everton.
5. Memorable comeback No. 2
In October at the Britannia Stadium, Stoke City's Tuncay Sanli appeared to sucker-punch United by scoring the 1-1 equalizer in the 81st minute. Cue Chicharito, who saved United in the 86th minute after scoring a brilliant header earlier in the match.
6. A little, er, luck never hurts
Well, critics of United might use a different word than "luck," but the Red Devils benefited from some key calls. Gary Neville was incredibly fortunate not to be sent off at the end of the first half away at Stoke with a second yellow for a rash challenge on Matthew Etherington. And Wayne Rooney got away with a malicious foul, smashing his elbow into the back of Wigan's James McCarthy when the score was still 0-0. He should have seen red, but instead United went on to win the game 4-0. Of course, as Ferguson would remind you, United had its share of poor calls, too. Do they all even out over the course of a season?
7. Here's to you, Nani
The Portuguese often harbors delusions of grandeur that he's Cristiano Ronaldo incarnate, at once aggravating and entertaining. But Nani does make sure he has an impact on the game. Coming into the match against Blackburn, he led United in the league with shots, 118; shots on target, 56; shots off target, 62; and assists, 18, which was also tops in the EPL. Nani also won the memorial Ronaldo Diving Award, evidenced by the 57 free kicks won.
8. Winging it, Valencia-style
No nonsense -- that's the best way to describe this winger. Antonio Valencia, who arrived from Wigan with little fanfare in 2009, has turned the right side of midfield into his own personal racetrack, blowing by defenders and never hesitating to fling a cross into the danger area. After suffering a broken ankle in the Champions League in September, he's come back stronger than before. And he was worried about that first test of his ankle -- and resolve -- when he returned against Arsenal. "The first challenge was a big concern, you do worry about that first one," he told reporters. "You think I will take care and tread carefully for the first few games, but as soon as you are there on the pitch in the heat of the battle you tend to get stuck in." In short, he's the yin to Nani's yang.
[+] Enlarge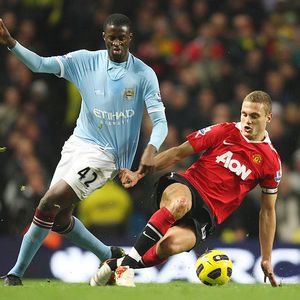 Matthew Peters/Man Utd/Getty ImagesNemanja Vidic was a rock for United at the back this season.
9. Don't mess with Vidic
The back line had some shaky moments this season, particularly on the road and late in games. But if there's been one constant, the keystone holding up the bridge, it's Vidic. He's helped anchor a defense that has often been without Rio Ferdinand -- Vidic had made 33 league appearances to Ferdinand's 18 as of May 13 -- and schooled the younger players, principally Chris Smalling. Coming into the Blackburn game, Vidic led the team with 52 defensive clearances and 26 defensive blocks. Imagine how United would have fared without him this season. The picture isn't pretty -- just consider how Arsenal coped without its best center back, Thomas Vermaelen.
10. Memorable comeback No. 3
It might have just been a draw, but it was a stunning reversal of fortune nonetheless in November at Villa Park. After Ashley Young (penalty, 72nd minute) and Marc Albrighton (76th minute) put the Villans up 2-0, the Red Devils came back with goals from Federico Macheda (81st minute) and Vidic (85th minute).
11. The Dutch master
United fans have come to take for granted that van der Sar will save the day. His accomplishments won't be fully appreciated until he retires after the Champions League final. That's when United fans will hold their collective breath and hope there's not another post-Schmeichel barren patch. Whoever comes to Old Trafford -- Schalke's Manuel Neuer, if he doesn't end up going to Bayern Munich, and Atletico Madrid's rangy and talented David de Gea are the leading candidates -- he will have big boots to fill.
12. Good? Well, good enough
Sure, there's no Cantona, no Beckham, no Ronaldo. But coming into Saturday's game, the Red Devils led the league in goals scored, 73, and were tied for second with Arsenal for clean sheets, 15, behind Man City's 16.
13. There's no place like home
One team's Theatre of Dreams is another's Theatre of Nightmares. So it was for the Red Devils this season. United didn't travel well, but at home, Old Trafford was its fortress, where it dropped just two league points (an October draw with West Brom) all season. The Red Devils have one final home game, against Blackpool, next weekend, which should add another three points to the haul, even if Fergie plays his reserves.
14. Memorable comeback No. 4
In January at Bloomfield Road, Blackpool jumped out to a 2-0 first-half lead. But the Tangerine dream was shattered by second-half fireworks courtesy of two goals from Berbatov and one from Chicharito.
15. Park & Rec
If there's one player Ferguson loves to use in big matches, it's Park Ji-Sung. Perhaps the most underrated player on the squad, he is brought on more for his indefatigable endeavor than his prowess in front of goal, as his presence on European nights will attest. But it was in a run-of-the-mill league match against Wolves in November that the South Korean rescued United from dropping two points. And he waited until virtually the last possible second, scoring the latest goal of any United player this season (as of May 13) when he slipped home the 2-1 winner at the 92:24 mark.
16. Memorable comeback No. 5
Against Bolton in March, United found itself down to 10 men after Jonny Evans was sent off for a reckless challenge on Stuart Holden. But in the 88th, Bolton keeper Jussi Jaaskelainen couldn't hold on to a long-range effort from Nani, and Berbatov pounced.
[+] Enlarge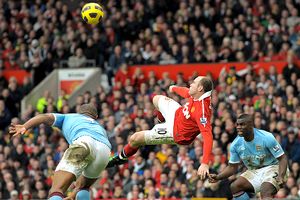 Andrew Yates/Getty ImagesRooney's bicycle kick against City was the beginning of his resurgence and redemption.
17. Goal of the year
He was branded a traitor for requesting a transfer from Old Trafford. One fan in the small town of Kent went so far as to build a 50-foot Rooney-as-Shrek effigy for a bonfire. That was Dreamworks-style protesting compared to the nasty mob that congregated outside his home, brandishing signs with messages such as "Join City & Die." But all was forgiven with one sublime bicycle kick to help United defeat Manchester City in February. About 12 yards out, level with the left-hand post and with his back to goal, Rooney reacted to a deflected delivery from Nani with a technically sublime overhead kick into the top right-hand corner of the net. City keeper Joe Hart could only watch as the ball whizzed by him. Truth be told, the kick seen 'round the world was the catalyst, that confidence-inducing moment that allowed Rooney to really go on and earn his redemption in the weeks that followed. Finding his form after months of subpar performances, he's reinvented himself as a playmaker who works his magic in the hole, striking up a symbiotic relationship with Chicharito and aiding and abetting both attack and defense. His stats -- 10 goals, 11 assists going into the match against Blackburn -- aren't as gaudy as numbers he's put up in previous seasons, but they reflect a more mature and versatile player. That transfer request? Not forgotten, but forgiven.
18. Memorable comeback No. 6
It was a bit of déjà vu for United at Upton Park in March, when the Hammers (like Blackpool in January) raced out to a 2-0 lead. But this was one of the rare occasions when Rooney saved the day on his own foot, scoring a hat trick to propel United to a 4-2 victory. By this point, United fans had come to expect this sort of bit-between-the-teeth performance.
19. Fergie's masterpiece
It's become popular conviction that this season is Ferguson's best piece of work yet, a title-worthy team without any world-beaters on it. Fair statement. United circa 2010-11 won't be confused with the treble-winning side of 1999, or even the Ronaldo-era double of 2007-08. At times, United's midfield looked lost -- as was sometimes the case with Anderson and square-pass Michael Carrick pairing up in the center -- or old and reckless, with the sight of an off-the-pace Paul Scholes charging in with another poor challenge. At their most pedestrian, the Red Devils didn't seem to be much different than, say, Bolton. Yet SAF has coaxed out the best here and there from Carrick (see his two-leg performance against Chelsea in the Champions League and a handful of Prem matches), Nani, Fabio, Smalling and Chicharito.
Even more impressive was Ferguson's handling of the Rooney transfer-request drama. It was a combustible situation that wouldn't have taken much to explode, and most managers would have unwittingly lit the fuse. Not Ferguson. Instead of letting his star player force a move, Ferguson reminded Rooney who was boss -- a lesson learned long ago by Cantona, Roy Keane and David Beckham. Except Rooney wasn't told to leave; he was given a new five-year contract. And he's repaid the team's faith in him with a second-half revival that fueled United's title run.
Yes, you could make the case that this season's Premier League was mediocre, with a general dip in the quality of football. Even if United gets all three points against Blackpool next week to end the season, it'll finish the campaign with its lowest point total since the 2005-06 season, when Ferguson's men finished second with 83 points.
Of course, 83 isn't a magic number. Nineteen is.