EPL set for historic relegation dogfight
May, 19, 2011
05/19/11
12:07
PM ET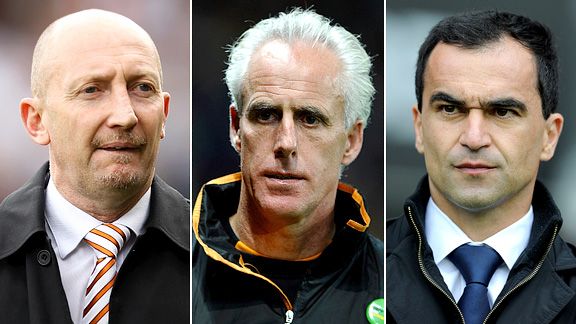 Getty ImagesJust one point separates five teams facing relegation on Sunday. Blackpool's Ian Holloway, Wolves' Mick McCarthy and Wigan's Roberto Martinez are among the unfortunate five.
With West Ham's future settled -- a long and grueling season traveling to places like Millwall instead of Old Trafford -- the final day of the Premier League campaign Sunday will see five teams fighting to avoid the two open relegation spots. The unlucky ones: Blackpool, Wigan, Birmingham City, Wolves and Blackburn. It's the first time since 1995-96 that five teams have gone into the final day not knowing whether Premier League or Championship football awaits them next season.
Just one point separates these five teams, with Blackburn and Wolves on 40 points and Wigan, Blackpool and Birmingham City on 39. It's the first time, in fact, that one measly point has separated five teams fighting relegation on the final day of a Premier League season. Do the math: There are 81 different outcome scenarios, and that's before you start factoring in goal differential.
And Sir Alex thinks he knows what "squeaky bum time" is all about, enjoying the rarefied air atop the table.
It's full-on panic mode down below, a nervy moment that reminds me of the "Tom and Jerry" episode "Heavenly Puss." In it, Tom is flattened to death by a grand piano and rides an escalator to the pearly gates. There, a bureaucrat informs Tom that with a "record like that, I can't let you through" to the gleaming Heavenly Express. Tom's only salvation: He's given one hour to turn his life around. Otherwise, the gatekeeper says, "it's this," pointing to a TV (closed-circuit, one would presume) on which a maniacal, beet-red bulldog with horns and pitchfork screams "Let me have him. Send him down. Give him to me now!"
The Prem's unfortunate five have it a wee bit better -- they get 90 minutes, plus stoppage time, for a chance to redeem themselves. Some are rallying to the occasion. Veteran striker Kevin Phillips told the media this week that his Birmingham team must produce "the game of our lives." Others are taking a different tack. Like Ian Holloway, who's been claiming that the Premier League would like nothing more than to see his Seasiders take the plunge. "Then I am not badgering them," the EPL's most endearing gadfly told reporters.
Here's a look at the relegation battles this weekend.
United vs. Blackpool (Old Trafford)
The big talking point here, of course, is whether Ferguson will turn Sunday's clash at Old Trafford into the Bebe and Gabriel Obertan show. To hear Holloway tell it, Ferguson "deserves to pick whatever team he wants to pick. No one should question it." Blackpool certainly won't complain if SAF decides to rest his main players for the upcoming Champions League final. Then again, a weakened Manchester United doesn't automatically assure victory for the opposition. Just ask Schalke. (There was also a good piece over at the Guardian on this, by Barry Glendenning.)
The latest news is that Ferguson won't field a 100 percent youth team to avoid getting into hot water with the FA. Instead, the manager has told the media that he'll play about a half dozen of his regulars, including Edwin van der Sar, Anderson, Paul Scholes, Patrice Evra, Dimitar Berbatov and Darren Fletcher.
[+] Enlarge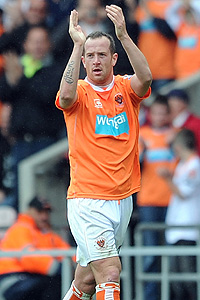 Chris Brunskill/Getty ImagesCharlie Adam has been one of the Prem's best players this season. Can he lead Blackpool to safety Sunday?
That's bad news for Blackpool, which doesn't control its own destiny. It could stay up or be relegated with a win, tie or loss, depending on goal difference and possibly goals scored.
At least scoring goals wasn't a problem for the Tangerines last weekend against Bolton, when they put four on the board, including the 4-3 game-winner from Charlie Adam in the 63rd minute. Holloway will once again look to the leadership of his midfield maestro, perhaps playing his last game for Blackpool before the transfer window opens, to both find the back of the net (he is second on the squad with 11 league goals) and set up others, including the team's leading scorer, DJ Campbell, who's on 13 league tallies for the season. Scoring, after all, is Blackpool's best (only?) form of defense, as it has conceded a league-leading 74 goals in the Prem this season.
If -- and it's a big if -- Blackpool manages to stay up, it will be only the second Premier League season in which all three promoted clubs (Blackpool would join Newcastle and West Brom) have survived their first season in the top division since Fulham, Blackburn and Bolton did it in 2001-02.
Stoke vs. Wigan (Britannia Stadium)
Wigan's manager, Roberto Martinez, has insisted on playing attractive football this season instead of turning his players into a side that resembles … what? Meat-and-potatoes Stoke, perhaps? Admirable goal, and Martinez is one of the nice guys in the league. But supporters may feel that the prettiest football is winning football in the Prem, not free-flowing passing in the Championship.
Oddly enough, Wigan is the only team never to have been relegated from English football's top division. It's one of those stats that gives you pause, until you remember that the Latics were promoted from the Championship in 2005, their first time in the top flight, and they've managed to scrape by ever since.
[+] Enlarge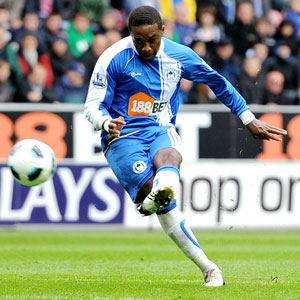 Chris Brunskill/Getty ImagesWigan will hope Charles N'Zogbia can find the net against Stoke on Sunday.
Their run in the Prem looked to be all but over last weekend when Wigan fell behind 2-0 to West Ham in the first half. But Charles N'Zogbia (call him Charles "Insomnia" no more!) scored twice on either side of a Conor Sammon goal, including finding the net in stoppage time, to give the Latics a crucial 3-2 win at DW Stadium.
On Sunday, Wigan will face Stoke at the Britannia. That's the bad news, as Stoke's home form -- 10 wins, four draws, four losses in the league -- has been the key to keeping the Potters safe, given their woeful road record. The good news for Wigan? Stoke may still be licking its wounds after losing the FA Cup final to Manchester City (and suffering another beatdown by City on Tuesday) and might have one eye toward its summer holiday. But the main point for Martinez will be making sure his players concentrate and avoid any gaffes, like those we saw April 30 against Everton. That's when N'Zogbia scored a goal and then gifted a penalty about 15 minutes later, and Hugo Rodallega inexplicably used his hand to block a ball in the penalty area in the 78th minute, which led to Leighton Baines' equalizer. Two points dropped for Wigan. Something it can't afford to do Sunday.
Wolves vs. Blackburn (Molineux)
This is perhaps the most straightforward match of the bunch, since both teams control their fate. If Mick McCarthy's Wolves win, they stay up; if Steve Kean's Blackburn can come away with the victory, they'll be dining at the Premier League table next season. Hopefully without the booze, at least as far as Kean is concerned. The manager was charged with drunk driving after drawing with Manchester United this past Saturday, and he missed a training session this week after having to make his monthly 22-hour round trip to Pune, India, to meet the club's owner -- and world-renowned poultry magnate -- Anuradha Desai of Venky's. (Insert your favorite chicken joke as it relates to relegation here.) Word is that Kean may be sacked even if Blackburn avoids the drop.
Not the case with Wolves, where owner Steve Morgan has intimated that he'll stick with McCarthy regardless of the outcome. "You never give the dreaded vote of confidence," Morgan told reporters, "but Mick has been here for five years, and I don't believe you get any progress at all by chopping and changing." Unlike Blackburn, Wolves have some positive momentum coming into the game, having won their past two matches by the same score, 3-1. Steven Fletcher, in particular, was superb this past Saturday. Will Wolves draw blood again?
Tottenham vs. Birmingham City (White Hart Lane)
It seems Kean isn't the only one turning to the bottle as the relegation noose tightens. Birmingham City's Ben Foster and Colin Doyle have been accused of going on a late-night drinking session right before their critical run-in with Tottenham on Sunday. They may have gotten away with it, too, if not for Doyle's wife firing off an angry tweet at 4 in the morning. Blues boss Alex McLeish took the high road: "It was an error in judgment," he told Sky Sports.
[+] Enlarge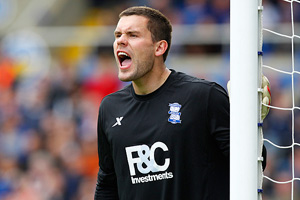 Ian Kington/AFP/Getty ImagesBen Foster and the Blues have a tough test against Tottenham.
Well, there will be no margin for error for his players Sunday. Last weekend, Birmingham's defense was disorganized as it failed to shut down Fulham's Bobby Zamora, Andy Johnson and Clint Dempsey. Birmingham has been in free fall, losing four and drawing one in the past five matches. When it faces Tottenham at White Hart Lane, the question becomes: How much does Harry Redknapp really want to be in the much-maligned Europa League next season? He has suggested that he'd rather avoid the Thursday-Sunday fixture congestion, and if that's the case, Spurs may not be so gung-ho for the match, opening the door for Liverpool to finish fifth and qualify for Europe's second-tier competition next season. Or perhaps Redknapp will go for it and try for a spot in Europe -- which is something only a win Sunday can guarantee. You can guess which outcome McLeish and his players would prefer.