Agony and ecstasy of Survival Sunday
May, 22, 2011
05/22/11
12:27
PM ET
[+] Enlarge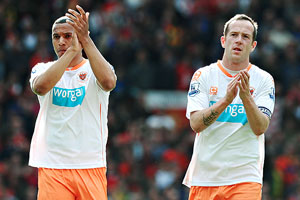 Paul Ellis/AFP/Getty ImagesBlackpool's Matt Phillips and Charlie Adam applaud the fans after being relegated on Sunday.
There's a favorite expression in football -- "the table doesn't lie." If you win the league, you're the best in England. Conversely, if you find yourself in the bottom three, you weren't good enough to stay in the top flight.
But while the table may tell the truth, it doesn't give us the full picture -- or come anywhere close to capturing the Prem's season-ending excitment and entertainment. Not after what happened on Survival Sunday, when five teams tried to avoid two relegation spots. With each dramatic goal over a white-knuckle 90 minutes across England, the permutations changed. Fans in the stands were glued as much to their smartphones as the matches they were watching, most of them knowing that the fate of their teams also depended on what happened elsewhere. There were extraordinary twists and turns. At halftime, the two W's -- Wigan and Wolves -- were heading down; when the final whistle blew, the unlucky letter was B, as Birmingham and Blackpool officially joined West Ham in the relegation zone.
It will be of little consolation that the 39 points for Birmingham and Blackpool are the most by a relegated team since West Ham in 2002-03.
Here are four things we learned on Survival Sunday.
1. Seasiders are seasick
It was an inspired performance by Ian Holloway's men. After Park Ji-Sung put United ahead 1-0, Mike Dean awarded a dubious free kick, ignoring an offside call by the assistant referee, and Charlie Adam scorched a free kick past Edwin van der Sar. In the 57th minute, Gary Taylor-Fletcher executed a sublime flick-on, taking David Vaughan's pass and redirecting it into the back of the net. Blackpool was ahead and out of the drop zone. Even after United's Anderson scored in the 62nd minute, Blackpool could have still stayed up with a draw. But then came the sucker punch in the 74th minute, when Nani shot the ball into the penalty box, and Ian Evatt tried to hit the ball to safety and instead inadvertently put the ball into his own net. Horrific moment for Blackpool, and even the United fans at Old Trafford hardly took to celebrating. On a day when Wolves lost but stayed up, Blackpool was headed back down after a rollicking season in the Prem. The Seasiders' leaky defense was again the culprit, as they also conceded a very easy late goal to Michael Owen to make it 4-2 as the match wound down. Blackpool ended the day with the unfortunate honor of scoring more league goals (55) in a season than any team that has been relegated from the Premier League. But it was Evatt's own goal that was a soul-sucking blow to fans and neutrals alike, and something the table won't ever reflect.
So long, Seasiders, it's been a wild, entertaining ride. You will be missed.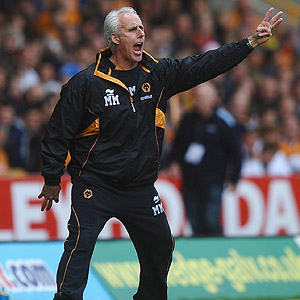 Laurence Griffiths/Getty ImagesMick McCarthy's Wolves stayed up, even though they lost 3-2 to Blackburn.
2. Every goal matters
Going into the Wolves-Blackburn match, most people thought Mick McCarthy's men would do the business at Molineux. Instead, Blackburn proceeded to pick apart McCarthy's side with long balls that caused havoc in the danger area. At halftime, Blackburn was up 3-0. But Wolves turned around their abject performance by scoring two late goals, Jamie O'Hara sweeping Stephen Hunt's square pass beyond the keeper in the 73rd minute and Hunt following that up in the 87th minute with a second goal. It wasn't enough to give them the win, but at the time, it would have been enough to keep them up on goal difference against Birmingham City. But Spurs' Roman Pavlyuchenko sealed both the Blues' and Wolves' fate with a goal in stoppage time. The tension relieved, fans stormed the pitch at Molineux to celebrate as they had survived to play another season in the top flight.
Meanwhile, credit should be given to Blackburn, which brought the fight to Wolves. Before the match, there was talk that a draw would have suited both teams, but Steve Kean's players clearly wanted to come away with all three points. Now Blackburn will return for an 11th straight Premier League season.
3. Arsenal's pitiful ending
Yes, there was some meaningful action at the top of the table, too, as Manchester City officially finished in third place. It's a massive result, because it means the Sky Blues get an automatic berth into the group stage of next season's Champions League while Arsenal will have to play in the qualification round in August. It's the last thing the Gunners need. With rumors swirling around the club about the future of key players as well as manager Arsene Wenger, Arsenal will now see its summer offseason cut substantially short. The team has reportedly put a price tag on Cesc Fabregas, who may finally be off to Barcelona, and Andrei Arshavin looks set to go back to the Russian league. Wenger can cash in on these two players and reinvest, but it will put his transfer savvy to the ultimate test. Replacing Fabregas, in particular, will not be easy.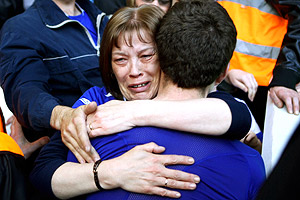 Julian Finney/Getty ImagesTrauma Central: Craig Gardner of Birmingham City is consoled by a member of the crowd after his team was relegated in 2011.
So now Arsenal has to prepare for an uncertain summer. Will Fabregas leave? Nicklas Bendtner has said he wants out. And Champions League qualifying looms. Of course, if Wenger's players hadn't collapsed after losing the Carling Cup final -- since that fateful day, the Gunners won twice, lost three times and drew six times in the league, including a 2-2 tie with Fulham on Survival Sunday -- they wouldn't be worrying about playing in Europe until September.
4. Spurs headed to Europa League
Harry Redknapp and Tottenham will be returning to Europe next season, but instead of playing in the Champions League, it'll be the Europa League. This will complicate things for Redknapp, who has plenty of player issues to work out during the summer transfer market. His strikers have been inconsistent -- and at least one of them, Jermain Defoe, has issued a "play me or trade me" demand, while Redknapp says he's going nowhere. This only adds to the intrigue of a club that will have to work hard to avoid losing players such as Gareth Bale, Rafael van der Vaart and Luka Modric. Oh, Spurs might do well with a new keeper, too. It'll all have to be sorted out before the next European campaign starts. The clock is ticking.