Talking Champs League with Ray Hudson
May, 25, 2011
05/25/11
7:06
AM ET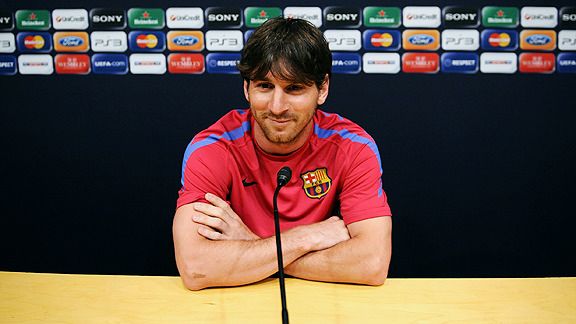 David Ramos/Getty ImagesThe buildup to the Champions League final between United and Barca is officially under way.
Here we are, heading into the last game of the European club season. The Champions League final is the exclamation point of an almost year-long campaign that starts with qualifying in July for some teams and ends by crowning the ruler of Europe at the end of May. It is, in short, the biggest game of the season.
This last statement invariably makes one of my buddies, a tennis writer by trade, prone to paroxysms of laughter. He'll crack wise that there's a "massive" match of football going on somewhere in the world on any given day. He has a point. Football, perhaps more than any other sport, does an amazing job of making you feel like the next game is the Biggest Match of All Time.
Until the next one.
But that's the attraction, isn't it -- the heightened sense of anticipation before a match, which grips us most powerfully in the week before a Champions League final. We know the odds are stacked against us. Most matches can't possibly live up to the hype and hyperbole. Yet that doesn't stop us from daydreaming, because before that opening whistle is blown, anything is possible. You could end up with an instant classic or an overly tactical snooze-fest. Doesn't matter. As soon as one match finishes, you're looking forward to the next game full of promise.
It's called being a football junkie.
And I can't think of a bigger one than the inimitable Ray Hudson. The GOL TV commentator is the voice of La Liga for many of us, the man who grafts together adjectives, verbs and nouns in ways that leave us slack-jawed with their unique brilliance. ("Messi can walk on the beach and not leave a single footprint," is my personal favorite.) The English language is his true medium. But Hudson won't be waxing poetic on air for the Champions League final -- Fox gets the honor -- and that's probably a good thing for the former Newcastle midfielder. When I rang him up to chat about the Champions League final, Hudson was already fired up.
"I have to record it -- I cannot watch it live," he said of the Manchester United-Barcelona final Saturday. "I will turn the TV off. I won't answer the phone or go near a computer. Anyone knocks on the door -- forget it. House is on fire? I don't care, let it burn. I can't watch until about 8 o'clock that night, because I enjoy the extra tension, the buildup."
There's a man that fully appreciates football's appeal. So who better to discuss the European Cup final as the tension continues to mount?
What kind of match can we expect?
Hudson: I would imagine it'll be an open, ultra entertaining game unlike last year's type of final, extremely cat-and-mouse between Inter and Bayern Munich. We're dealing with a different set of mentalities here.
These fabulous clubs won't betray their natural instincts to play their game. Barcelona can't change their game -- and thank the Almighty for that. They attack. Manchester United is able to alter tactics a little bit more, but they won't just defend. They will attack Barcelona, I'm sure of that. They've got the players and the pace and the lethal finishers and a tremendous defense that can be devastating.
For this final, we have wonderful footballers, marvelous expressionist players, and talent galore. I believe Barcelona will prevail. I think they are the better side. They've improved since the last time these teams met in the final [in Rome, 2009]. Whereas I think United is a little deficient without Cristiano Ronaldo. That's balanced out, though, by the incredible form of Chicharito and Wayne Rooney.
So it's not a confident statement, but I believe that Barcelona will win.
How do you see the tactics evolving? Will United pack five players in the midfield and try to counter Barcelona's possession-style game?
Hudson: It will be the same-old for Barcelona -- keep the ball. They'll probably get their 70 percent possession. United will hope they can catch Barcelona on an off day. If Barcelona hits the operatic high notes, United will be chasing ghosts.
However, United is coming from a league notorious for its helter-skelter athleticism, and Barcelona aren't used to intense, energetic pressurizing. If United can do that, they may have a chance, but the key is that they capitalize on the few chances they get.
[+] Enlarge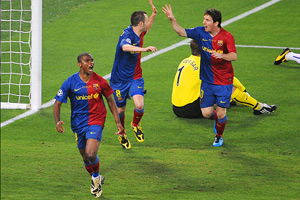 Alberto Pizzoli/AFP/Getty ImagesAfter Samuel Eto'o scored against United in the ninth minute of the 2009 Champions League final, Barcelona took full control of the match.
Which they didn't do in Rome.
Final in Rome, in [the] first five minutes especially, United had a couple golden opportunities to score; those misses were absolutely key. Once Samuel Eto'o drilled that mesmerizing finish of his, it altered the game completely. United up to that point looked pretty damn good. But after that, the game changed.
I don't even know if Manchester United are as good as Real Madrid on balance, but they have the extra factor with the tradition -- and this wonderful manager, Ferguson, who gets them right for the big games. I am a fan of Manchester United and what Ferguson has done. I just don't think it's going to be good enough.
If Barcelona wins, will it go down as the best team ever, club or country?
Hudson: They're the greatest team that I've ever seen. I don't care what anyone else says. They are the most bewitching, beguiling, hypnotic side -- this reinvention of the game with trophies galore. They are unquestionably the greatest team of the 21st century and for me arguably the greatest team of all time.
I grew up goggle-eyed watching Brazil 1970. This is when the whole world fell in love with them, and Brazil created beautiful football. Barcelona has taken that and made it look pretty tawdry. It's impossible to make comparisons over generations; the game is completely different now. All I know is that when I watch this team play, on an individual and collective level, it is the greatest expression of football I can ever imagine. Not that I've ever seen -- but can imagine.
What else is going to come? How can you top the Messi magic, this surreal football of chameleon-eyes Xavi and Iniesta? From the keeper, that's where this team's attack starts, from Victor Valdes and Gerard Pique. It's a reinvention of the game.
What do you think of Dani Alves? He's an amazing player, but people love to rip him for his lack of defensive responsibility. Still, he's clearly helped spur Barcelona to great heights since his arrival.
Hudson: I'll always take Alves' positives ahead of his faults. He's an efficient defender. You could say a lot of same things about players like Marcelo. They're not burly chested defenders like Carles Puyol and Nemanja Vidic -- warrior-type defenders. These are attacking fullbacks. You see the tracking back that Alves does. It's more than nuisance value. He does contain players as good as anyone, but Barcelona knows he can be skinned, so they have insurance with Puyol and Pique covering for him. If Barca leaves the back door open a little too much, United will have identified that as a weakness, however minor it is.
If you had to name one player who is underrated on a team of world-beaters such as Barcelona, who would it be?
Hudson: He's under the radar all around the world -- and he's got some publicity for the wrong reasons lately -- but it has to be Sergio Busquets. His Barcelona teammates regard him as the best one-touch player on their team -- that's @#$@$ scary. But you talk about an undervalued player, it's him. He's a little bit out of joint, not a glamour boy like the others. I remember the first time he got into the team. I said, "This is different. He doesn't quite fit." Tall, languid, gangly, but he's huge part of the game. It comes back to the way Barcelona has reinvented the way the game is played, with Busquets able to slip back into the back line when Alves does perhaps take off. There are a number of arrows in Busquets' quiver.
So you're sticking with your prediction?
Hudson: All the naysayers want to turn this beautiful avocado over and say, "See, they're not that good." Doesn't matter to me. It won't change my feelings about this team. It's not just about the trophies with Barcelona.
But I wouldn't deny United their chance of victory. The way they go about their business, their fans, their history -- I had a No. 10 Denis Law shirt as a kid in Newcastle. Even the Liverpool fans recognized what a magnificent club it is. So if Sir Alex Ferguson lifts the trophy, it won't be heartbreak.
I just hope football is the winner. These are two fabulous teams. It's a dream final, man.